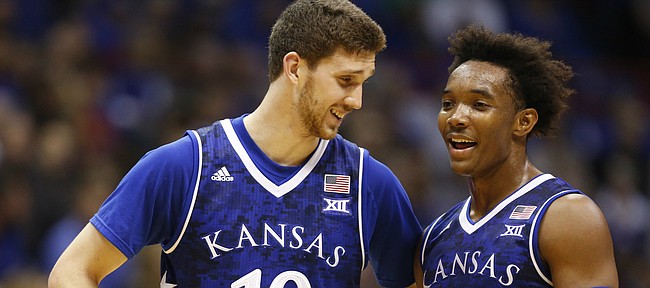 Four years of maturation and memorable moments, big wins and heartbreaking losses, growing hair on their heads and faces, have come down to this.
It's Senior Night for Devonte' Graham and Svi Mykhailiuk.
And thanks to Kansas' thrilling, two-point road win over Texas Tech on Saturday, which clinched the Jayhawks at least a share of an NCAA-record 14th consecutive Big 12 regular season title, almost all of tonight's festivities can be about properly saying goodbye to two fan favorites and best friends who have combined to deliver 114 victories and counting and, of course, four Big 12 titles.
"Senior Nights are always special," Kansas coach Bill Self said after the victory in Lubbock. "But this win today and the level that they played to all year long and how loved they are by everybody, I think will make this one of our more special Senior Nights we've had."
Graham and Mykhailiuk followed vastly different paths to get to this point in their careers.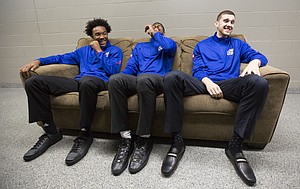 One was a 16-year-old phenom from halfway around the world who spoke little English and was projected to be gone long before now when he signed with the Jayhawks.
The other took a small detour to prep school before serendipitously joining the Jayhawks and becoming a key piece of the championship-contender puzzle for all four years of his career.
Along the way, the two became roommates and best friends, taught each other lessons about life and basketball and slowly and steadily climbed their way into KU's record books and the hearts of Kansas fans everywhere. It's only fitting that they go out together, starting alongside each other one more time at Allen Fieldhouse, and that very fact played at least a small part in both of them returning to KU for their senior seasons.
"I remember we were just joking about, 'We come together, we leave together,'" Mykhailiuk recalled on Sunday. "And it's been great to be here together and be a part of history."
Graham's decision to come back to Kansas for what has turned out to be a monster senior season — he's currently averaging 17.6 points, 7.2 assists and 4.3 rebounds per game — took next to no time to contemplate. Two weeks after his junior season ended with a gut-wrenching loss to Oregon in the Elite Eight in Kansas City, Mo., Graham quietly announced on Twitter that he would be back.
Mykhailiuk, however, elected to test the NBA waters and waited until the final day he could pull his name out of the 2017 NBA Draft to announce his return.
Although the best buds gave each other plenty of space to make the decision that was best for them, Graham said it reached a point where he began to remind Mykhailiuk about their bond, hoping to entice the sharpshooting Ukrainian into a return.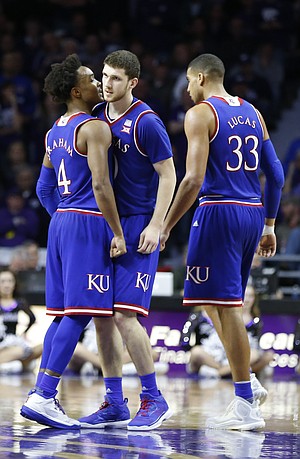 "We definitely text about it," Graham said with a smile. "When he was testing the waters, I was like, 'Come on, you might as well come back,' just messing with him. But it might have had a little bit to do with it."
The fact that they both did return and, as seniors, helped keep KU's Big 12 title streak alive and are on the doorstep of one more run at the Final Four, has validated both of their careers. But the ideas of playing together all season and going out together on a night like tonight carry with them different emotions.
"He's one of my best friends on the team and we came in together," Graham said. "I kind of taught him how to speak English and all the lingo and it's been a great four years for us two, too."
The impact that Graham and Mykhailiuk had on the storied Kansas basketball program goes well beyond their bond as brothers.
Fellow senior Clay Young, a walk-on from nearby Lansing, who will be making his first start and giving his own senior speech tonight, called it "an honor to be in the same sentence with those guys," because "they get it. They really do understand what it means and I think you can see that in the way they play."
Sophomore guard Malik Newman, who sat and watched Graham and Mykhailiuk work a season ago and has had the pleasure of going to battle with them throughout the current season, called Graham and Mykhailiuk "big brothers."
"That's the only way I can explain those guys," Newman said. "When I'm at my highs, when I'm at my lows, those guys were always there to comfort me to make sure that I'm good. When you have two leaders like that, that care about the team and care about winning more than themselves, it's easier to play."
And then there was Self's description of his two veterans, who he said are "so cool that they don't even have to act cool."
"These guys are unbelievable," Self continued. "They're unbelievable. And we don't need to think about that it's over or whatever. But for a goal to be to win 14 (Big 12 titles) in a row and all that stuff, these guys should really be recognized for reaching that at this point."
And they will be. Before, during and even after KU's battle with Texas, Graham and Mykhailiuk will be showered with love and gratitude for the four years they gave to the program.
The culmination of it all, of course, will be those senior speeches, and it's clear that both players are looking forward to finally giving theirs.
Mykhailiuk admitted to being nervous.
"I'm not really a great speaker, especially in front of a lot of people," he said, noting that he would deliver his speech fully in English despite his parents' limited comprehension of the language. "Sometimes in class I have a hard time getting up and talking, but it's going to be fun. Last game in the Fieldhouse; we've got to make it memorable."
Graham said he had not written a single thing down yet and probably was going to "freestyle it" and speak from the heart.
Newman guaranteed that all three KU seniors would cry during their speeches and Graham had no problem conceding that Newman was right.
"I'm going to cry," Graham said. "I'm definitely going to cry. I don't know about Svi and Clay. Nah. They're going to cry. We're all going to cry. I haven't cried about it yet. I've had dreams of me crying about it during the speech, but it's definitely going to hit me (Monday)."
As for when the magnitude of all that he has accomplished at Kansas during the past four years would sink in, Graham said that has been an ongoing process and one for which he will be eternally grateful.
"Since I stepped foot on campus, I've been able to travel the world, see a lot of different places, play in a lot of big time games, meet a lot of good people, good teammates and friends," Graham said. "It's been a great journey."