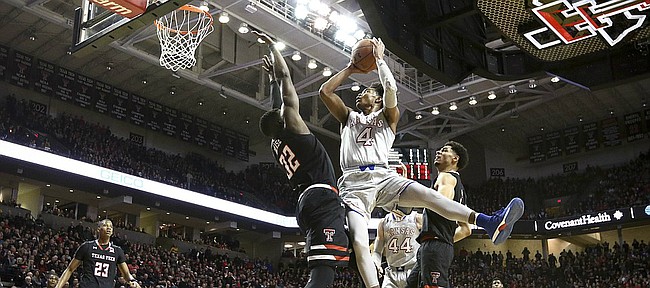 Lubbock, Texas — The rapid Kansas ball movement punctuated by swishes from long distance that defined the first half had faded. Relentless Texas Tech was making its charge, drawing within one point.
And then, the best basketball player in the Big 12 closed the game the way his team closed the Big 12 basketball race — like a buzz saw with no off switch.
Devonte' Graham was Oscar De La Hoya smelling blood, Jim Ryun kicking toward the tape for another mile record, a hungry hawk diving to pull a snake out of the grass for an afternoon meal.
Graham willed Kansas to another victory, 74-72, Saturday in lively United Supermarkets Arena by owning the game's final 14 minutes, and with his efforts came KU's 14th consecutive Big 12 title.
Photo Gallery
Kansas basketball v. Texas Tech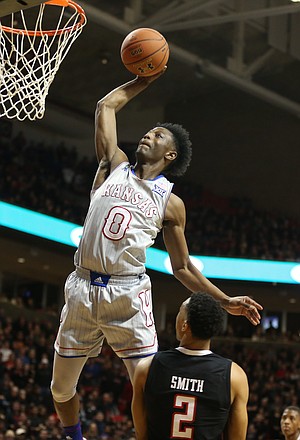 View a gallery of images from Saturday's game between the Jayhawks and Red Raiders in Lubbock, Texas.
During that span, the senior point guard from Raleigh, N.C., scored 18 of KU's final 29 points, beating the Red Raiders and the shot clock with spectacular buckets from near and far.
How Graham ensured KU of at least a share of another Big 12 title was even more impressive than how many points he scored (26 points on 10 of 18 field goals, including 4 of 7 3-pointers) to do it.
He did it by dribbling into an off-balance 22-footer and by burying a long jumper over a 6-foot-9 defender, both beating the shot clock. He did it by finding Malik Newman alone in the left corner with a wildly precise and entertaining cross-court bounce pass. Graham dribbled into the lane over and over until he found himself a bucket, and sometimes a free throw to go with it.
The final 14 minutes of Saturday's game and the 14 on the baseball cap that sat atop the head of Graham and the rest of the Jayhawks after completion of a once-wobbly title defense told the story of why Graham came back to Kansas for his senior season.
Kansas coach Bill Self shared how he heard of Graham's return.
It started with a call from his mother, a call she asked Self not to tell her son she had made. She informed Self that Graham wanted to come back and didn't want to get feedback by attending the NBA scouting combine. Self then told Graham he should test if he wanted to.
"'No, no, no," Self said Graham told him, "'I'm not quite ready and I want to graduate from here. And I want it to be my show one time.' I think he made the right decision, and he certainly helped his stock."
Last season, Graham played third wheel to national player of the year Frank Mason III and No. 4 overall NBA draft pick Josh Jackson.
At this point, Graham shouldn't need any help in earning top conference honors, but Self took the opportunity to lobby for him, just in case.
"This is probably not the time to do it, but he's the Big 12 Player of the Year, in our opinion," Self said. "You can talk about stats, but you have to put a value on winning, and I really felt like that Keenan (Evans, Texas Tech) or Devonte' or obviously Trae (Young, Oklahoma) would have a great shot to win that. But after today, after what he did to ensure that this team won another league, I certainly hope the media doesn't lose sight on the value of winning and the most important stat a guard can have, and that's wins and losses."
Why stop at Big 12? Why not first-team All-American?
"He's in the conversation," Self said.
Then he rattled off the names of four players he thinks might be ahead of his point guard: Young, Arizona's DeAndre Ayton, Duke's Marvin Bagley and Villanova's Jalen Brunson.
"When you get past that, I'm not sure there's anybody out there who would deserve it more than he would," Self said. "Hopefully, if we finish strong and he has to finish strong, but what he's been able to do in this league is pretty amazing: To play every minute of every game and still be able to have the energy to have to make every play late game, and he delivers."
Considering what he's done the past two games, dominating Young and then taking over the Tech game, it's not absurd to mention Graham as a candidate for the national awards Mason won last year.
---
More news and notes from Kansas vs. Texas Tech
---