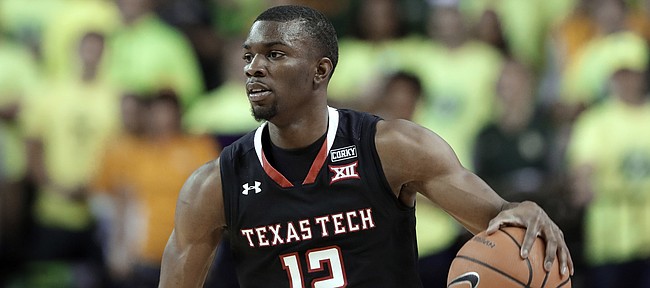 Texas Tech point guard Keenan Evans is not Superman. But there does appear to be a direct link between him and saving the day for the sixth-ranked Red Raiders.
After losing Evans for the second half of last Saturday's loss at Baylor because of a toe injury, Texas Tech dropped its first Big 12 game in nearly a month.
Then, with Evans playing at less than 100 percent during Wednesday's game at Oklahoma State, Tech dropped another one and fell to second place in the conference race with the Big 12's game of the year coming to town this weekend.
His status might be the most talked about storyline leading up to tipoff, and KU coach Bill Self on Thursday acknowledged that it was a huge deal.
"You take Devonte' (Graham) off our team, we wouldn't be the same team," Self said. "You take Keenan off their team, they wouldn't be the same team. I mean, he has a chance to be the Big 12 Player of the Year. That would certainly be the case with anybody losing a player of that ability."
There's no disputing that the Red Raiders (22-6 overall, 10-5 Big 12) are still a good team even without Evans at full strength. But there's also no denying that they take on a different look with him hobbled or on the bench.
On multiple occasions, Self has called Texas Tech "the most sound team in our league," and he clearly has a great deal of respect and admiration for the Red Raiders' roster, head coach Chris Beard and Evans.
"They're the hardest to get easy baskets on and they're probably the most difficult to finish defensive possessions on because of their patience and also the way they go to the offensive glass," Self said, listing just a couple of strengths that have made Texas Tech a Top 10 team and kept them in the Big 12 title race.
But let's take a look at what having Evans in limited capacity has meant for the Red Raiders. It goes far beyond the 18 points, three rebounds and three assists that the 6-foot-3, 190-pound senior from Richardson, Texas, has posted as season averages.
In the two recent losses in which Texas Tech played either without Evans or with him at less than 100 percent, the Red Raiders' offensive numbers were down across the board.
After shooting 46 percent from the floor, 41 percent from 3-point range and scoring an average of 76 points a game during the seven-game winning streak with Evans at full strength that preceded this week's losses, those numbers dropped to 40 percent from the floor, 30 percent from 3-point range and 64 points per game during their current two-game losing streak.
Texas Tech's overall assists per game dropped by just a half of an assist — from 14 with Evans at 100 percent to 13.5 with him hobbled — but their free-throw makes (18 to 13) and attempts (24 to 17) dropped substantially.
That makes sense given the fact that Evans ranks second in the Big 12 in both free throws and attempts and often impacts games most by getting to the free-throw line for easy points while putting the opponent in foul trouble.
Although Beard acknowledged the struggle of trying to play without their leader at full speed, he also praised Evans for even being on the floor on Wednesday night.
"Anybody who knows anything about basketball understands that he's not 100 percent," Beard said. "We're just going to have to continue to work it with him. I know he'll do everything he possibly can to put himself in position to help the team. I thought Keenan showed a lot of courage and heart and fight and toughness, not only in trying to play in the game (Wednesday) night, but also the preparation from when we got back from Waco late Saturday to tipoff — about as dedicated as he possibly could've been to try and put himself in position to play."
As for Evans' status for Saturday's showdown with Kansas (22-6, 11-4) — a Texas Tech win ties things at the top, and a KU win clinches at least a share of Big 12 title No. 14 in a row for the Jayhawks — Beard said that ultimately came down to how Evans feels on game day.
"The bottom line with Keenan … The guy is not at 100 percent. He has a real issue, but it's something he's just going to have to fight through," Beard said. "It's a situation where it's not making him any worse, so that allows him to play on it. We just hope and pray he can get to the point where he's a little bit more comfortable than he was (Wednesday night)."