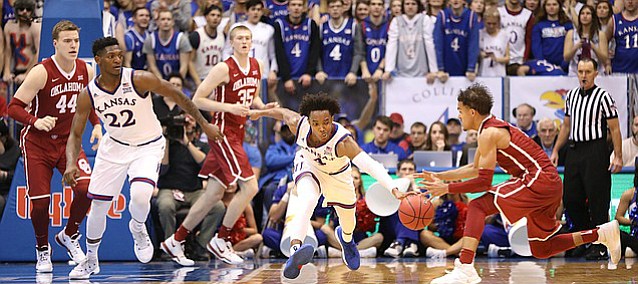 Eighty minutes before game time Monday night in Allen Fieldhouse, Kansas senior point guard Devonte' Graham sat in a chair on the Oklahoma bench, eyed his target and launched a shot toward the basket. Swish.
A few minutes later, Graham turned around and put up a half-court shot at the other rim. Swish. Nothing to it.
The shot from the bench seat hinted at a great night for the do-it-all guard from Raleigh, N.C., because it's a view with which he is unfamiliar. He came into Tuesday night with a streak of 10 consecutive 40-minute games.
Then the game started, and with it came the game within the game, pitting Graham against Oklahoma's Trae Young, a prohibitive favorite (2-to-3) to be named national player of the year, per the oddsmaker at Bovada.lv.
Graham didn't look any more stressed out in the game than when he was sinking trick shots before the opening tip. He looked in control. He looked like a senior. And on this night just as he has on many others, Graham looked like the best basketball player in the Big 12.
Photo Gallery
Kansas basketball v. Oklahoma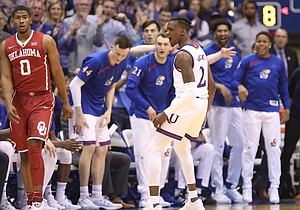 View a gallery of images from Monday night's game between the Jayhawks and Sooners at Allen Fieldhouse.
Texas Tech's Keenan Evans, day-to-day with an injured toe, might still have something to say about that. Graham and Evans face each other Saturday, when Kansas plays in Lubbock.
Such is the life of a Big 12 point guard. You win a battle against a terrific player and your job demands you do it again in the next game.
With a very big Monday, Graham led Kansas to its best performance of the season, a 104-74, blowout of the reeling Sooners, losers of six games in a row in the wake of such an encouraging start to the season.
Graham did it all. He shot, making 5 of 11 3-pointers on his way to 23 points. He facilitated so many open jumpers for teammates that KU made 16 of 29 shots from long distance. Graham also set up some of KU's nine dunks and finished with seven assists and just two turnovers, the latter negated by his two steals.
And he defended. Did he ever, with strong help from teammates.
Graham guarded Trae Young with the help of teammates who switched onto him when Graham encountered ball screens. When Young made it to the lane, Udoka Azubuike was ready for him.
Young had the look of a very talented freshman — such great passes delivered from creative angles, such a quick release on his long jumpers — feeling the weight of a season getting away from the Sooners and from him.
On OU's first possession, Young dribbled into the lane and lost control of the ball for a turnover. Graham responded with a 3-pointer at the other end, and that's pretty much how it went for both point guards all night.
By the time Kansas had raced to a 20-4 lead less than seven minutes into the blowout, Graham had totaled nine points, two rebounds, two assists and a steal. He never slowed down. Not at either end.
On a night Oklahoma's losing streak grew to six games, Young made just 3 of 13 shots, just 1 of 5 from 3-point range. He scored 11 points and had nine assists, including a few on beautiful passes, and five turnovers.
Kansas outscored the Sooners by 36 points during the 35 minutes that Young and Graham shared the floor. In the five minutes they both sat, OU had a six-point advantage.
Graham explained his approach to guarding Young, who entered the night averaging 30.1 points in Big 12 play.
"Just tried to make him drive left, not let him get comfortable rhythm-dribble shots," Graham said. "And Dok did a good job of coming over and blocking his shot a couple of times or making him kick out to someone who maybe wasn't as good a shooter."
Obviously, Graham had more help than Young. Everyone in a Kansas uniform played well.
Lagerald Vick is back from wherever it was he drifted. Malik Newman showed he now knows what it takes to please coach Bill Self. Svi Mykhailiuk shook free from a shooting slump. Azubuike did everything well, and Silvio De Sousa showed in his coming-out party the talent that generated all the fuss over his commitment to Kansas.
Give some of the credit for all of the above to Graham, who has had a hand in bringing players out of slumps all season. It's what great point guards do.
The No. 4 that went into the rafters at halftime had Sherron Collins' name on it, and Graham, the current No. 4, had a game worthy of the former All-American.
"I talk to him all the time, just about everything, life, the game, what I need to do, how aggressive I need to be in situations, so he's definitely been a mentor to me," Graham said.
Kansas doesn't have a better peer mentor than Graham, whose confident, aggressive approach to the game seems to be wearing off on teammates.
---
More news and notes from Kansas vs. Oklahoma
---