Kansas freshman Silvio De Sousa stole a little incentive before Monday's 104-74 victory over Oklahoma straight off of the wrist of teammate Mitch Lightfoot.
After a spirited pregame that featured positive vibes flowing and good old Mr. Confidence peeking his head ever so slightly out, like Punxsutawney Phil on Groundhog Day, De Sousa caught a glimpse of Lightfoot's wrist and saw the words "Rebound" and "Defense" written in dark marker on the skin.
Although the KU freshman is aware that those elements are as much his role as anybody's on this team, De Sousa said they provided him "motivation and I just did it on the court."
In reality, he did much, much more than that.
Photo Gallery
Kansas basketball v. Oklahoma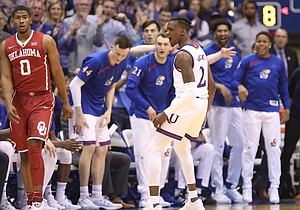 View a gallery of images from Monday night's game between the Jayhawks and Sooners at Allen Fieldhouse.
Sure, his rebounding might have fueled his career night. But it was not complete until he tossed in a few points to go with it. In seven first-half minutes, spelling Lightfoot and Udoka Azubuike, who sat with two fouls apiece, De Sousa delivered four points and two rebounds. By game's end, those numbers grew to 10 points and six rebounds in 13 minutes.
"When I got in the game (and) didn't foul and got (that) first rebound, I told myself, 'Oh, I'm going to play a lot tonight,'" De Sousa said after the victory. "So I just kept that mindset and moved on."
Four free throws in four attempts. Three offensive rebounds. Three defensive rebounds. And one highlight-reel slam dunk on a lob pass from Svi Mykhailiuk that set the Allen Fieldhouse crowd into a frenzy and had De Sousa still smiling after the game.
"I think it was great," De Sousa said. "Sometimes in practice I don't catch those lobs and today I actually did. It felt great. Not doing it in practice and doing it in a game is a lot different."
So, too, is De Sousa's comfort on the court, a fact that was not lost on Kansas coach Bill Self, who recalled the freshman forward's first game against Oklahoma during which he could not even stay on the floor more than a few seconds.
"Compare (tonight's) performance and at OU, where he had three turnovers in one minute, it's night and day," Self said. "You could see it coming in practice, but it was so good to see."
Self was far from the only one happy to see De Sousa enjoy a breakout night. The Jayhawks on the bench flexed and jumped for joy after his strong post move netted a bucket. They were even happier after his tip-in of a miss by Malik Newman (20 points, five assists in 37 minutes) that gave the Jayhawks a 44-29 lead.
And no one was happier than Azubuike, who hopped up out of his seat and cut in front of the walk-ons to be the first to greet De Sousa as he came to the bench during a timeout.
"Having a teammate that plays the same position for you and seeing him happy for what you're doing in the game is just a great feeling," De Sousa said. "Seeing him cheering for me is a big thing for me. It means a lot."
Although the final score might have been a little more common from KU teams of the past, the Jayhawks' Big Monday beatdown of Oklahoma featured all of the elements of a good, old-fashioned Kansas rout.
Transition buckets that ignite the crowd? Check. A bundle of 3-pointers from a variety of players? Check, to the tune of 16-of-29 shooting for the night. Earsplitting sound coming from the Allen Fieldhouse crowd? Check.
Heck, KU point guard Devonte' Graham (23 points, seven assists and five rebounds in just 35 minutes) even got to rest in this one.
Call it osmosis. But when Josh Jackson and Sherron Collins are sitting behind your bench, it just might be inevitable that you're going to play hard.
And the 8th-ranked Jayhawks (22-6 overall, 11-4 Big 12) did just that from the jump, opening up a 20-4 lead in the early minutes to set the stage for the 30-point domination.
"If not the best, I'm pretty sure it ranks in the top three," said Newman, when asked if Monday's victory featured his team's top effort output of the season. "The only thing on our mind was just getting payback. We went down there and they stole one from us and we just wanted to come out and have high energy, great attitudes and just go out and play and have fun.
Added Graham: "It was great. We haven't won like this in a while."
As for De Sousa, and where he takes his game from here, Self said he thought the 6-foot-9, 245-pound bruiser could be on the brink of turning a corner.
"He was great. He was great," Self repeated. "He's had a great attitude the whole time he's been here. He's struggled, he's frustrated, the game's too fast for him, we put him in a tough situation. I thought it'd be Feb. 1 before he'd be able to really impact us and it didn't really work out that way. It's taken a little extra time. But tonight he was poised, he took his time on the post."
And there might be more where that came from, according to De Sousa.
"I'm having a lot of fun right here and especially tonight I had a lot of fun with my team before the game and I just told them I was going to have a great day," he said. "The fans just make me feel like I'm at home and I'm safe here. I'm pretty sure that's not all they want to see. And I promise them they're going to see even a lot better."
With a half-game lead in the Big 12 race over idle Texas Tech, the Jayhawks next will tune in Wednesday night when the Red Raiders take on Oklahoma State in Stillwater, Okla., to see if their lead heading into Saturday's showdown in Lubbock, Texas, will be a tie at the top or a full game with three to play.
---
More news and notes from Kansas vs. Oklahoma
---