The emotion was obvious the minute he walked onto the floor.
And it only grew from there.
After watching a brief video that flashed highlights from his stellar career at halftime of Monday night's 104-74 victory by No. 8 Kansas over Oklahoma, Sherron Collins, Monday's guest of honor, slowly walked onto James Naismith court to watch his No. 4 jersey officially go into the rafters at Allen Fieldhouse.
When the blue curtain was pulled down and his name and number glistened high up in Allen Fieldhouse's south end — next to his good buddy Cole Aldrich's No. 45, which was retired Saturday — Collins let out a deep exhale.
"Excuse my voice," began the school's No. 5 all-time leading scorer after taking the mic. "I'm touched right now."
Photo Gallery
Kansas basketball v. Oklahoma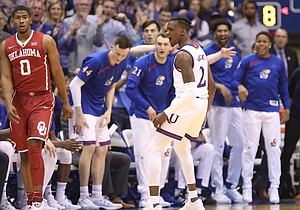 View a gallery of images from Monday night's game between the Jayhawks and Sooners at Allen Fieldhouse.
Decked out in a white shirt, red tie and his old letter jacket, Collins ran down a list of thank-yous, only stopping to regain his composure after heartfelt gratitude to the Morningstar family and his own family brought him to the brink of tears.
"You guys want to know where I get my toughness and hard work from?" Collins asked the KU crowd, which he thanked to open the ceremony. "My mother."
Aldrich called his former teammate the fiercest competitor to ever step foot in Allen Fieldhouse. KU coach Bill Self said "nobody" impacted a college game the way Collins did. And Collins himself called his team's run to the 2008 national championship, "the best time of my life by far."
When it was all over, after the near-tears, heartfelt head nods and sincere smiles, Collins left the floor and returned to his spot behind the Kansas bench.
But not before the Chicago native who said he grew up in Lawrence shouted those famous words uttered by so many legends before him.
"Kansas is always home," he said. "Rock Chalk Jayhawk."
Jayhawks moving up again
After spending a week on the outside looking in, the Kansas men's basketball team was back in the Top 10 of the weekly Associated Press Top 25 on Monday.
Powered by a road win at Iowa State and a comeback victory at home over then-No. 20 West Virginia, the Jayhawks jumped five spots from No. 13 to No. 8 in the latest poll.
KU's Big Monday opponent — the Trae Young-led Oklahoma Sooners — fell out of the poll entirely after losing to Texas over the weekend, their fifth loss in a row and eighth in the last 10 games. Oklahoma had been No. 23 in the AP Top 25.
The top four spots in this week's poll remained unchanged, with Virginia, Michigan State, Villanova and Xavier holding down spots 1 through 4. Duke, which had been ranked 12th a week ago, made the biggest jump of the week, up seven spots to No. 5.
Texas Tech, which sits tied with Kansas atop the Big 12 standings with four games to play in the race, moved up one spot to No. 6, setting up a heck of a showdown of two Top 10 teams in Lubbock, Texas, this weekend. West Virginia fell one spot to No. 21, which rounded out the Big 12 presence in this week's poll.
In addition to moving up in the AP Poll, the Jayhawks also jumped back up to the No. 1 seed line in Joe Lunardi's latest Bracketology, also released Monday morning.
Beware of the birds
Oklahoma freshman Trae Young's fear of birds has become a well known and oft-talked about part of his sensational freshman season. And the Kansas student section certainly took note.
In addition to a couple of students who dressed as birds and a handful of signs in the stands mocking the phobia, several Kansas fans also both yelled out and pointed out with signs the fact that a Jayhawk, though mythical, is in fact a bird.
Explaining his fear earlier this season, Young said it stemmed from family trips to the beach and one particular bird attacking a friend of his in the school parking lot.
Fear or no fear, Young finished Monday's game with 11 points on 3-of-13 shooting (1 of 5 from 3-point range) with nine assists and five turnovers in 35 minutes.
Good omen?
Monday's date, Feb. 19, marked the 35-year anniversary of another Kansas win over Oklahoma at Allen Fieldhouse.
In that one — on Feb. 19, 1983 — the Jayhawks knocked off Oklahoma, 55-53, and, in doing so, held OU legend Wayman Tisdale to a career-low 12 points.
The Jayhawks that night were led by junior Carl Henry's 21 points.
This and that ...
Monday's victory improved KU to 11-4 in Big 12 play, giving the Jayhawks at least 11 wins in conference play for 24 consecutive seasons ... The win was KU's 300th regular season Big 12 victory ... The Jayhawks now lead the all-time series with Oklahoma, 147-67, including a 75-16 mark in Lawrence and a 48-7 clip in games played at Allen Fieldhouse ... Monday marked KU's 17th consecutive Allen Fieldhouse victory over the Sooners ... The Jayhawks are now 13-3 in their home venue this season, marking the 19th consecutive season that KU has won at least 13 games on Naismith Drive.
---
More news and notes from Kansas vs. Oklahoma
---