Waco, Texas — If you were to pick a single play that summed up just how out of sorts the Kansas men's basketball team was on Saturday during an 80-64 loss to Baylor at Ferrell Center — and, if we're being honest, there were more than a dozen of them — it came early in the second half on, of all things, a Kansas 3-pointer.
With the Jayhawks trailing by 13, and searching for some way to ignite an offense that scored a season-low 20 points in the first half, sophomore guard Malik Newman caught an extra pass in the corner in front of the Kansas bench, stepped into the shot and buried it to give the Jayhawks a much-needed lift from the outside on a day they finished 6 of 31 from 3-point range compared to 8 of 15 from downtown for Baylor (15-10 overall, 5-7 Big 12).
So then, what's the problem?
Well, that came while the ball was in the air, when sophomore center Udoka Azubuike was busy throwing down a Baylor player under the rim.
Photo Gallery
Kansas basketball v. Baylor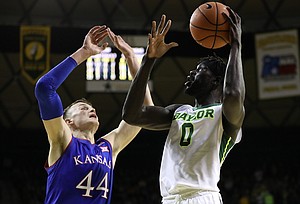 View a gallery of images from Saturday's game between the Jayhawks and Bears in Waco, Texas.
As the KU bench celebrated Newman's 3-pointer — it did count, pulling Kansas back within 10 at 35-25 — the official under the basket whistled Azubuike for his fourth foul with 17:54 to play in the game.
Everything was straight up Everest from there for the 10th-ranked Jayhawks (19-6, 8-4), who somehow cut the Baylor lead to two — 51-49 on back-to-back Azubuike dunks with 9:27 remaining — but were outscored 29-15 the rest of the way en route to a season-low 64 points on 39.7 percent shooting.
After suffering through 20 minutes of offensive futility in the first half, the Jayhawks were done in by 20 minutes of defensive deficiency in the second, further adding to their nothing-went-right night.
"Definitely the defensive part," said senior point guard Devonte' Graham, when asked which aspect was more troubling. "You can't worry about scoring the ball. You can shoot the ball any game. But when you give up points like that, you really don't deserve to win."
Graham, who finished with 23 points, three rebounds, four assists and three turnovers — yes, in 40 minutes — said KU coach Bill Self told his team after the game that Saturday's result was a product of the Jayhawks' intensity.
"I thought our energy level was average," Self said. "We got the ball to two feet, three feet several times early and came away with nothing – don't even get a shot up. Then they stretched (the lead) out at the end of the first half (30-20) and that turned out to be a pretty big difference, because, when we did come back, we couldn't quite get over the hump."
Azubuike's foul trouble was not the only reason for KU's inability to find its rhythm. But it played a big role.
His first foul came at the 14:47 mark of the first half on what Self deemed "a soft call," before adding, "I don't have the best position on it." And his second came with five minutes to play in the first half, when he both collided with and shoved a Baylor player chasing down a loose ball.
His third foul came 72 seconds into the second half and his fourth, the one under the basket, stopped the action 54 seconds later.
"Obvious call," Self said of foul No. 2. "And the same with his third and his fourth one.
"We need him to be in the game. But, to be honest with you, I didn't think he was much of a factor when he was in there. We didn't get much low-post scoring when the whole game plan was to try to throw (him) the ball and isolate him on the post."
Azubuike finished with eight points, four rebounds and three turnovers in 19 minutes. He was 4 of 4 from the floor, but Self said he thought Azubuike could have had at least twice that many shots.
Freshman Marcus Garrett (2 of 3 for six points in 20 minutes) was the only other Kansas player to shoot better than 50 percent for the game. And his two makes came at 15:40 in the first half and with 45 seconds to play in the game.
Despite playing just three minutes in the second half — when Kansas searched for more offensive punch — Garrett's impact was a fairly significant storyline and, at the very least, a subplot in the chemistry issues currently surrounding this team. The freshman from Dallas made his seventh start of the season in place of Newman, who finished with 14 points on 5-of-16 shooting in 32 minutes.
Asked if KU's chemistry was where it needed to be at this point in the season, Self responded with an emphatic, "No. No, not at all. No. No."
Asked about making the move to Garrett in place of Newman, Self dove deeper on the issue.
"Malik, in my opinion didn't deserve to start," Self said. "I'm tired of starting guys that don't really put themselves in a position, from what we need to do and an intangible standpoint, (to be) out there. To me, it's not about winning and losing from that perspective. It's about, 'Hey, this is what we need you to do to be good. This is what we need to do in order to give us the best chance.' And if guys don't do that, I'm tired of rewarding guys to start whenever I don't feel like those things are taking place. And it doesn't have anything to do with missing shots. You can miss all the shots you want to. At least from an intangible standpoint, you know, give us some stuff."
Said Newman: "First half, anybody that watched the game knows I was terrible in the first half. But the second half I thought I was good and I know why I came off the bench."
Added Self: "The things that we know that we need to be pretty good and have a chance to compete at a high level, the players haven't quite bought into that totally yet. And, you know, it's getting late in the season to see if they're going to buy into it."
Next up, the Jayhawks head north to Ames, Iowa, on Tuesday to take on an Iowa State team that knocked off Oklahoma on Saturday.
https://www.youtube.com/watch?v=LjdPzU0EtbQ
https://www.youtube.com/watch?v=ujPtnPVyT8o
---
More news and notes from Kansas vs. TCU
---