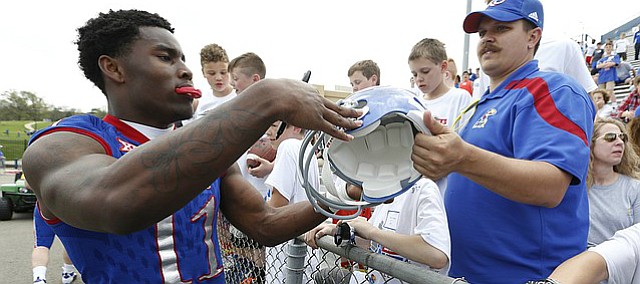 University of Kansas football fans can get their first glimpse of the 2018 team on the final Saturday of April, when the Jayhawks will play their annual spring game at Memorial Stadium.
Fourth-year head coach David Beaty and his staff will begin putting players through practices on March 30, with the April 28 public scrimmage (1 p.m. start) coming four weeks later.
The exhibition will mark the unofficial debut of four-star cornerback Corione Harris, one of two marquee signees (along with four-star running back Anthony "Pooka" Williams, still in high school) in the 2018 recruiting class. A 6-foot-1, 170-pound corner from Landry-Walker High, in New Orleans, Harris graduated from high school early in order to enroll at Kansas for the spring semester. Harris already is working out with the team, as is freshman offensive lineman Nick Williams. A three-star prospect from Overland, Mo., Williams also graduated ahead of schedule to jump-start his college career.
The spring game will provide KU fans with introductions to Florida State graduate transfer Mavin Saunders, a tight end, as well as seven of the 11 junior college players from the Jayhawks' 2018 recruiting class: junior defensive tackle Charles "Codey" Cole, junior defensive end Foster Dixson, sophomore safety Davon Ferguson, sophomore quarterback Miles Kendrick, junior safety Jeremiah McCullough, sophomore receiver Stephon Robinson Jr., and junior defensive end Najee Stevens-McKenzie.
It will also mark the final spring game for senior standouts defensive tackle Daniel Wise, receiver Steven Sims Jr., and linebacker Joe Dineen.
The 2018 season kicks off Sept. 1, when KU welcomes Nicholls State to Memorial Stadium.