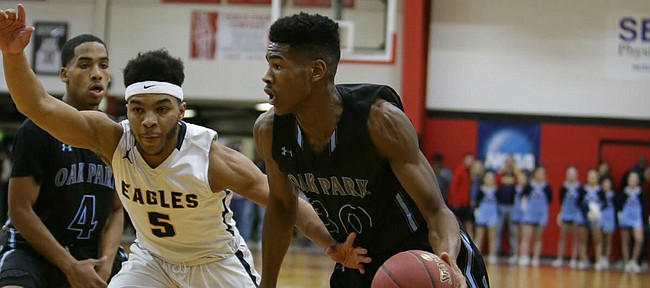 Already armed with a star-studded 2018 recruiting class ranked No. 3 in the nation by Rivals.com, the Kansas men's basketball program added to its haul on Thursday with a pledge from Oak Park High guard Ochai Agbaji, who orally committed to join the Jayhawks during a 2 p.m. ceremony at his school.
Seated with his parents at a table on the gymnasium floor, Agbaji's short-and-sweet ceremony featured a handful of thank-yous followed by the Oak Park guard unzipping his black jacket to reveal a blue KU shirt and Jayhawk hat.
Agbaji (pronounced Och-eye Uh-bah-gee), currently unranked by Rivals.com and listed as a 3-star, No. 328-ranked player in the country by 247 Sports' composite rankings, picked KU just five days after receiving a scholarship offer from Bill Self and the Jayhawks.
In a phone interview with the Journal-World, the 6-foot-5, 195-pound wing said getting the offer from Kansas both sped up and added a significant amount of excitement to the process.
"I talked with my family after I had been offered and it was just like, 'What else are we really looking for,'" Agbaji told the Journal-World. "We didn't have a specific school in mind and we could easily see this being the right fit for me."
Despite Agbaji's current low ranking, it's already clear that his tie to Kansas has put him on the map.

"We played (Tuesday) night and I actually brought a crowd out just because people knew KU had offered me," Agbaji said. "That was pretty wild."
So was his stat line.
The 6-foot-5, do-it-all wing scored 35 points, grabbed 13 rebounds and dished five assists, numbers that were just slightly better than the 29 points and 14 boards he dropped last week with KU coach Bill Self and former KU coach Larry Brown in the building.
It was Agbaji's all-around game that seemed to most impress the KU coaching staff. It also netted him offers from Nebraska, Oregon, Oklahoma State, Texas A&M; and Wisconsin, all of them coming late in a process that yielded just one offer — from UMKC — through December.
"That's a strength for me," Agbaji said of his versatility. "I can post up, I can drive, I can shoot. But something that I really want to work on is handling the ball better. I wouldn't say I'm bad but to get around elite defenders and stuff like that, I really need to work on that."
Regarded by many as the best all-around player in the Kansas City area, Agbaji, who averaged 23 points and six rebounds a game as a junior, is averaging 28 and 10 this season and played AAU ball for MOKAN Elite, has drawn comparisons to former KU wing Travis Releford, who played at Kansas from 2008-13 after an incredible high school career at Bishop Miege High. Agbaji told the Journal-World that even Self said he reminded him of Releford and the Oak Park senior said he wanted to bring many of the same things to Lawrence that Releford delivered during his time as a Jayhawk.
"I just feel like I can come in and be tough and be a sit-down defender and just work hard to make the team better," Agbaji said. "That's what they're really looking for and I can shoot the ball, too. Coach Self said when he watched me that my defense was one thing he saw, that I have a good stance, good slide and stuff like that. It's an honor, honestly, to receive that praise from the best of the best. It's just exciting."
Agbaji, whose father is from Nigeria and whose sister, Orie, plays volleyball at Texas, said he made up his mind on Sunday night — just over 24 hours after the offer came from Self and KU assistant Norm Roberts — and spent the next few days both looking forward to his commitment ceremony and preparing for Friday's rematch with North Kansas City, one of the two teams to beat Oak Park this season.
"That's the reason why I kind of cut it off short and said KU," said Agbaji, whose name means "King of Children" in Nigerian. "I just wanted to get all that pressure off and focus on going as far as we can in the postseason."
The Oak Park senior becomes the fifth player in KU's 2018 class, joining five-star guards Devon Dotson and Quentin Grimes and Top 40 big men Silvio De Sousa, who already is with the team but still counts in the 2018 class, and David McCormack.
With De Sousa already having a scholarship and Dotson, Grimes and McCormack taking the scholarships made available by the combined departures of Billy Preston, Devonte' Graham and Svi Mykhailiuk, adding an additional player — or two; KU remains in the hunt for five-star guard Romeo Langford — would put Kansas at least one player over the scholarship limit and create an interesting situation heading into the offseason.
There would, of course, be all kinds of options — not to mention time — for Self and company to figure out the numbers crunch. And with Lagerald Vick, Udoka Azubuike and Malik Newman all having been kicked around as potential early-departures, and transfers always being an option, it's not hard to see how Kansas could make any scenario work, should the need arise.