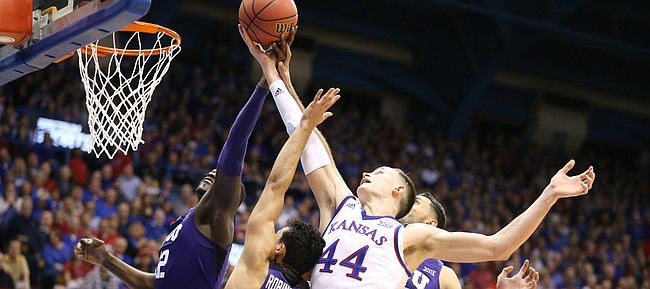 With his mother and grandmother sitting in the stands after making a last-minute decision to travel to Allen Fieldhouse for Tuesday's 71-64 Kansas victory, KU sophomore Mitch Lightfoot made sure the trip from Arizona was worth it.
We'll call it The Great Gamble of 2018, when Kansas coach Bill Self shook up his lineup by plugging the sophomore forward in as a starter in place of junior guard Lagerald Vick.
But the way it played out, it looked like more of a smart move than a major gamble, as both Lightfoot and Vick contributed positive minutes during KU's 19th victory of the season.
Starting for the first time in his Kansas career, Lightfoot played 22 minutes — 16 big ones in the first half — and dropped in six points, four rebounds and two blocks in helping the 10th-ranked Jayhawks get back on track at Allen Fieldhouse.
Photo Gallery
Kansas basketball v. TCU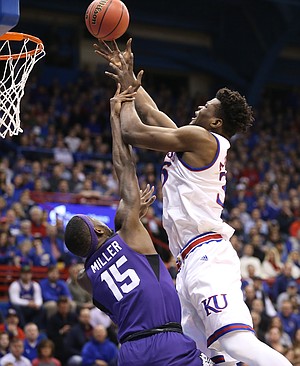 View a photo gallery from Tuesday night's game between the Jayhawks and Horned Frogs at Allen Fieldhouse.
As the starting lineups were announced by public address announcer Eric Danielson, it was abundantly clear that this one meant something to Lightfoot.
With the sound of his height and hometown filling the Allen Fieldhouse loudspeakers, Lightfoot's face lit up and he walked with a low crouch and a little bounce through the tunnel of teammates that created his path from the bench to the floor.
"It was great," said Lightfoot, matter-of-factly but with a hint of a smile in the post-game press conference. "It's kind of cool starting at Kansas. That's something I've always been working for and I'm glad I could do it and glad we could get a dub."
If Lightfoot was nervous — and KU senior Devonte' Graham twice insisted that he was after the victory — it sure did not show up during team introductions.
"I had asked him before the game if he was nervous before the game and he said, 'No,' but I told him he was lying," Graham said with a laugh after the victory. "I told him he was supposed to be nervous, your first start, that means you're excited. Don't worry about messing up just go out and play hard."
That he did. And every second of it looked 100 percent natural for the reserve forward who had topped 20 minutes just four other times all season.
Lightfoot's performance was not perfect. But no one expected it to be. On Monday, when announcing that Lightfoot would be a new addition to the starting lineup, Self acknowledged that he knew Lightfoot would screw up. And he definitely did a handful of times. But the good far outweighed the bad in this one — as has been the case with Lightfoot for the past few weeks — and the extra dose of effort, energy, hustle and hunger that Kansas started the game with certainly paid off when the final horn sounded.
"One thing about Mitch, he's got personality," Self said. "And I think that's contagious. That's not the reason everybody played with more energy tonight. I think that was more self-induced than anything else. But Mitch added to it. We did good when Mitch was in the game so I was pleased with that."
A run-down of Lightfoot's first half shows the kind of positive impact he had on the game right from the jump.
His first big moment came a little more than two minutes in, when he grabbed a missed 3-pointer by Graham and gathered himself before going back up for the easy lay-in.
Less than 90 seconds later, Lightfoot found a different way to help KU score, shielding his man in the paint on a drive to the rim by Malik Newman, so Newman would have an uncontested layup instead of a challenge at the rim.
Even the times when Lightfoot did not score, he looked strong and confident doing it. On one possession, after posting hard and catching an entry pass from the wing, Lightfoot's jump hook just missed. But the end result was not nearly as important as the process that led to it. Perhaps the best part about that miss — one of two on the night by Lightfoot — was the fact that it came with four seconds on the shot clock, when KU needed him to shoot, rather than when Lightfoot wanted to.
Podcast episode
After a 71-64 home win over TCU, Kansas basketball coach Bill Self said the Jayhawks competed harder than they did last weekend, that he should have played Marcus Garrett more because he played "great" and that Lagerald Vick had a better energy level after he was replaced in the starting ...
It wasn't all roses for Lightfoot in this one. Like his teammates, he also had his share of miscues, most born from effort and a couple the result of Kansas trying to figure out how to play with two big men instead of four guards.
On one possession, after giving a high ball screen, Lightfoot momentarily camped on the 3-point line and disrupted the flow of KU's high weave offense. On another, after temporarily saving a possession by rebounding an airball, Lightfoot immediately turned it over while trying to make a play before falling out of bounds. Later, 61 seconds after swiping a steal in the paint on a drive by TCU's Kouat Noi, Lightfoot was called for a travel after a strong face-up and move to the basket from the post featured one too many steps.
That was the way most of the night went for the KU sophomore. Two steps forward, one step back. For every extra hustle play and moment of positive impact, there was a possession or play where you were reminded that this role is still new for the young big man.
New or not, mistakes or perfection, Lightfoot showed enough on Tuesday to bring comfort to Self's Monday claim that the move to insert him into the starting lineup would be "long-term."
Instead of trying to do more or letting the moment change him, Lightfoot brought the same things to the floor that inspired Self to make the move in the first place.
That — after the victory, of course — was what Lightfoot seemed most pleased about after the game, staying within himself and not trying to be something he's not.
"Yeah. It feels good," he said. "I'm glad we could get a dub. If we didn't get the win, it wasn't going to be for anything. It's a great thing to start at Kansas, but that's what coach needs me to do and it's part of the game. Just glad I could help my team, bring some energy to the court and do what coach needs me to do."
---
More news and notes from Kansas vs. TCU
---