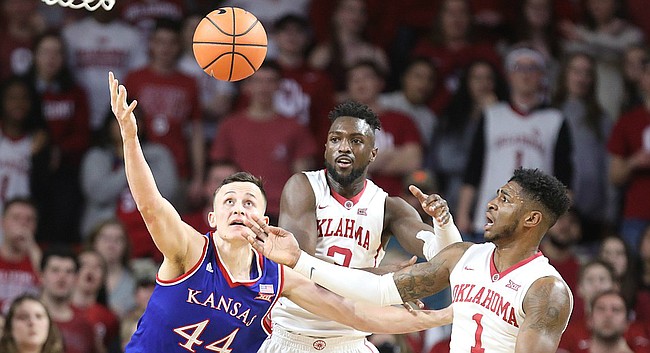 If you ever have wondered what the price is for a lackluster home loss by a program not used to dropping games in its home venue, you now have your answer.
Kansas basketball coach Bill Self on Monday afternoon announced that sophomore forward Mitch Lightfoot would start Tuesday's game against TCU at Allen Fieldhouse in place of junior guard Lagerald Vick. And the reasoning behind the move was simple.
"I think we have a couple of guys, starters, that obviously don't try very hard," said Self, not naming names. "And we're going to make some changes in our lineup — at least one change; (we) don't have a lot of options to do more than that. But it'd be nice to have guys compete and play to their athletic ability and those sorts of things."
So in goes Lightfoot, who will be making the first start of his career. And out goes Vick, who has been in a wicked slump during recent weeks.
"Mitch certainly deserves the opportunity to play," said Self of the sophomore who has played in all 23 of KU's games but is averaging just 14 minutes per outing. "He and Svi (Mykhailiuk) and Devonte' (Graham) try harder than anybody else, so we're going to get him out there."
Self said the move to start Lightfoot likely would be a long-term solution but admitted that he was unsure whether it would be the answer for what ails the 10th-ranked Jayhawks, who enter Tuesday's game with TCU at 18-5 overall and 7-3 in Big 12 play, tied with Texas Tech atop the Big 12 standings.
"I don't know that it fixes it at all," Self said. "And I'm not predicting unbelievable results from it. But I will predict the guys that start will try harder than the guys who started last game."
Coincidentally, the game regarded by most as Lightfoot's best of the season came four weeks ago, when Kansas won at TCU behind the strength of Lightfoot's nine points, seven rebounds and six blocks in a season-high 26 minutes.
In this one, Lightfoot will play next to starting center Udoka Azubuike, instead of backing him up, at least as long as the two are able to stay on the floor together.
"Even though we haven't practiced it much, we're going to try to do that and see what happens at least to start the game," Self said. "If Mitch gets one (foul) early and Dok gets one early, even though that doesn't seem like much, (if it happens) at the 15-minute mark now you put yourself in a situation where they have to back each other up the rest of the half."

The last time Self sent Vick to the bench — just before KU's road win at West Virginia in mid-January — the KU coach said the junior from Memphis responded with one of his best attitude efforts of his career. Whether Vick repeats the feat this time remains to be seen, but Self clearly is hoping for the best.
"It's going to be long-term," Self said. "So it would be nice if we could get some energy from him off the bench. … You're not going to have great (effort) all 23 games. I know that. But we should be better in those areas than we have been, especially with guys that have been around here and know what it takes to win."
Lightfoot, though still young, is quickly becoming one of those guys and appears to be the perfect answer for the many issues Self believes his team has struggled with all season.
"We've lost five games this year, and losing games this time of year is not a bad thing," Self explained. "Everybody across America, with the exception of three schools, (is) losing games and some that are certainly a lot more talented than us. But when you look back to why we've lost some guys, it's been attitude. It's been focus. It's been preparation. It's been selfishness. It's been effort. It's been energy. It's been intensity. It's been competitiveness, or lack thereof."
And even though adding Lightfoot's 3.7 points and 3.1 rebounds per game is not the equivalent of bringing back Josh Jackson, there are elements of Jackson's game that Lightfoot is closer to replicating than some of his teammates.
"Activity," Self began, expanding on Lightfoot's strengths. "He actually tries to rebound. He actually tries to block a shot. He'll actually run a guy down in transition and try to make a play. Mitch is going to screw up. We all screw up. But at least he's going to screw up going hard. I know as a staff it's more comforting to know the guys you have out there will try their butts off to do what's best for Kansas and what's best for our team and we know Mitch is always going to do that.
"I tell our guys all the time it's not about winning. Winning's important. If it wasn't important you wouldn't keep score. But it's more about doing things the right way consistently and then the wins and losses take care of themselves and we're too hot and cold in those areas."