The result of Eastern Michigan's first possession showed it, and, after the game, EMU senior James Thompson IV confirmed it.
KU's plan to double-team the post during Saturday's 87-63 Kansas victory at Allen Fieldhouse completely caught the Eagles off guard.
"I didn't expect them to double-team like they did," Thompson said after scoring 15 points and grabbing 14 rebounds in 28 minutes. "I thought they were just going to do it the first possession and then back off, but they kept sending them. It was a surprise to me that they did it the whole game. … It got comfortable after a while, but the first two times I didn't expect it."
Kansas was not picky with its post traps either. Whether it was Dedric Lawson, Udoka Azubuike or Mitch Lightfoot guarding Thompson, the Jayhawks routinely sent another big body flying Thompson's way as soon as he caught the ball on the post.
Photo Gallery
Kansas basketball vs. Eastern Michigan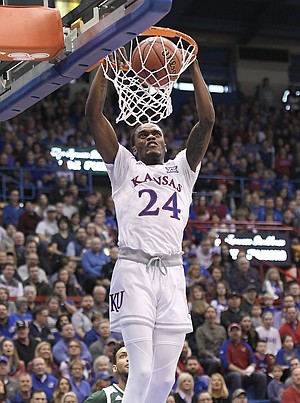 View a gallery of images from Saturday afternoon's game between the Jayhawks and Eagles at Allen Fieldhouse.
Although his final numbers did not reflect a rough day — outside of his five turnovers, anyway — Thompson and EMU coach Rob Murphy said the strategy wreaked havoc on Eastern Michigan's offensive flow.
"It did catch us off guard," added Murphy, using the silver lining of saying that it was good for his bigs to see because now they know they need to work on it.
Said Self of Thompson's performance and the Jayhawks' game plan: "That was something we needed to practice. We wanted to work on that. We need more activity, and anything that gets us moving I think is good."
Self passes Wooden
Never one to focus too much on individual accolades — for himself or his players — Self chalked up a pretty big one on Saturday.
KU's 24-point victory over Eastern Michigan was the 665th victory of Self's head coaching career, moving the Oklahoma native past UCLA legend John Wooden into 27th place on the all-time wins list.
Wooden, who racked up a career record of 664-162 (.804), recorded his total in 27 years at UCLA and two more at Indiana State.
Self, who celebrated his 56th birthday earlier this week, is now 665-202 all-time, including a 458-97 mark at KU during his 26-year head coaching career.
First visit for longtime fan
Kansas resident and longtime Jayhawk fan Hattie Long had one wish for her 102nd birthday. It came true at Allen Fieldhouse just moments after KU's win over Eastern Michigan.
"I sure would like to have Bill shake my hand and give me a pat on the back," Long told Wichita TV station KWCH of the Kansas coach before Saturday's game. "I might just reach over and give him a smack on the cheek."
There was no word on whether the peck happened, but Long was able to go into the KU locker room and meet the team after her first visit to KU's home venue.
"I knew she was coming to the game beforehand," Self said. "But she came in and talked to our players after the game. She's real sweet and for somebody who supports KU as much as she has and first time in the Fieldhouse, I'm sure that was a special moment for her and she made it special for our guys."
Out with the old
KU's win over Eastern Michigan marked the final game of a memorable 2018 for the Jayhawks, who won their 14th consecutive Big 12 title and 61st league title overall during the past 12 months. Both accomplishments are NCAA Division I records.
Also in 2018, Kansas:
• Won its 15th postseason conference tournament title.
• Earned a No. 1 seed in the NCAA Tournament for the 14th time and advanced to the 15th Final Four in school history.
• Carried a preseason AP No. 1 ranking into the start of a season for the third time in program history.
• Watched Devonte' Graham earn Big 12 player of the year and consensus first team All-American honors.
• Saw Graham and Svi Mykhailiuk become the 81st and 82nd Kansas players drafted into the NBA.
This and that ...
Kansas now leads the all-time series with Eastern Michigan, 1-0, and has won 11 consecutive games at Allen Fieldhouse, dating back to the end of the 2017-18 season ... Saturday's win gave Kansas 31 victories in 2018, marking the 10th time in Self's 16 seasons at KU that the Jayhawks have won at least 30 games in a calendar year ... The Jayhawks are now 86-11 following a loss in the Self era.