For the second offseason in a row, after singing the praises of former KU transfer Malik Newman a year earlier, Kansas basketball coach Bill Self spent a fair amount of time talking up Memphis transfer Dedric Lawson in the months leading up to the 2018-19 season.
So far, Lawson sure is making his head coach look like a genius for it.
"I knew he would be good," Self said Thursday. "I probably didn't know he had a chance to be this good. I mean, he's in conversations for first-team All-American."
Eleven games into his first season as a Jayhawk, the Memphis native and current No. 2-ranked player in KenPom's national player of the year standings has raced out to an insanely hot start, averaging 20.6 points, 11.4 rebounds and 2.3 assists per game.
The points and rebounds lead the Big 12 and the assists are an area that figures to rise when injured junior Udoka Azubuike returns to action in the next week or so.
Self on Thursday called Lawson "as good a big man scorer as we've ever had here." And the reasons for that go well beyond his stat line.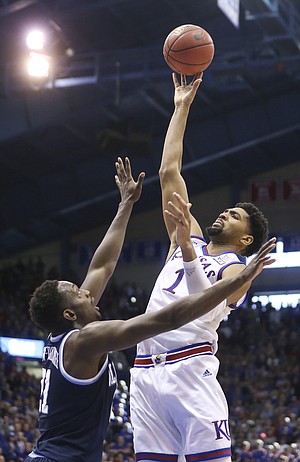 "He's got unbelievable hands," Self said. "He's unbelievable with body positioning and the ball seems to find him, and he's a guy that I didn't know we could play through him to the extent we have at times. Dedric puts up numbers on 15 shots and it looks easy, even though it's not. He's so fluid."
CBS Sports college basketball writer Gary Parrish this week did a segment on his podcast examining whether Lawson or Duke freshman Zion Williamson should be considered the front-runner in the national player of the year race entering January.
And it's that kind of recognition that brought Lawson to Kansas in the first place.
See, those averages that jump off the page at you when you're looking at a Kansas stat sheet are not that different from the totals he put up as a sophomore at Memphis.
During the 2016-17 season in his hometown, after flirting with turning pro following a solid freshman season, Lawson averaged 19.2 and 9.9 rebounds a night over an entire 32-game season.
The biggest difference? Because of Memphis' status outside of the power conferences and the Tigers' 19-13 record that season, Lawson was merely a footnote during a season in which KU guard Frank Mason III swept national player of the year honors after averaging 21 points, 5.2 rebounds and 4.2 assists per game for the Jayhawks.
In fact, Lawson finished with numbers that were undeniably better than at least 12 of the 15 players on the three postseason All-American teams that season, yet did not crack the list.

The reason?
"I knew we weren't winning," said Lawson, noting that he never really felt slighted by being left off of those All-American squads. "I know that winning goes with a lot of things in sports. Winning cures everything."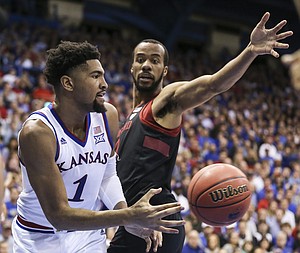 And that, as much as anything, was the big reason that Lawson elected to transfer to Kansas, instead of staying at Memphis or jumping to the NBA.
The redshirt year a season ago gave him a chance to hit the pause button on his college career and afforded him the opportunity to take full advantage of coaching, self-examination and maturing as both a player and a person.
That work, along with his impressive past and Self's insistence that he would be a star at Kansas, led to Lawson earning preseason All-American honors before the start of this season. And even though seeing his name on that list meant about as much to Lawson as not seeing it on those lists two years ago, the 6-foot-9 forward with the sleepy-smooth game admits that it felt good to receive that kind of recognition when it finally came.
"To be honest, I wasn't expecting it," Lawson said. "When these accolades come around, it's just hard work paying off, so many hours you put into practicing and perfecting this craft, and it's cool to get recognized for it."
Even before this strong start began, Self compared Lawson to former Kansas legend Danny Manning.
"He's got what Danny had," Self said. "He's not as good a player as Danny. I'm not saying that at all. But Danny had a sixth sense passing the basketball, especially from the interior, and (Dedric has) some of that."
"People have asked me, 'Who does Dedric remind you of?' And I'd say Boris Diaw," Self added of the 36-year-old Frenchman who played more than 1,000 games in a 14-year NBA career. "I don't remember Boris back when he was young, but there's a lot of similarities. You know, skilled, not the most explosive, can make a 3, ridiculously high IQ and just knew how to play. That's how I see Dedric."
Asked this week what had impressed him most about Lawson's Kansas career thus far, Self immediately pointed to the obvious, but for a not-so-obvious reason.
"I would say just his ability to put up numbers," Self said.
Remember, Lawson is currently leading the Big 12 in scoring despite finishing without a single point in one of the 11 games he has played this season. That goose egg against Vermont marked one of the two times Lawson finished with fewer than 19 points in a game this season. And he currently is riding a streak of four consecutive double-doubles, with a top end of 30 points and 15 rebounds.
If he continues to play and produce at this rate, Lawson is a virtual lock for some kind of All-American nod at season's end. And, who knows? Maybe that talk on Parrish's podcast will have merit for the next couple of months, as well.
"If defense of everyone else, they shouldn't talk about that until everybody starts playing comparable competition," Self said Thursday. "But, right now, you'd have to say he's probably been about as impressive as anybody. And you know defenses are designed to stop him."
Even if Lawson falls out of the player of the year conversation, the KU forward is on the fast track to achieving one goal that played a huge role in him coming to Kansas in the first place.
"I thought I needed a fresh start," he said. "And I always wanted to play in the NCAA Tournament, so I thought Kansas was the best spot for me to go do that. I played against a couple of Big 12 teams at Memphis and I know how coach Self coaches and I know he's going to put me in the right spots to be the best Dedric Lawson I could be."