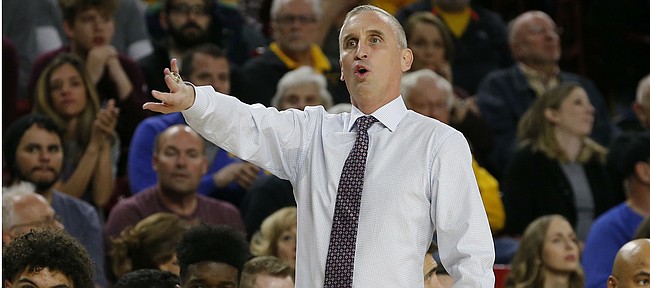 Tempe, Ariz. — Even with all of his big wins as a player at Duke and during the first stretch of his head coaching career, Arizona State coach Bobby Hurley had some serious praise for Saturday's 80-76 victory over No. 1 Kansas at Wells Fargo Arena, just the second win by an ASU team over No. 1 in school history.
"That was one of the great sports moments of my life," Hurley said after the win. "That's really the best way I can put it."
For the second year in a row, Hurley's squad outdueled Kansas, this time in a down-to-the-wire affair that ASU won in the final two minutes.
The magnitude of Saturday's victory was not lost on Hurley, who tried hard to stay in the moment and not think too much about the big picture or historic impact in the days leading up to the showdown with Kansas.
Now that it was over, Hurley had no problem reflecting on what it meant.
"This was a huge moment for our basketball program," he said. "I remember when I first started my first couple of games here. To see what it's like now, it's unreal. To have these memories and or our players to have it, it's terrific. The crowd was dynamic. It was off the charts in terms of the electricity in that building. It felt like a NCAA Tournament game for something real important. That's the caliber of athletes and basketball players on the floor."
No excuses
Saturday's loss to No. 18 Arizona State marked the fourth full game for top-ranked Kansas without junior center Udoka Azubuike, who remained out because of a right ankle injury.
But KU coach Bill Self was not in any mood to blame the loss on being without a full roster.
"We're not going to make excuses," Self said. "That's not an excuse. We've been shorthanded a lot of times and the next guy up played well."
One player in particular who fit that billing in Self's eyes was freshman forward David McCormack, who came off of his best game of the year versus South Dakota to finish with 2 points, four rebounds and a block on Saturday.
"I actually thought David McCormack the last two games, in Dok's absence, has given us some good minutes," Self said. "I think we can go to him more."
Faces in the crowd
On a night when Olympic champion Michael Phelps, NBA Hall of Famers Grant Hill and Jason Kidd, NBA executive Vinny Del Negro and Arizona Cardinals great Larry Fitzgerald were in attendance for the top 20 college basketball showdown, by far the biggest face in the crowd, as it relates to Kansas basketball, belonged to former Jayhawk Svi Mykhailiuk.
Mykhailiuk, who is in his rookie season with the Los Angeles Lakers, made the trip down from L.A. to watch his alma mater and former teammates take on the Sun Devils.
Oscar Robertson list
Kansas junior Dedric Lawson, who, statistically, has been the Big 12 Conference's best all-around player through the nonconference portion of the 2018-19 season, was one of two Big 12 players named to the Oscar Robertson Trophy Midseason Watch List this week.
Lawson joins Texas Tech's Jarrett Culver and 18 others around the country in the hunt for the U.S. Basketball Writers Association's player of the year honor named after the former Cincinnati and NBA great. It is the nation's oldest player of the year award and the only one named after a former player.
The award will be presented at the Final Four in Minneapolis in April.
Dream On
Kansas fans will probably take issue with this, but Arizona State's pregame video — before their lights-out, pyrotechnic lineup introductions — is set to the Aerosmith classic, "Dream On."
Hey, imitation is the highest form of flattery, right?
This and that ...
Arizona State now leads the all-time series with Kansas, 6-5, including a 4-0 mark in games played in Tempe, Ariz. ... The loss ended KU's 10-game winning streak, its longest since the 2016-17 season ... ASU's win also snapped a three-game KU winning streak in true nonconference road games. The loss was the Jayhawks' first true road setback outside of Big 12 play since a loss at Temple in 2014.