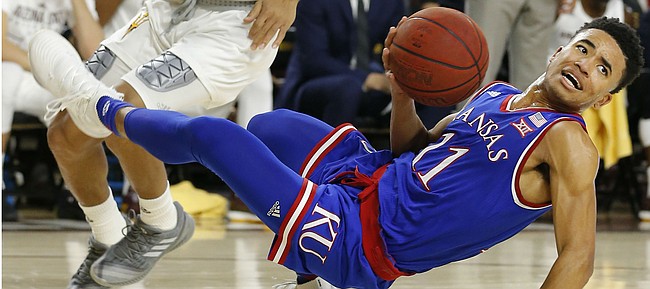 Tempe, Ariz. — His team led for 37 of the game's 40 minutes against the No. 18 team on the road, but all Kansas coach Bill Self could talk about after top-ranked KU's first loss of the season — 80-76 to Arizona State at Wells Fargo Arena on Saturday night — was the miscommunication at the end that cost the Jayhawks.
"I did such a bad job in the last timeout," Self said. "I did such a bad job in making sure we got a shot. We were going to try to shoot a 3, just to end it if we could. And I said, 'Run it like 'Black' but don't go backdoor.' Well, all Lagerald (Vick) heard was 'black,' and black's a backdoor lob. So I screwed that deal up."
The play, which was KU's second to last of the night — but the only one that mattered — came with KU trailing by 2 and less than a minute to play.
Designed to get freshman point guard Devon Dotson (12 points, 5 assists, 5 turnovers in 32 minutes) downhill for a drive-and-kick 3-pointer, the play fell apart when Vick went backdoor, pulled back, took the pass from Dotson on the wing out of position and then fired a pass back to Dotson.
Instead of catching it and trying to make something happen, Dotson just briefly turned his head and the ball deflected off his hands and into the back court. That led to a violation and allowed Arizona State to take possession. Two free throws by Rob Edwards later, the Sun Devils (9-2) had iced the game and the student section at Wells Fargo Arena was preparing to spill onto the floor.
Edwards finished with 15 to lead the Sun Devils, and 13 of them came in the second half.
"He was really the difference in the game," Self said. "Because when we had control of the game he basically, single-handedly, brought him back."
After jumping out to a fabulous start and forcing ASU to play catch-up all night long, the Jayhawks (10-1) led by 7 with just less than five minutes to play but did not score a field goal in the game's final 4:58, and in the final two minutes got just two free throws from Dedric Lawson, who led all scorers with 30 points, including a line of 18 points and eight rebounds in the first half.
For much of this one, Lawson was virtually unstoppable, working hard to get position in the paint and hitting easy buckets in close for much of the game.
The Sun Devils did a much better job of forcing him out of the action in the second half and KU struggled to find a second option. The Jayhawks hit just 7 of 28 from 3-point range — 3 of 14 in the second half — and shot just 16 free throws compared to twice as many by ASU.
"It felt like it was a lot more than twice," Self said of the free-throw advantage for the home team. "We gave them free points, obviously. But I'd have to go back and watch the tape because every coach thinks they're getting a bad whistle. So I'm not going to go into that and say we got one or didn't get one. But certainly it felt like we had a hard time getting any easy points and we certainly saw them get a lot."
What it came down to for Self was the simple fact that Kansas could not make enough winning plays down the stretch and that he did not get his team in the proper position to win it after Kansas received new life when ASU guard Luguentz Dort was whistled for a travel on an easy layup after he blew by both Quentin Grimes and Lawson with 22 seconds to play.
Instead of being down four and in a tough spot, KU had a chance. But the final play was doomed from its design.
"We got what we deserved," Self said. "We didn't get stops or, obviously, make plays down the stretch. … I wish I'd handled that (final chance) situation different. If I had it to do all over again right now, I'd have played pick-and-pop and let's let Dedric shoot a 3 to win it or not win it."
Said Lawson of Saturday's tough loss: "It's a very tough one because we had the game and we let it slip right through our hands. … We didn't think we were going to go undefeated, but we didn't think we were going to lose here."
Kansas will take the next four days off for the holiday break — several Jayhawks went straight to the airport after Saturday's loss to head home for a few days — and will report back to Lawrence Wednesday to prepare for Saturday's battle with Eastern Michigan at home, which marks the final nonconference game before the start of Big 12 play.
"Losing sucks and it's never good," Self said. "But it actually can be a positive if you learn from it so it doesn't happen again the same way. … The reality of it is we weren't going to run the table but certainly you'd rather lose from a nonconference loss than a conference loss."