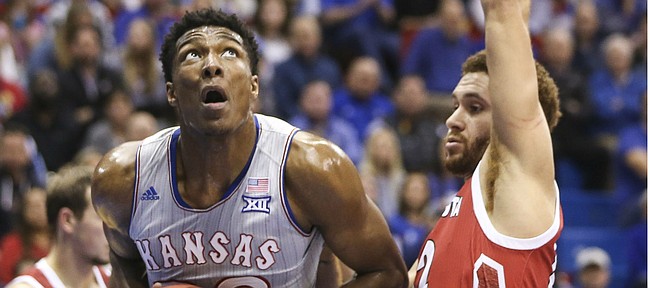 A funny thing happened on the way to the top-ranked Kansas men's basketball team finally running past South Dakota, 89-53, on a sloppy and sluggish Tuesday night at Allen Fieldhouse.
Freshman forward David McCormack played and then kept playing.
Limited to just 32 total minutes in KU's first nine games, including a season-high of 10 against Louisiana and a DNP against Vermont, McCormack logged 17 minutes Tuesday and made every one of them count.
His big, active frame tallied 12 points, on 4-of-7 shooting, six rebounds and two blocks in that extended time.
As he walked into Tuesday's postgame meeting with the media, McCormack was getting a quick lesson from teammate and roommate Dedric Lawson about how to expand Tuesday's stat line into a full night's work.
"Your per-40 would be like 26 and 20," Lawson told him, still beaming with pride over McCormack's big night.
"I talk to Dave every day about staying ready and things like that," Lawson explained. "We joke around about moments like this, and I'm glad he had a chance to play. He came out, he produced and that's all you can ask for."
Photo Gallery
Kansas basketball v. South Dakota
View a gallery of images from Tuesday night's game between the Jayhawks and Coyotes at Allen Fieldhouse.
More impressive than any of the numbers was the fact that McCormack, in 8 second-half minutes, ever so slowly started turning the corner toward looking more comfortable on the court.
"The more I play, the more I can feel the pace of the game slowing down," McCormack said after the win. "It felt good that I could contribute to the team and help in whatever way I can. Tonight was a night where I had more opportunities to get the ball in the basket, block, rebound, defend, whatever I could do to help us win tonight."
That block part was a popular topic after the victory, as McCormack's monster block of a South Dakota jump shot midway through the second half drew rave reviews from the Jayhawks.
"He spiked it like a volleyball," said sophomore guard Charlie Moore.
Added Self: "That was the most impressive play of the game. Because the ball was out of his hands 3 feet before he blocked his shot."
As for McCormack's own reaction to the highlight rejection, that, too, was about the team.
"I haven't had that many blocked shots this year, and to get another one like that and get us into a flow definitely felt great."
Transition treasure
After hanging around with Kansas well into the second half, South Dakota coach Todd Lee watched his Coyotes succumb to one of those signature Kansas runs that turned a competitive game into a KU runaway.
The reason, according to Lee, was simply the number of bigger, faster, stronger bodies on the Kansas roster.
"We don't see teams with this athleticism," Lee said after the loss. "It's hard to be in transition defense the entire night. Their athleticism takes over. … Eventually, it wore us out."
After jumping out to a 9-0 lead and holding South Dakota scoreless until the 14:16 mark, KU junior Dedric Lawson said he thought the Jayhawks should have put the Coyotes in a much deeper hole earlier in the game.
"It was slow," Lawson said of KU's start. "Actually, we started out (9-0), and then we slowed down from there and we just should've kept our foot on the gas and kept going."
No strategy here
Self was asked after the victory what he said during the first-half timeouts that helped spark KU's strong second half.
But the Kansas coach did not try to use revisionist history to fashion a tale of triumph and, instead, was brutally honest about the reason for the stoppage in play.
"The two timeouts in the first half had no strategy to them at all except just wanting to get somebody out of the game," Self said. "I thought the last 6 or 7 minutes of the first half we got in a little rhythm."
Tip of the cap
South Dakota forward Stanley Umude led all scorers with 28 points on 10-of-17 shooting and added six rebounds, four assists and two blocks in 34 minutes, drawing serious praise from Self after the game.
"He killed us," Self said of the South Dakota sophomore. "That's obviously been a tough matchup for us, that 4 spot. He was without question the best player on the floor tonight. I said on my radio show he doesn't even have to score for the next three games to keep his average."
Umude, who entered Tuesday averaging 9 points per game in 18.8 minutes, is now averaging 10.6 points in 20 minutes per outing.
This and that ...
The Jayhawks now lead the all-time series with South Dakota, 1-0, and are 19-5 against teams from the Summit League ... KU is now 10-0 for the first time since the 2010-11 season and has won 10 consecutive games for the first time since 2016-17. KU has now won 40 in a row at Allen Fieldhouse while ranked No. 1 in The Associated Press poll ... KU also has now won 10 in a row at Allen Fieldhouse, dating back to the end of the 2017-18 season.