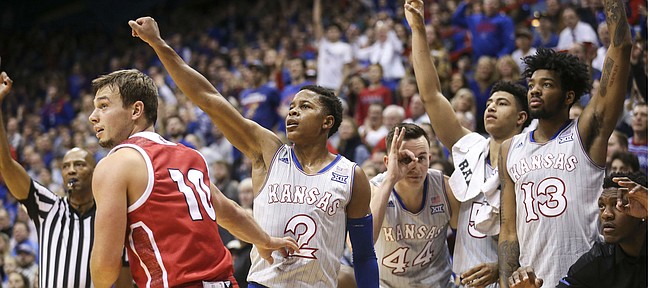 Bench points have been tough to come by for the top-ranked Kansas men's basketball team so far this season, and never more so than last Saturday, when the Jayhawks' four reserves scored just 4 points in a win over Villanova.
But Tuesday night, during an 89-53 victory over South Dakota at Allen Fieldhouse, the bench points came in bunches and the KU reserves nearly scored as many points as they had in the past four games combined.
After relying on starters and leading scorers Lagerald Vick and Dedric Lawson to carry much of the load offensively through the season's first nine games, Charlie Moore, David McCormack, Mitch Lightfoot and K.J. Lawson combined for 40 of KU's 89 points, including 26 in the decisive second half, when Kansas (10-0) outscored South Dakota (6-6), 52-26.
"I don't think we're going to have many games where two guys off the bench get 30," said Self of the 18 and 12 put up by Moore and McCormack. "But I do think there's capability for us to score at a rate much higher than we have been."
Photo Gallery
Kansas basketball v. South Dakota
View a gallery of images from Tuesday night's game between the Jayhawks and Coyotes at Allen Fieldhouse.
Until Tuesday, KU's bench had not recorded more than 17 points in a single game this season, with two games topping out in single digits and two others of no more than 12.
Elaborating on his expectations for the Kansas bench from the point forward, Self said so much of it was dependent on the flow of the game and how the minutes were distributed.
"I think it's very realistic if your starters play 25-27 minutes," he said of matching Tuesday's output. "But if our starters play 35 minutes, I don't think that's realistic at all."
The Kansas bench, which, for now, still includes sophomore Marcus Garrett because he has come off the bench in more games (5) than he has started (4), is now averaging 18.8 of KU's 81.7 points per game, good for 23 percent.
Junior forward Dedric Lawson, who had his typically productive night, including a handful of buckets that looked like they were not headed anywhere when the action began, recorded his seventh double-double of the season — 16 points and 14 rebounds — and said it was a welcome sight to see a few of his teammates who have been hiding in the shadows explode for big nights.
"That's things we look for from our bench, to give us a spark," Lawson said. "And they did a great job of that tonight."
Lightfoot got the party started with a couple of offensive rebounds that led to and-one opportunities in the first half. The junior from Gilbert, Ariz., — which just happens to be in the neighborhood of KU's next opponent, Saturday night at No. 18 Arizona State — finished with 7 points, five rebounds and a block in 12 wildly productive minutes.
"He does everything that nobody else wants to do," Lawson said of Lightfoot. "And he's one of the most consistent players on this team."
After Lightfoot broke the seal for the KU bench, Moore and McCormack took the baton from there.
Even walk-on Garrett Luinstra nearly got into the act, but his driving floater in the game's final seconds came up just short. By that time, it hardly mattered and it was more the fact that Luinstra was in the game in the first place that was the bigger story.
After trailing in the second half of so many games this season, the Jayhawks finally got their moment to relax when a 22-2 run midway through the second half pushed their 59-47 lead to 81-49 and the Luinstra Watch began.
"(We) had a chance to crack the game open early and didn't take advantage of transition situations," Self lamented after the victory. … How many two-on-ones or three-on-ones did we have in transition and we botched it up? It wasn't very good. We did some good things in the second half, but I don't think the first half was very good at all."
One of those "good things" in Tuesday's final 20 minutes was the way the Jayhawks shared the ball. After recording just three assists in the first half, none of which came from the guards — "Think about that," Self shuddered — KU dished 16 assists on 20 field goals in the second half.
"Coach talked to us about that during halftime," Moore said. "He told us we only had three assists and we needed to get the ball downhill more and get others involved. And in the second half, we did that."
Starting point guard Devon Dotson recorded five of them and Marcus Garrett added five, as well, with Charlie Moore (4), Vick (1) and McCormack (1) rounding out the total.
Tuesday's 36-point win was by far KU's biggest blowout of the season — a 25-point win over Wofford ranks second — and marked just the fourth time in 10 games that the Jayhawks had won by double figures.
While the atmosphere inside Allen Fieldhouse seemed like the polar opposite of last Saturday's showdown with the defending national champs, the Jayhawks said Tuesday's effort was not the result of any post-Villanova hangover.
"We knew that game was behind us," Moore said. "We just came out slow. We didn't have that energy we normally have and, defensively, we weren't doing too well at the beginning of the game. But second half, and at the end of the first half, we started to pick it up and it worked out for us."