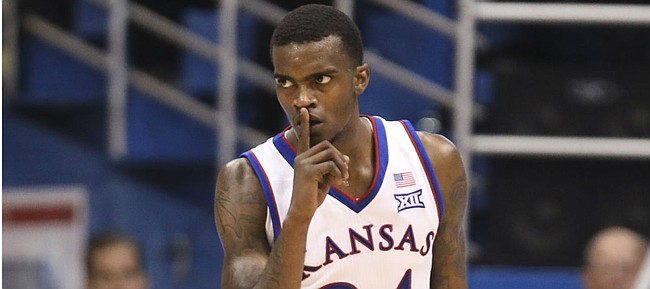 Kansas senior Lagerald Vick sure found a memorable way to put a bad week behind him.
After coming off of the bench and struggling offensively during recent KU victories over Wofford and New Mexico State, Vick was back in the starting lineup and back on the red-hot railway during the top-ranked Jayhawks' 74-71 win over No. 17 Villanova on Saturday morning at Allen Fieldhouse.
Saturday's effort was not quite like those 30-point explosions from earlier this season in that Vick spread out the 29 points and seven rebounds on 9-of-15 shooting over 39 minutes in this one instead of waiting until the end.
But given the degree of difficulty of so many of his shots and the pedigree of Saturday's opponent, going off for 29 in a game where No. 1 Kansas (9-0) needed every one of them might have had some thinking Saturday's showing was Vick's most impressive of the season.
"We've had great Lagerald and we've had, obviously, not-so-great Lagerald," Kansas coach Bill Self said after the victory. "But if you look at it, who, over a nine-game period, has had six games like he's had in America? He was great. And he made hard shots. And it wasn't because of good offense, it was because he just went and made plays."
Photo Gallery
Kansas v. Villanova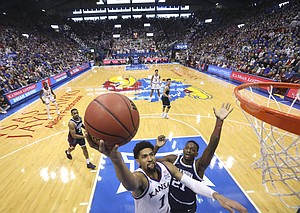 View a gallery of photos from Saturday's game between the Kansas Jayhawks and the Villanova Wildcats at Allen Fieldhouse.
That's the way Villanova senior Phil Booth saw it, too.
After guarding Vick plenty during the Wildcats' Final Four victory last March in San Antonio, Booth said Vick looked like "a completely different player," on Saturday.
"He's a lot more aggressive this year," Booth began. "I mean, last year, they had such a well-rounded team with well-rounded scorers, he probably didn't need to be as aggressive. I mean, they were a Final Four team and I know he wasn't averaging 29. He's worked a lot on his game, as you can see. He does more than shoot jumpers. He pulls up, gets to the rim, he's very athletic and he does a lot of things offensively."
Vick, who has used the same refrain after all of his monster games this season, — "Just trying to be aggressive." — said Booth's assessment of his game was accurate and added that he feels as much like a different player as he looks.
"Yeah, definitely," Vick said after Saturday's win. "I'm just really being aggressive, believing in myself and knowing my coaches and teammates are on my side."
It was hard for them not to be on Saturday. Teaming with junior Dedric Lawson, who recorded his sixth double-double of the season — 28 points and 12 rebounds — Vick delivered all of the things experienced, big time players are supposed to provide in games of this magnitude.
He was tough on the glass to the tune of seven rebounds, hit 80 percent from the free-throw line and played essentially the entire game while knocking in three 3-pointers.
One came in transition, off of a perfect pass from Devon Dotson (11 points in 26 minutes), and the other two were the result of Vick taking matters into his own hands and refusing to let Villanova (8-4) extend its winning streak over Kansas to four games.
While those long-range bombs ignited the crowd and helped Kansas keep some semblance of control in a game that went back and forth more than a dozen times until the game's final three minutes, it was a 2-pointer that put Kansas ahead 59-56 with 4:24 to play that was Vick's favorite.
"Baseline in front of our bench. Off balance. Didn't think I was going to make it," Vick recalled. "Splash. And I fell trying to get back up."
The Memphis native was not the only one who remembered the shot.
Lawson, who did most of his damage in the paint, said he knew Vick's baseline jumper was good when it left his hand. And he could sense that the Villanova players did, as well.
"Man, he's been making them all year," said Lawson before noting that he saw Booth mouth the word, "Damn," after one Vick make. "I had a feeling that step-back in the corner was gonna go, just because that's what we expect out of him now, to make tough shots to get out of tough situations. Lagerald, he has been phenomenal all year, and I hope it continues."
As big as it gets for a nonconference game in December, Saturday's game came with all kinds of hype and anticipation.
But a smiling Self said after the victory that even though Saturday's 3-point squeaker ended a three-game Kansas losing streak against Villanova and pulled the teams even in the all-time series at four wins apiece, it did not do anything to change the head-to-head record that really matters.
"We're 1-2 against Villanova," Self said. "Because we beat them in the Sweet 16 (in 2008), they beat us in the Elite Eight (2016), they beat us in the Final Four (2018). That makes us 1-2. The game today was nice. The game in Atlantis (in 2013) that they won was nice (for them). But it wasn't a real game, like those others are real games."
Self said the only place revenge for that Final Four loss mattered was in the stands, where the fans showed up full-throttle to help make sure the Jayhawks came out on top in this one.
Even Vick admitted that, while the players do think about those things from time to time, revenge played only a tiny role in Saturday's victory, with scouting report, attention to detail, competitiveness and wanting to win for each other carrying the day.
"To think that this was a revenge game, that would be like us beating Georgia Tech (during the 2004-05 season) after they beat us in the (2004) Elite Eight," Self said. "It's not a revenge game. To our fans and players, of course. But to a coaching staff, nah. This was just a good game that allows you to have a quality win for seeding and you can play through the experiences that make your team better. But we're both going to play in bigger games than this."