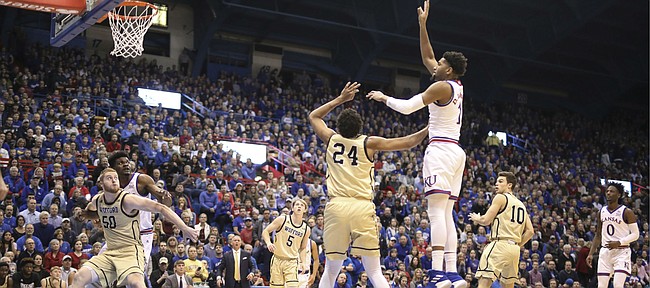 No. 2 Kansas overcame another sluggish start to remain unbeaten on the 2018-19 season.
Despite playing without starting center Udoka Azubuike, who went out with a high-ankle sprain midway through the first half, Kansas rolled to a 72-47 win over Wofford Tuesday night at Allen Fieldhouse. The Jayhawks scored 43 points in the second half alone after clinging to a 29-26 advantage at the intermission.
KU used a 27-0 in the second half to move to 7-0 on the season.
Dedric Lawson led the way for the Jayhawks with 20 points. Freshman Devon Dotson added 16 points, while freshman Quentin Grimes chipped in 14 points in the win.
Here's a quick look back at some of the action:
• The game turned when: The Jayhawks put together a decisive run early in the second half.
Between the 17:50 mark and the 14:53 mark, KU went on an 11-0 run via four unanswered buckets and a pair of free throws. Lawson started the stretch with a jumper, while Dotson buried a corner 3-pointer in transition.
Even Grimes got in on the action with a driving floater. KU went from being down 32-29 to holding a 40-32 advantage, which forced Wofford to call a timeout.
• Offensive highlight: Late in the game, Kansas started to pull away for good.
A pair of freshman guards closed linked up for an alley-oop in transition. Grimes pointed up for the ball and Dotson obliged. Dotson lobbed it up to Grimes, who finished off the layup with ease to extend KU's lead to double digits.
• Defensive highlight: This section should just be reserved for freshman sensation Devon Dotson every game.
Dotson has shown his defensive prowess on a nightly basis, and demonstrated his superior speed when necessary. During the first half of Tuesday's win over Wofford, Dotson managed to display both in a short sequence.
The Terriers got a long rebound and were looking to take advantage of the extra possession. Dotson ripped the ball away from the driving guard, and coasted to the other side of the court to finish things off with a basket.
• Up next: Kansas will take on New Mexico State at 7:30 p.m. Saturday at the Sprint Center.