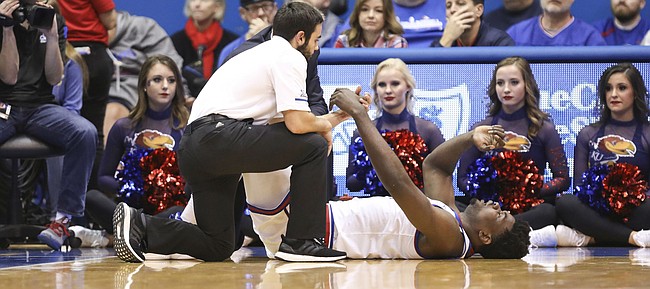 The collective gasp came at the 11:38 mark of the first half of Tuesday's 72-47 Kansas victory over Wofford at Allen Fieldhouse.
The groan came later when the video board showed the replay.
After a simple floater by Wofford's Nathan Hoover fell through the rim, Kansas junior Udoka Azubuike came down hard on his right ankle and rolled it badly, staying down for several minutes writhing in pain before being helped to the locker room by teammates Silvio De Sousa and Ochai Agbaji.
The diagnosis after the game was that the 7-foot, 270-pound junior had suffered an ankle sprain. Kansas coach Bill Self labeled Azubuike as out "indefinitely," and said there was no exact timetable for his return.
"I don't know enough to tell you," Self said when asked for an update. "I know the X-rays were negative and he's got a pretty significant ankle sprain. I'm hopeful (we can get him back by Christmas), but I think (out) indefinitely would probably be the way to put it because it's not day to day. He rolled it pretty significantly."
Photo Gallery
Kansas basketball v. Wofford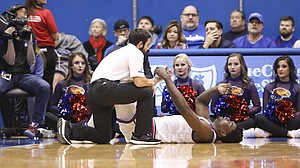 View a gallery of photos from Tuesday night's game between the Jayhawks and Terriers at Allen Fieldhouse.
The second-ranked Jayhawks (7-0) played small the rest of the way, with regular 4 man Dedric Lawson at the 5 and Marcus Garrett sliding into Lawson's spot.
"Marcus will start at the 4, at least moving forward in the immediate future," Self said. "Unless something unforeseen happens in practice, because that gives us the best chance to spread the floor and have Dedric isolated on the post. I think that's probably our best bet offensively, and then, defensively, we'll be better, except rebounding."
Vick sits to start game
As it turns out, there is a way to cool off Kansas senior Lagerald Vick, at least temporarily.
Vick, who entered Tuesday's game with Wofford shooting 65 percent from 3-point range during KU's past five games, did not start Tuesday night after arriving late to shootaround earlier in the day.
Vick checked in at the 12:09 mark of the first half to a huge roar, with the Jayhawks leading 13-10.
Charlie Moore, K.J. Lawson and Mitch Lightfoot all checked in before Vick during Tuesday's game.
"I actually think he was pleased he was going to play," Self said, noting that Vick initially may have thought he was facing a one-game suspension. "I didn't make a big deal of it. He's been great, but he was late to shootaround. There was no message. … His attitude was terrific. He was a good teammate and he'll start next game, just so you know."
Vick entered Tuesday in the middle of one of the best shooting stretches in school history. In hitting 28 of 45 3-pointers during the five-game stretch leading up to Tuesday, Vick moved past former KU gunner Terry Brown for most 3-pointers made in a five-game span. Brown made 25 3-pointers during a five-game period twice during the 1990-91 season.
To put the hot streak in even more perspective, the closest any player has come during recent years to matching Vick's 65.1 percent clip during a five-game span was Svi Mykhailiuk, who made 22 of 41 (53.7 percent) during the first five Big 12 games of the 2017-18 season.
Vick finished 0 for 3 overall — 0 for 2 from 3-point range — in 22 minutes Tuesday.
Nice to meet you
Midway through the first half of Tuesday's game, a new face and voice appeared on the Allen Fieldhouse video board. It belonged to new KU offensive coordinator — officially hired Tuesday by new KU football coach Les Miles — and Chip Lindsey wasted no time introducing himself to the KU fan base with the following message:
"Hey KU fans, Chip Lindsey here and I'm so excited to be here at Kansas, looking forward to waving the wheat. Rock Chalk Jayhawk."
Whiteboards on the court
Rather than try to battle the noise and overwhelming eruptions for which Allen Fieldhouse is known, the Wofford coaching staff utilized written messages scribbled onto whiteboards with dry-erase markers throughout Tuesday's game.
Wofford coach Mike Young said the strategy, which he doesn't really love, is something the Terriers have done for years.
"We typically do them all the time," Young said. "Guys scout so well and it's harder for (KU) to see, easier for our team to see. I'm not a big fan of it, but it's something we've done for a number of years."
This and that ...
The Jayhawks now lead the all-time series with Wofford 1-0 and are 12-0 all time against current members of the Southern Conference – 3-0 vs. Chattanooga, 3-0 vs. East Tennessee State, 3-0 vs. Western Carolina, 1-0 vs. The Citadel and 1-0 vs. Wofford ... Kansas is now 7-0 for the second season in a row and the sixth time in Self's 16 seasons at KU ... Dating back to the 2017-18 season, the Jayhawks now have won nine in a row at Allen Fieldhouse, which includes a 4-0 mark this season.