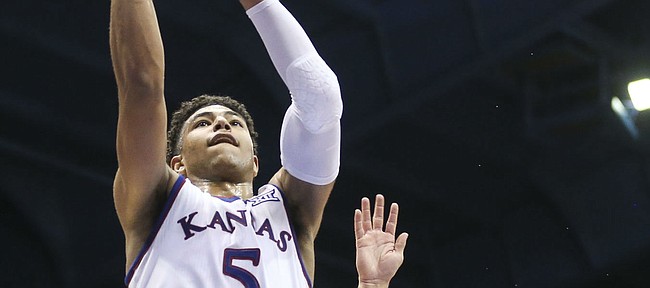 Throughout Kansas freshman Quentin Grimes' mini-slump to open the season, KU coach Bill Self has maintained that Grimes would be just fine.
In fact, earlier this week, Self said he thought his five-star freshman just needed to see the ball go through the basket a couple of times to get going again.
So what better way to make sure that happens than with a couple of alley-oop finishes?
On back-to-back possessions midway through the second half of a 72-47 win over Wofford, Grimes delivered just that, the first coming in transition off of a steal and pass from fellow freshman Devon Dotson and the next on a lob from Marcus Garrett on a play called during the under-8 media timeout.
Sure enough, after the two easy ones, Grimes cashed a deep 3-pointer with the shot clock winding down and then went coast-to-coast for a tough finish in traffic that put Kansas up 60-41 and put the game on ice.
Photo Gallery
Kansas basketball v. Wofford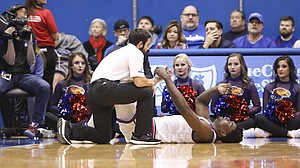 View a gallery of photos from Tuesday night's game between the Jayhawks and Terriers at Allen Fieldhouse.
The 9-0 individual run by Grimes was part of a bigger, 27-0 run by the second-ranked Jayhawks (7-0), who used tempo and defensive tenacity to put an end to the upset bid by the Terriers (6-3).
"To see (Self) draw up a play that shows off my athleticism and get my mojo going was good," Grimes said after finishing with 14 points on 6-of-10 shooting in 32 minutes.
It was not just Grimes who was happy to see the 6-foot-5, 210-pound matchup nightmare back in the groove on Tuesday night. His teammates were equally as happy for both the KU freshman and the team as a whole.
"I told him during the game, 'About time,'" said junior forward Dedric Lawson, who finished two rebounds shy of yet another double-double to the tune of 20 points and eight boards in 35 minutes. "I just wanted to see him go out there and play, see them high school moves."
Added Dotson of the alley-oop that Grimes called for by pointing to the rim on the break: "He didn't have to point. I saw him running beside me and I know about his athletic ability, so I just wanted to throw it up there and make a play."
Like that lob, so much of KU's offensive onslaught in the second-half slugging came as a result of the Jayhawks' work on defense, with Dotson (three steals) and Garrett (two steals) leading the charge on that end.
Self called Garrett the best player in the game, but it was not the combo guard's ability to defend on the perimeter, rather his defense in the post, that stood out to the Kansas coach.
"The whole game changed when he started guarding their big," Self said of Garrett.
After watching Wofford big man Cameron Jackson (15 points, 10 rebounds) singlehandedly give the Terriers an early second-half lead, Self made the switch.
Instead of letting Jackson continue to back Lawson down and get whatever he wanted in the paint, Self put the smaller, quicker Garrett on him five possessions into the second half.
The move immediately paid off, with Garrett's activity and quickness frustrating Jackson, who finished with six turnovers. Kansas, as a team, committed just seven.
Garrett, who also spent a fair amount of the night face-guarding Wofford sharpshooter Fletcher Magee, was able to front Jackson. That allowed Lawson to pluck an entry pass from behind, which led to a Dotson 3-pointer and a 38-32 KU lead on the other end.
Although Garrett and Lawson made that particular play, Dotson said the stop was indicative of his team's fresh mindset in Tuesday's final 20 minutes.
"Just us deciding to lock up and really focus in on the defensive end," said Dotson, who finished with 16 points on 6-of-9 shooting.
Added Self: "That was by far the best we've done as far as pressuring out (on defense), but I don't want to get too excited because you saw how bad we were Saturday (vs. Stanford)."
The Jayhawks limited Wofford to 26.2 percent shooting for the game — 19.4 percent in the second half — and outscored the Terriers (6-3) 43-21 in the second half. What's more, Wofford's vaunted 3-point attack, which had hit on 39 percent of its long-range shots so far this season, was limited to just five makes on 26 attempts, good for 19 percent.
Kansas, meanwhile, which had shot 44 percent from 3-point range through the first six games of its season, was also dreadful from behind the arc.
"Who would've thought Dok (Azubuike) would get a goose egg because of (an ankle) injury, Lagerald (Vick) would get a goose egg and we'd go 3-of-23 from 3 and win by 25 against that team," Self marveled after the win. "There were a lot of good things that happen tonight defensively."
"It just shows how special this team can be," Lawson added of the Jayhawks delivering without getting much from their two most experienced players. "You never know what might happen throughout a year or throughout a season and everyone's just got to be always ready."
Kansas will hit the road again for a 7:30 p.m. Saturday matchup with New Mexico State at Sprint Center in Kansas City, Mo.