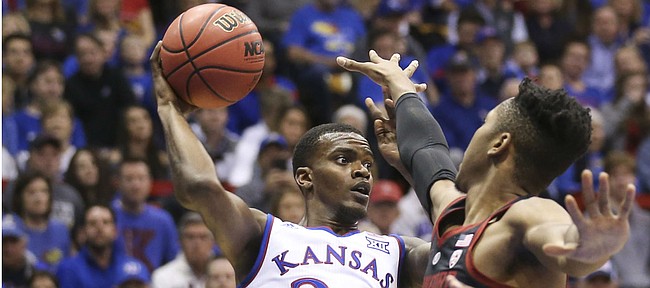 The Year of Lagerald Vick continued Saturday afternoon.
The senior guard poured in a team-high 27 points to lead No. 2 Kansas to a 90-84 overtime win over Stanford Saturday afternoon at Allen Fieldhouse. Vick drilled a game-tying triple in the closing seconds to force overtime.
Vick, who had been averaging 19.6 points per game entering the weekend, scored the first eight points over the free period to help propel the Jayhawks to a 6-0 record. The Cardinal (4-4) led for much of the game, including a 12-point advantage during the second half.
Kansas is now 6-0 for the second consecutive season and sixth time in the 16 seasons under head coach Bill Self. KU has now won 11 of its 15 meetings with Stanford, a team coached by former KU guard Jerod Haase.
Vick finished with a 10-for-17 effort from the floor, including a 7 of 11 clip from beyond the arc.
Here's a quick look back at some of the action:
• The game turned when: Vick hit a 3-pointer to bring the fans in Allen Fieldhouse to their feet.
Freshman Devon Dotson drove through the Stanford defense before kicking the ball out to the right wing to Vick, who fired up a long ball with no hesitation. Vick's 3-pointer gave Kansas its first lead since midway through the first half.
Earlier this season, Stanford lost by 18 to North Carolina and was also handed a 16-point defeat by Wisconsin.
• Offensive highlight: With 16 minutes remaining, Udoka Azubuike elected to kick the ball out from the post.
Azubuike hit Vick on the left wing, as he buried the triple. It marked the team's first 3-pointer of the contest, but it was also just the team's second assist in the game and first since Vick lobbed it up to Azubuike on the second possession of the contest.
The sequence was important, as KU coach Bill Self said earlier in the week that he wanted Azubuike to find the guards whenever he faced trouble in the paint.
• Defensive highlight: Sophomore guard Marcus Garrett had a remarkable sequence midway through the first half.
Stanford saved the ball from going out of bounds and kicked it around the perimeter. Garrett leaked out from the backside, making the correct read to intercept a pass between the two wings.
Garrett , who missed the previous game with concussion-like symptoms, caught the ball in stride before sprinting to the other end to finish things off with a flush in transition.
•Up next: Kansas plays host to Wofford at 7 p.m. Tuesday.