After being stuck on the bench in street clothes with concussion-like symptoms during his team's overtime victory against Tennessee last week in New York, Kansas sophomore Marcus Garrett was more than happy to not have to suffer the same fate during Saturday's 90-84 overtime win over Stanford at Allen Fieldhouse.
"With the game being so close against Tennessee, I really wanted to be out there. But I just couldn't," Garrett told the Journal-World after Saturday's victory.
Against Stanford, Garrett could and did.
The sophomore from Dallas scored 4 points and swiped four steals in 33 minutes, playing all five minutes of overtime, during Saturday's victory and said he was glad the Jayhawks (6-0) were able to find a way to the winner's circle because his head did not need the stress associated with another home loss.
"I'm glad we pulled out this win," Garrett said. "It was a tough one."
Photo Gallery
Kansas Basketball v. Stanford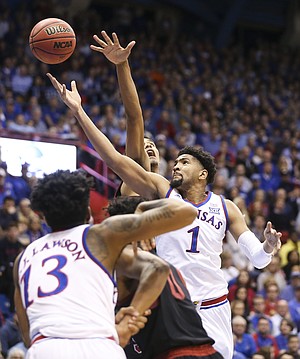 View a gallery of images from Saturday's game between the Jayhawks and Cardinal at Allen Fieldhouse.
After being limited in practice throughout the week because of lingering symptoms, Garrett said he did not fully feel like himself until sometime Friday.
"I just started feeling like real good, where I basically didn't have any more symptoms or anything like that," he said.
That feel-good, Friday vibe did not keep Garrett from being at least a little concerned on Saturday upon checking into the game at the 14:36 mark of the first half.
"I ain't going to lie. I did," Garrett said when asked if he thought about the concussion before going in. "I was just so worried about my headache and me not trying to get hit in the head at first. After that, I just went out and just started playing."
Hardly a happy homecoming
Stanford coach Jerod Haase has talked plenty during the past few years about his fondness for Lawrence and how much he enjoyed his time as a player at Kansas.
And although some of that emotion made Saturday fun, the overwhelming feeling the former KU guard had when leaving Allen Fieldhouse was one of disappointment.
His team had come so close to snagging a signature win, only to see it disappear in the final seconds.
"There's a lot of thoughts," Haase said when asked about his mindset while walking off the floor. "I've been around here long enough to know these opportunities don't happen very often."
Despite the loss, Haase clearly will continue to carry happy thoughts about Kansas, the KU basketball program and his time in Lawrence. They just might not resurface for a few days.
"Coming here's always meaningful," he said. "My oldest son's middle name is Lawrence. I met my wife here. I am, in large part, who I am today because of my experience here. I also love what we are doing at Stanford, too. (I was) certainly emotional, but once we got into the game I was able to lock in."
Mr. Double-Double
Lagerald Vick may lead the team in scoring at 20.8 points per game through six outings, but junior forward Dedric Lawson is hot on his heels. And that's with a 0-point effort in KU's Nov. 12 win over Vermont.
In the other five games, the 6-foot-9 Memphis transfer has scored 113 points in 175 minutes, numbers that include Saturday's 24 points on 7-of-16 shooting in 36 minutes.
Lawson added 15 rebounds to that total before fouling out and finished with two assists, two steals and two turnovers, as well. He now has four double-doubles in six games as a Jayhawk.
"Numbers-wise, I mean 24 and 15. The kid gets numbers," KU coach Bill Self said after the win. "I did not think he had a great game, but he puts up numbers."
This and that ...
KU now leads the all-time series with Stanford, 11-3, including three consecutive victories in the last three seasons ... The Jayhawks are now 6-0 for the second year in a row and the sixth time in Self's 16 seasons at Kansas ... KU has won eight straight at Allen Fieldhouse and owns a 3-0 mark at home this season … The victory improved Kansas to 64-1 under Bill Self when scoring 90 points or more … Kansas has now trailed by 8 or more in each of its last five games, and went on to win all of them by 5 points or more.
https://www.youtube.com/watch?v=ZFIIJ_u5na8
https://www.youtube.com/watch?v=dp060H3bwEU
https://www.youtube.com/watch?v=BmVkrh80lo8
https://www.youtube.com/watch?v=Qbn032W0CzU