Saturday, December 1, 2018
Before the fans inside of Allen Fieldhouse had much to cheer about during the Kansas basketball team's Saturday matchup with Stanford, the athletic department got the 16,300 in attendance on their feet by trotting out KU's new football coach.
At halftime of what proved to be a 90-84 overtime thriller and a victory for the Jayhawks, Les Miles strolled slowly out to half court wielding a microphone.
The man now responsible for trying to turn around the long-struggling KU football program took a quick bow in response to the fans' standing ovation and cheers before the Baby Jay mascot presented Miles — known for, among other things during his time at LSU, for occasionally picking up pieces of grass from the football field and nibbling on them — with a slab of sod.
"Kansas wheat grass," Miles said after having a taste.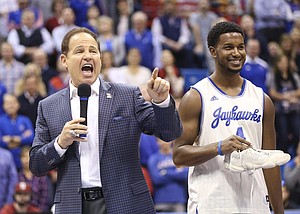 During the brief public appearance in which he gave away some free Adidas Yeezy sneakers to two students from the crowd, Miles began his address by referencing the KU football team's players, a handful of which were introduced earlier in the game and acknowledged for their postseason honors.
"I want to first mention that those men on my team — on our team — that came out here and you celebrated, they're a wonderful group of men to work with. I'm very fortunate to do so," Miles said. "I can tell you that we're going to work hard. We're a talented team. We're going to have a coaching staff that can score, stop 'em and play special teams."
As of Saturday, no hires for Miles' first staff had been announced.
"We're going to win and win consistently," the KU football coach told the crowd, drawing another loud ovation.