Thursday, August 30, 2018
In an alternate reality, free of injuries, Kevin Feder likely never would have ended up at the University of Kansas.
Had the offensive tackle's college football path gone as expected, Feder would be entering his senior season at Ohio State now, perhaps even starting.
Even so, the 6-foot-9, 300-pound junior from Ramsey, N.J., said this week he doesn't regret the personal obstacles that led to him graduating early and rebooting his football career at KU.
Feder signed with the Buckeyes in 2015, and was rated as high the No. 16 tackle in his signing class at one point by Rivals. But once he got to Columbus, Ohio, various wounds, most notably some left foot trauma that required surgery, kept him from ever coming close to what he considered his peak.
"From then to now it's night and day, for sure," Feder said of his overall health. "Over there it was definitely frustrating. I encountered foot surgery and then it didn't go as planned. All that kind of stuff. It was constant just nagging injuries tacking on to it. And when you're playing over there (at Ohio State) it's such a high caliber of guys, it's next guy up, next guy up. It's difficult to keep up when you're on the sideline all of the time."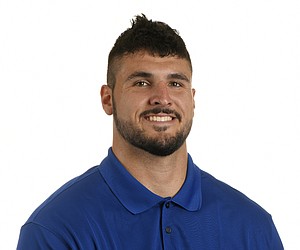 Listed on KU's published depth chart as a potential starter at right tackle, along with junior Clyde McCauley III, Feder has been looking forward to the Jayhawks' opener versus Nicholls State (6 p.m. Saturday at Kansas David Booth Memorial Stadium), since arriving in Lawrence in June.
"Right now I'm perfectly healthy, strong as hell," Feder reported. "So I feel great. I'm just pumped that it's game week. I'm ready to go play some ball."
His stretch of ailments while at Ohio State meant he barely played while taking one redshirt season during his three years with the Buckeyes.
"Last year I was kind of back and forth between doing stuff," Feder said, adding he possesses no "bad blood" for his former teammates or coaches. "But I'm here now. That's all that really matters."
Like fellow transfers Alex Fontana (6-2, 300, from Houston) and Dwayne Wallace (6-4, 325, Cal), Feder hopes to play a major role for KU's revamped offensive line, joining returning starters Hakeem Adeniji (6-4, 300) and Andru Tovi (6-3, 320).
KU's coaches are high on the group's potential. Feder explained what the linemen have done to try and develop chemistry quickly, with so many new additions.
Podcast episode
KU football beat writer Benton Smith leads a discussion on the Jayhawks' upcoming 2018 debut against Nicholls State, with Tom Keeagn, Matt Tait and Shane Jackson. Topics include: how much backup quarterback Miles Kendrick will play and who among KU's projected starters will keep their jobs all season. Plus: the ...
"It's definitely a little tricky here and there," he began, before adding he thought it helped that he, Fontana and Wallace all joined the program at the same stage of the offseason. "So we all kind of banded together and that kind of helped out, too. It wasn't just like I was coming in as a lone wolf. We were all coming in with the same objective of playing this season."
They hope, Feder explained, to speed up the unit's cohesion, to play effectively as soon as possible.
"We do a bunch of stuff outside the football facility, too. I made sure to try to get the offensive linemen, with bonding, maybe doing a little bit of extra stuff outside of the room and outside of the football realm of things," he said. "It definitely brings us closer."
Having left one of the winningest college football programs in the country to join one that has struggled for years, Feder was asked if he noticed differences in how the two operate.
"There's cultural differences everywhere, throughout all types of football programs," Feder replied. "Everything's unique. Ohio State was definitely a unique place to be a part of. But at the same time this is, I'm so happy to wake up every morning calling myself a Kansas Jayhawk."