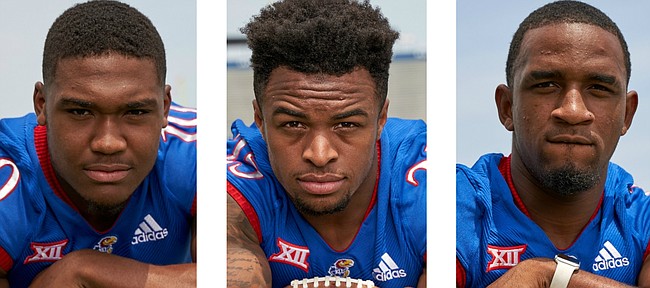 Next to "running back" on the Kansas football team's published depth chart this week, you can find the names of three players, each separated by an "or."
When the Jayhawks make their season debut Saturday against Nicholls State, the starter might be junior Khalil Herbert. Or it could be sophomore Dom Williams. Or just maybe true freshman Pooka Williams will be the first to line up in the backfield.
With three players presumably in the mix for that job mere days ahead of the opener, would it be safe to presume all of them will get similar amounts of snaps or carries?
Head coach David Beaty said, well, no.
"I'm not sure how that's going to go, but there's not going to be a guarantee on how many touches they get. It's going to be based on matchups, skillsets and what we need them to do," KU's fourth-year head coach said. "Some of them catch the ball better out of the backfield. Some of them pass protect better. Some of them need to carry the ball in certain situations versus a certain front."
In 2017, both Herbert (5.5 yards per carry, 663 yards, four rushing touchdowns in 11 games) and Dom Williams (3.5 yards per carry, 176 yards, three TDs in nine games) encountered injuries that slowed and limited them as rushers.
True freshman Pooka Williams enters week one (6 p.m. Saturday kickoff at Kansas David Booth Memorial Stadium) as one of the most highly regarded recruits the program ever has been able to land.
But, according to Beaty, he and his staff have yet to peg any member of the trio as the go-to back.
"I really can't predict how many carries this guy's going to get, how many carries that guy's going to get. Whoever gets the carry, he's got to get the job done," Beaty said Tuesday at his weekly press conference. "The good news is they are all similar in that, in terms of the fact that they all have explosive playmaking ability. Every one of them."
KU's coaches are so approving of their running backs that they didn't even enter preseason camp planning on one emerging as the clear-cut No. 1 option. Offensive coordinator Doug Meacham predicted a couple days into August that the Jayhawks wouldn't end up with a featured back.
"I think it'll be by committee. There'll be several," he said. "Because we've got three guys you can put in the game."
Herbert's massive outputs early last season — 137 rushing yards and two touchdowns at Ohio, followed by 291 yards and two more scores against West Virginia — made him the most likely frontrunner at the position.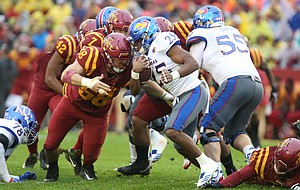 A 5-foot-9 210-pound junior from Coral Springs, Fla., Herbert's production and effectiveness dipped as a sophomore following a hamstring injury in the fifth game of the season.
In order for the offense to reach its optimal level this fall, the Jayhawks likely need a healthier Herbert for the full schedule.
"He's a little bit different style, bigger guy. You hate to lose that style of runner," Meacham said. "Because you have to prepare for a bigger guy, and then to prepare for a smaller, slash-ier, little guy, it just gives you another dimension."
Sophomore Dom Williams is listed at 5-10, 195 pounds. Pooka Williams, a 5-10, 170-pound freshman from Louisiana, garnered a four-star rating from Rivals as an all-purpose back at Hahnville High, where he accounted for 3,118 yards and 37 TDs as a rusher during his senior year.
Having so much talent at the position, Dom Williams said, should benefit each of them.
"I feel like it's good to have a lot of depth at back, because not only one person is going to get the job done," he said. "And since we're all just so different, we all bring something different to the table. I feel like we're going to have a good mix between all of us."
One trait that the three backs share, the sophomore form McKinney, Texas, added, is their vision. Dom Williams shared that each has impressed at times during practices while getting repetitions with the first-string offense.
"We do a good job in rotating each other out so that we're fresh," he said. "We can kind of tell. We'll either rotate each other out or even some practices, we'll keep each other in to work on conditioning."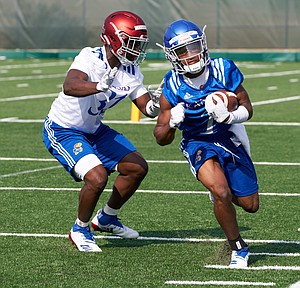 Both coaches and players have made sure this month to remain vague while discussing in interviews how the backs will be involved offensively, but Beaty also has praised Dom Williams for looking like a different rusher than he did a year ago and putting himself in position to challenge for the starting job.
Each running back is intriguing enough in his own right that the Jayhawks hope it won't matter which one opens the first offensive series in the backfield. The plan seems to be to involve them all.
Meacham explained how a true freshman could factor into the game plan immediately.
"Pooka's in there and you pack it all in there and you toss it to him, he may outrun everybody, or any of those other guys," Meacham said, before explaining how Herbert would provide a contrasting style for opponents.
"Khalil hops in there and he can hurt you inside and/or outside," the coordinator said. "They both catch the ball really well from what I can see."
Whomever starts against Nicholls, that same distinction could go to one of the other two backs each week depending on matchups and how the season plays out.
"That could be true at just about any position, particularly in the skill," Beaty said. "For us now, we have enough depth that that could happen. The good news is, we don't feel like we're dropping off any at that position, once the first guy comes out. So we've got a luxury we haven't had, which allows us to keep a high amount of competition going, which is your friend, for sure."