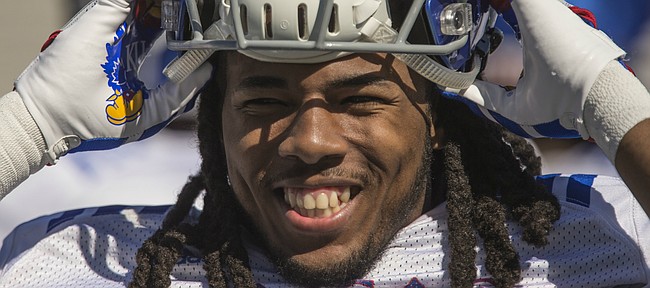 Familiar names on a depth chart, particularly for a football team coming off a 1-11 season, can breed contempt in a fan base. Understandable, but before jumping off the Kansas football bandwagon — or is it a unicycle? — calm down and consider a few mitigating factors.
Remember, this is the depth chart for the first game, after which 92 percent of the season will remain. New names will move up and replace some of the old ones in time. It's bound to happen. Be patient.
It's far too early to conclude that the defensive recruits from junior colleges you have read so much about are busts simply because none of them are starting against Nicholls State.
Not that I think recruiting jucos is the way to go. I don't. I believe in building programs mainly through amassing high school recruits, starting in the home state and fanning out, but that's a separate issue. All I'm saying here is don't give up on newcomers simply because returning players are starting ahead of them Saturday.
Ten of 11 players listed as starters on defense were on the team last year. Defensive end Brian Lipscomb, a graduate transfer from an 0-11 VMI squad, is the lone newcomer.
Coaches view football players a lot like we all used to view new baseball gloves. We wanted to make sure they were broken in sufficiently in practice before wearing them in Little League games. Too risky to use a glove that's still too stiff. So we stuck with our trusty old mitts, warts and all, until we were certain we had pounded the pocket of the new one enough times.
My guess is defensive coordinator Clint Bowen has more confidence that at this point his returning players are more likely to be sound. He's still not convinced of that with newcomers, some of whom might be more capable of matching up with Big 12 athletes than some of the holdovers. In the opener, he wants players who will carry out their assignments, which in theory anyway should be good enough to defeat a school ranked No. 17 in the country in the FCS.
In the first game, more than any, coaches make conservative personnel decisions.
Sure, it would have been more exciting, might have even sold a few more tickets, had Louisiana freshman cornerback Corione Harris been listed at the top of the depth chart instead of Shak Taylor, but Bowen's not trying to win a popularity contest or sell seats. He's trying to win a football game. At this point, the DC obviously feels more comfortable banking on experience than pure talent.
KU ranked 129th among 130 FBS schools in points allowed (43.4) in 2017. So boasting about having 10 returning starters in a sense is akin to trying to make a boy who's been playing baseball all summer excited about the return of another school year.
But just as every year of schooling makes you smarter, every football player should become better with another year of physical and mental training. So there's that. Also, 12 newcomers (11 juco, one high school) are listed as possible backups on defense. The word possible is necessary because 31 names were listed for the 11 positions. Although it's called a two-deep list, it's actually more like a three-deep without knowing which players are on the second string and which are on the third, thanks to the word "or."
Among newcomers on defense, the only players listed as outright second-teamers are safeties Jeremiah McCullough and Ricky Thomas. Harris and nine juco recruits are listed as possibilities for the second team: defensive linemen Jelani Brown, Codey Cole, Azur Kamara, Darius Moragne and Najee Stevens-McKenzie, linebacker Drew Harvey and defensive backs Davon Ferguson, Elmore Hempstead and Elijah Jones.
The preference given to starting returning players on defense over newcomers stood out most at first viewing of the depth chart, released Monday night. The next thing that grabbed me was that the Kansas defense is built on recruits from junior colleges first, high school players second. Of the 31 players listed, 17 came to Kansas from junior colleges, 13 from high schools, one from an FCS school.
Turning over the roster every couple of years generally doesn't work. Building with five-year players and two-year additions sprinkled in sparingly requires patience, but still is the way to go.