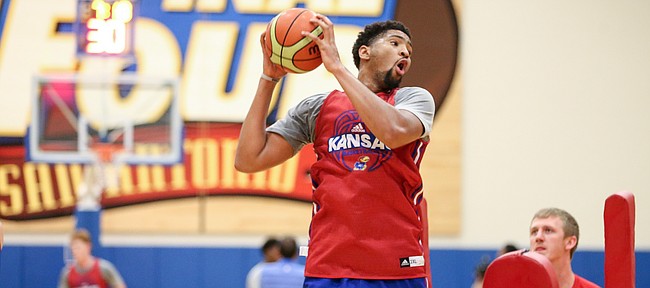 Another poll with Kansas on top — this one of college basketball coaches, conducted by CBS — means more fuel will be added to the notion that this will be a disappointing underachievement of a season if the Jayhawks don't make it to the Final Four.
Not fair.
No need to look beyond Kansas teams that made the Final Four and others that fell short to be reminded that so many more factors than the talent level of a collection of names on a piece of paper enter the equation. Playing with urgency and with chemistry, on the floor and off it, constantly building confidence, and yes, receiving a little luck, weigh so heavily in attaining that special season.
Sure, it's tough to enjoy the journey and focus on the process, rather than the outcome, as sports psychologists constantly remind us. But it truly is advice as sound for fans as it is for athletes.
Sometimes, a team that seemingly has it all doesn't reach the destination that four others do. And in other cases, a team that has enough hurdles in front of it to intimidate Edwin Moses somehow still is standing when the season reaches its final stage.
Talent's a subjective thing, difficult to capture with numbers, so what would be the best means of trying to quantify it for a college basketball squad? Count the number of McDonald's All-Americans? No. Some players are earlier developers than others. Why look back?
A better figure: Sum of NBA career salaries.
First, we'll try that measuring stick with the roster of Roy Williams' first Final Four team, 1990-91, and then with the 1996-97 roster, which did not include a single player who participated in a Final Four.
The '90-91 roster, listed in order of scoring average that season: Terry Brown, Mark Randall, Adonis Jordan, Alonzo Jamison, Mike Maddox, Richard Scott, Sean Tunstall, Patrick Richey, Steve Woodberry, Kirk Wagner, David Johanning, Malcolm Nash and Doug Elstun.
Mark Randall and Adonis Jordan combined to earn $1.98 million in NBA salaries, according to basketball-reference.com. Nobody else made the league. Randall played parts of five seasons with four different organizations and earned $1.63 million. Jordan played six games with Denver in 1993-94, four with Milwaukee in 1998-99 and earned a total of $350,000.
Six seasons later, Williams had his most talented roster, listed here in order of scoring average during the 1996-97 season: Raef LaFrentz, Paul Pierce, Jerod Haase, Scot Pollard, Billy Thomas, Jacque Vaughn, Ryan Robertson, T.J. Pugh, B.J. Williams, Nick Bradford, Terry Nooner, Joel Branstrom, C.B. McGrath and Steve Ransom.
All the money in the world can't buy Final Four experience, but if it could, this group would have enough to pay the going rate.
Combined, these Jayhawks earned $332,652,826. If that is too large a number to process, it's $332.65 million, almost enough to purchase an iPhone X.
A third of a billion for no Final Four, compared to $2 million for a Final Four.
Future Hall of Famer Pierce earned $198.1 million, LaFrentz $84.1 million, Pollard $38 million and Vaughn $11.3 million. Thomas and Robertson combined for slightly more than $1 million in NBA money.
Underachieving team? Hardly. It went 34-2, losing by two points in double overtime at Missouri and by three points to eventual national champion Arizona in the Sweet 16 in Birmingham, Ala.
Five players from that Lute Olson team made money in the NBA, including Jason Terry ($108.3 million so far, still hasn't retired), Mike Bibby ($107.1 million) and Michael Dickerson ($17.1 million). A.J. Bramlett and Miles Simon combined for slightly less than $1 million.
Again, so much more than talent makes or breaks Final Four aspirations. In that case, running into Arizona so early in the tournament was the worst luck possible.
Let's try the same exercise with a pair of Bill Self's teams and start with the 2011-12 squad that made it to the national title game, where it lost to a Kentucky juggernaut led by Anthony Davis.
KU's roster, listed in order of scoring average: Thomas Robinson, Tyshawn Taylor, Elijah Johnson, Jeff Withey, Travis Releford, Conner Teahan, Kevin Young, Justin Wesley, Naadir Tharpe, Jordan Juenemann, Merv Lindsay, Christian Garrett, Niko Roberts and Anthony West (played one minute, then quit).
That team didn't have much firepower but understood from an early point in the season its only path to winning big was to defend in a way that consistently made the opposition stumble through an ugly night.
Three players made it to the NBA: Robinson ($12.6 million), Withey ($4.4 million) and Tyshawn Taylor ($1.3 million) for an exact total of $18,230,951). Robinson played in Russia last season. Withey signed to play in Turkey this coming season, which is where Taylor has been playing.
Self's team from two years earlier was eliminated from the tournament by Northern Iowa's Ali Farokhmanesh in the second round. Eight players from that Kansas squad made it to the NBA.
The 2009-10 roster, listed in order of scoring average that season: Sherron Collins, Xavier Henry, Marcus Morris, Cole Aldrich, Taylor, Markieff Morris, Tyrel Reed, Brady Morningstar, Robinson, Elijah Johnson, C.J. Henry, Conner Teahan, Withey, Juenemann and Chase Buford.
The biggest NBA earners, so far: Markieff Morris ($32.5 million), Aldrich ($23.9 million) and Marcus Morris ($23.3 million). The total: $106,727,318 with plenty more coming in future years.
Those Jayhawks didn't seem as united as the 2011-12 Jayhawks and weren't as committed to defense. It never seemed as if Collins and Taylor had great chemistry.
How far will this rendition team go? Who knows? But the Jayhawks will need to make an early commitment to making other teams play lousy because it might not have a superstar, a la Devonte' Graham, Frank Mason III, Josh Jackson, Andrew Wiggins and Joel Embiid.
This is a deep team, all right, both in the post and on the perimeter, but is there an All-American on the roster? Dedric Lawson? Maybe.