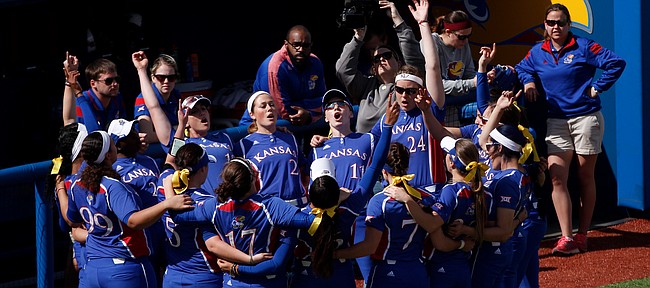 The University of Kansas athletics director Jeff Long has named Jennifer McFalls the head softball coach, the team announced Monday evening.
McFalls most recently spent eight years as the assistant softball coach at the University of Texas from 2011-18. She helped lead the Longhorns to eight NCAA tournament appearances, including a Super Regional berth in 2012 and the Women's College World Series in 2013.
"We are excited to name Jennifer McFalls as our new softball coach," Long said in a team release. "She brings outstanding credentials as a coach in the Big 12 Conference and as a national-caliber player. Our student-athletes will benefit greatly from her knowledge and passion for the game of softball."
Prior to her tenure at Texas, McFalls served two stints as a collegiate assistant coach at the University of Oklahoma (1998) and at Texas A&M; University (1995-97).
With the Longhorns, McFalls was the team's defensive coach and recruiting coordinator. Texas boasted some of the highest fielding percentage and double play numbers in the history of the program. McFalls coached nine All-America selections, two Big 12 Conference Players of the Year and more than three dozen All-Big 12 players.
As a player, McFalls recorded a number of accomplishments before becoming a coach. She was a four-year starter at shortstop for Texas A&M;, earning first-team All-America honors in 1993. She led the team in batting average, hits, totals bases and slugging percentage in all four seasons and was eventually inducted into the Texas A&M; Hall of Fame.
McFalls played on the USA's gold-medal-winning team at the 2000 Olympics, scoring the game-winning run in USA's victory over Japan in the gold-medal game. McFalls also scored the only run in the USA's 1-0 victory over Australia in the semifinals.
McFalls was a member of the U.S. National Team from 1994-2000, helping her teams to a gold medal in the 1999 Pan American Games and a gold medal at the 1998 World Championships. In addition, McFalls served on the USA Softball selection committee for five years and was also an assistant coach for Team USA at the 2010 Canadian Open Fast Pitch International Championship.
This will not be the first time McFalls has been a head coach, however. McFalls was the head coach of the Dallas Charge, a team in the National Pro Fastpitch league, and earned Coach of the Year honors in 2015. She also served as a head coach for five years at the high school level in Texas, and has directed numerous softball clinics across the United States.