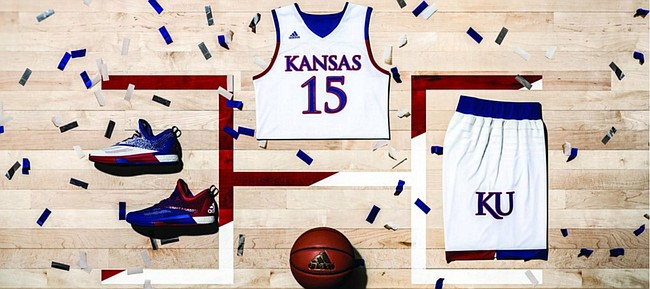 The recent suspension of 13 North Carolina football players who sold exclusive, team-issued Jordan III shoes has college athletic departments across the country, including at the University of Kansas, on high alert.
"You don't have to be a Jordan school to be alerted," said Jim Marchiony, associate athletic director for public affairs at Adidas-sponsored KU. "We all learn from each other's experiences, both positive and negative. So when something like this happens, believe me, it spurs discussion on every campus."
According to Marchiony, KU's reaction to the Carolina incident — ESPN recently reported that Marquette and Michigan also have announced investigations into whether their football players sold Jordans — has followed standard practice and taken place both in the compliance office and among the equipment staff.
Marchiony deemed both branches of the KU athletic department "educated and educators," adding that the KU student-athlete population is informed of the dos and don'ts associated with team-issued gear at different times throughout the school year, with the first such meeting taking place each August.
"Just like everything compliance-related, the first step is education," said Marchiony, who noted that the rules were explained on a team-by-team basis. "The whole effort starts with thoroughly educating the student-athletes and the equipment staff, and then, there are proactive, preventative measures that the equipment staff takes to try to ensure that this does not become an issue here."
While KU's pending apparel deal with Adidas (14 years, $191 million) is one of the richest in college athletics, it's more the Jordan brand — cultural icon that it is — that led to the latest issue at North Carolina.
According to reports, three of the UNC players who sold the exclusive, team-issued shoes to footwear stores raked in more than $2,000 apiece, while two others who sold to boutiques made more than $1,000, price tags that likely only rose that high because of the association with Jordan.
The closest thing KU has experienced to Jordan brand-type hysteria during the past decade came in March, when Adidas surprised the members of the KU basketball team at the Final Four with Yeezy 500 Blush shoes a few weeks ahead of their release to the general public.
But in that instance, the Yeezys were not KU-exclusive and retailed for just $200-$250 per pair when they did become available.
Administrators at Marquette and Michigan recently indicated that they ask student-athletes to sign forms acknowledging their understanding that selling equipment could jeopardize their eligibility. Both programs also now are stitching names and/or numbers of players into the shoes, with Marquette going one step further and mandating that their athletes wear the shoes multiple times, which, in theory, decreases the value and makes them less tempting to sell.
To date, four college football programs (UNC, Florida, Michigan and Oklahoma) and seven college basketball programs (UNC, Florida, Georgetown, Houston, Marquette, Michigan and Oklahoma) are sponsored by Jordan brand, a division of Nike.
What's more, Marchiony said he had little doubt that the UNC athletic department educated its student-athletes in a manner similar to what goes on at Kansas.
UNC football coach Larry Fedora confirmed as much when the suspensions were announced, saying, "These young men knew the rules and are being held responsible for the poor choices they have made."
Added Marchiony: "We believe in what we do. Having said that, there are no guarantees. So whenever something compliance-related like this happens, it raises flags on every campus. It's a reminder about why we do the things we do here. That's where a lot of the discussion is and it's also just a good time to assess what you're doing."