A couple of days into preseason camp, Kansas cornerback Hasan Defense could tell that the secondary in which he played didn't resemble its predecessor.
When Defense first joined the program as a sophomore transfer in 2017, the Jayhawks were too thin at his position for him to take many breathers during practices.
"Before, we would get a lot of reps. Now, you have to split up the reps. Obviously, when your reps get taken you notice it ASAP," Defense said, while laughing about what clued him in on the secondary's improved depth. "That's how you notice it. You're not in as much."
Just 12 months ago, Defense didn't have many teammates to outperform in order to secure a starting spot. Now, KU's coaches are confident enough in their options at corner that they're having Defense practice some at safety and nickelback, too.
Head coach David Beaty cited the experimentation as one of many reasons he thinks KU's secondary has made considerable progress since the end of last season.
"Man, I'm actually very, very excited about that group," Beaty said. "Lot of new guys over there, lot of new corners, lot of new safeties. Just look at the roster and look at the depth chart. We've got options."
No form of a depth chart has been made public at this stage of camp, but a number of Jayhawks are perceived as contenders to show up on the defense's first and second units.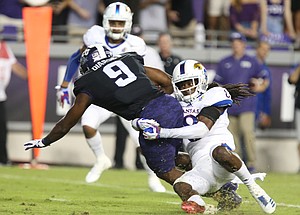 At corner, coaches and players have mentioned the skills of Defense; true freshman Corione Harris; juniors Elijah Jones, Elmore Hempstead Jr., Julian Chandler, Kyle Mayberry and Deante Ford; senior Shak Taylor; and even sophomore Ricky Thomas, a new addition to the roster this month.
At safety, KU has juniors Mike Lee, Bryce Torneden, Shaq Richmond and Jeremiah McCullough; senior Tyrone Miller Jr.; and sophomore Davon Ferguson to consider, as well as younger, less experienced players.
Defensive coordinator Clint Bowen, who coaches KU's corners, thinks the team upgraded its secondary depth significantly.
"That was actually my opening talk to the defense," Bowen shared of interacting with players at camp. "When you look on our depth chart right now, at every single position you can make a legitimate argument that there's at least two guys capable of starting and succeeding in the Big 12. In a lot of those places, there's three guys. So the days of knowing you're going to win a position by default are really over."
During KU's first couple of practices — neither coaches nor players have been available for interviews since Saturday — Beaty noted a handful of new defensive backs who caught his attention.
Hempstead, a 5-11 corner from Fort Scott Community College, the coach revealed, made a couple of "nice" pass breakups. Beaty also described 6-1 corner Jones, formerly of Ellsworth C.C. (Iowa), as a "really long, good-looking" talent, and said Hartnell College (Calif.) transfers Ferguson and McCullough, both safeties, made positive contributions.
What's more, 5-10 sophomore corner Thomas, who just arrived this past week as a transfer from Blinn College (Texas), impressed the head coach enough for Beaty to call him "a playmaking dude" that he really likes.
"You could tell he loves football. He came from the bottom of the depth chart to he's hovering around the top already in two days," Beaty said. "He's got some quickness, he's got some playmaking ability, some natural things to him."
Junior nickelback Torneden, who started 11 games a year ago, said the defensive backs believe they can be a "strong" group this fall — keep in mind, KU surrendered 296.8 passing yards a game in 2017.
"Last year, we lacked some experience, but now, with the year under our belt, we have no excuses this year," Torneden said. "We are all excited and ready to show what we've improved on."
Both Beaty and Bowen expect competition for the coveted spots atop the depth chart to fuel the work of corners and safeties alike as the Jayhawks prepare for their Sept. 1 opener against Nicholls State.
And both coaches acknowledge such battles simply weren't possible in the secondary the past couple of years.
"I mean, that's an area that I really still think we got a chance to be pretty good at," Beaty said.
"We got some guys that haven't played in the Big 12 back there that are new, which there is a learning curve," he admitted. "For the most part, I'm excited, because there weren't bodies there before. I mean, you were two deep. Somebody got hurt, you were shifting. Now, we got a bunch of folks out there that are able to play, which is good."