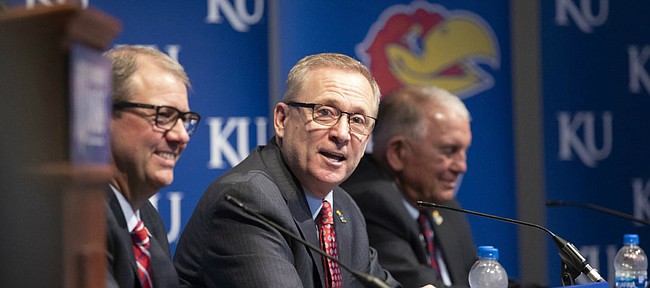 Less than a week into his time as athletic director at the University of Kansas, Jeff Long is bringing a fresh approach to how the department will handle its long-struggling football program.
Long announced Monday the hiring of Mike Vollmar, a former associate athletic director for football at Alabama and Michigan, as KU's senior associate AD for football administration.
"I am pleased to add an administrator of Mike's caliber and experience to our staff," Long stated in a KU press release. "He understands college football at the highest level and has experienced considerable success at that level. After my initial evaluation of the department, we felt we needed to make a stronger commitment to our largest program in terms of student-athletes. I am confident Mike will provide outstanding day-to-day support to those student-athletes, to Coach (David) Beaty, the assistant coaches, the staff and to our administrative team."
Vollmar served as director of football at IMG Academy in Bradenton, Fla., before accepting the position at KU, which he is scheduled to start on Monday, Aug. 13.
He joined IMG this past February after serving four years as the University of Tennessee's senior associate athletic director. There, Vollmar oversaw football and was a member of the Vols' executive staff.
From 2011-12, he worked at Michigan, as the Wolverines made two bowl appearances, highlighted by a 2011 BCS Sugar Bowl championship. Vollmar also was involved in the planning and design of the $9 million renovation of Schembechler Hall, which houses Michigan football's training facilities, as well as a museum dedicated to the historic program.
While at Alabama, from 2008-10, Vollmar worked with head coach Nick Saban as the Crimson Tide went 36-5 and won the 2009 national championship.
Earlier in his career, from 1996 to 2007, Vollmar was assistant AD and director of football operations at Michigan State. He was responsible for managing all phases of the Spartans' football program while also overseeing construction of a new $12 million football facility.
Through the years, Vollmar has been involved with programs as they went to 20 bowl games, won a national championship and achieved four conference titles.
"I can't wait to get started at KU," Vollmar stated in KU's release. "Great things are happening at IMG Academy. It's a world-class institution with a one-of-a-kind atmosphere. I am excited, though, to come back to my first love – college football – especially at Kansas, which has so much potential.  Over the years I've been impressed with everything I've heard about the university, the athletic department and the community. I want to help the student-athletes and the coaching staff accomplish the success they're working so hard to achieve."
Vollmar also served on the College Football Playoff Advisory Committee and was a member of the Rose Bowl Advisory Committee. He serves as a trustee on the American Football Coaches Association's National Committee for Directors of Football Operations.
Additionally, Vollmar took on recruiting and administrative positions with Syracuse (1991-95) and Michigan (1988-90).  At Syracuse Vollmar was responsible for the oversight of recruiting and administration. Four players recruited during his tenure, including Donovan McNabb, were named to the Syracuse All-Century Team. At Michigan he served in athletics administration and was assistant recruiting coordinator. During that span Michigan went 28-7-1, winning three Big 10 Championships while appearing in two Rose Bowls and a Gator Bowl.
Beaty, entering his fourth season at KU, said he is pleased to have Vollmar on board.
"His experience at elite-level football programs speaks for itself," Beaty stated. "We are looking forward to him getting to know our staff and players, and working hand-in-hand with him as we move the program forward."
The KU athletic department's staff directory currently lists senior associate athletic director for compliance and student services, David Reed, as the supervising AD for KU football.
As director of football at IMG Academy, Vollmar oversaw all aspects of the football program, including boarding school, camps, visiting team training and events.
Vollmar graduated from Siena Heights University in 1988 with a degree in history and a minor in speech communications. He was a pole vaulter for the Saints' track and field team. He earned a master's degree in sport management from the U.S. Sports Academy in 1989, where he was named Alumnus of the Year in 2010 and serves on the Alumni Board.
A native of Riverview, Mich., Vollmar's father, James, was a running back at Michigan from 1956-58. Mike graduated from Riverview High School, the same school that produced former Michigan head coach Lloyd Carr, former Vanderbilt head coach Woody Widenhofer and former Colorado head coach Bill McCartney.
Mike and his wife, Tami, have a daughter, Bailey, who is a student at Michigan State University.