Now that preseason camp has arrived, the Kansas football team's offensive line looks significantly different than it did just a week ago.
At the team's second practice on Saturday KU made public for the first time an updated list of active players, highlighted by an inundation of blockers listed in the neighborhood of 6-foot-3 and 320 pounds.
When players reported this week, what is shaping up to become a completely revamped O-line added four transfers: Dwayne Wallace (Cal), Reuben Lewis (Coffeyville Community College), Api Mane (College of San Mateo) and Adagio Lopeti (College of San Mateo).
Wallace, a senior graduate transfer listed at 6-4, 325, started nine games for Cal in 2016 before participating only during the spring as a senior.
Lewis, a known member of the 2018 recruiting class, is a 6-foot-4, 330-pound junior who was rated a three-star juco talent by Rivals.
Both the 6-3, 327-pound Mane and 6-4, 320-pound Lopeti are juniors who blocked for KU quarterback Miles Kendrick this past fall at San Mateo (Calif.).
During his KU football media day press conference on Saturday, head coach David Beaty described all four new linemen as both eligible and "in the mix" to play this fall.
"We have a lot of guys that are quote unquote returning starters," Beaty said, "but we're trying to find the best five, then the next one, the next two, those type of deals. The great thing about all of those new guys, it gives us some real competition."
While the Jayhawks already figured to obtain some much-needed assistance up front with the summer arrivals of O-line transfers Alex Fontana (6-2, 300, from Houston) and Kevin Feder (6-9, 300, from Ohio State), they now have four more large bodies to potentially help rejuvenate the offense.
"Over the first couple of days, it's pretty easy for guys to stand out if they're new," Beaty said. "One of the things you learn over time is you don't put the cart before the horse with guys. Just because we look a certain way, doesn't mean... Sometimes they're fool's gold. We try not to put the cart before the horse."
KU also added five other players to the program this week:
• Ricky Thomas, a 5-10, 185-pound sophomore cornerback from Blinn CC (Texas)
• Darrius Moragne, a 6-7, 265-pound junior defensive end from Arizona Western College
• Drew Harvey, a 6-1, 240-pound junior linebacker from Hutchinson CC
• Jack Luavasa, a 6-3, 250-pound sophomore tight end from Snow College (Utah)
• AJ Bennett, a 6-1, 180-pound freshman receiver from Klein Collins High (Texas)
Roster subtractions
Beaty also revealed five Jayhawks who will no longer factor into the team's on-the-field fortunes: defensive ends Foster Dixson and Mazin Aql, offensive linemen Hunter Saulsbury and Larry Hughes, and running back Kezelee Flomo.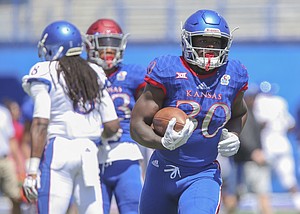 Dixson, who just transferred to KU from West Los Angeles CC as a junior this past winter, has what Beaty describes as a disc issue in his back that medically disqualified the D-lineman from playing anymore.
The coach said would-be juniors Saulsbury and Aql, both from Stilwell, and Flomo, a transfer form the North Dakota School of Science, also had to retire for medical reasons.
A heart condition, Beaty elaborated, forced Flomo to stop playing.
"Thank God we found it because one big hit with the condition he had could have killed him," the coach said. "It just stinks for that kid, because he is such a good guy. He's worked his rear-end off."
A foot ailment, Beaty added, ended Aql's playing career.
A 6-7, 310-pound O-lineman, Hughes decided to transfer ahead of his senior season, after playing in 33 games for KU from 2015-17.
"He did not do anything wrong," Beaty stressed of the lineman from Carrolton, Texas, "but he felt like it would be better for him to move closer to home."
Long stops by
New KU athletic director Jeff Long was one of the first people to address the football team at camp, as he spoke to players and coaches alike on Thursday, the eve of the Jayhawks' first preseason practice.
"I think his message was terrific," Beaty reported without giving many details. "Everything that we talked about in there is going to stay within the family. Very dynamic. Our guys really enjoyed the visit. I think you could just see the passion in his eyes and how much he cares about this game in particular. As he left here, it was a very uplifting session. We're just excited for him to be here. We can see where the future is headed."
The fourth-year KU coach then said he still loves his former boss, Sheahon Zenger.
"He did so much for us. Our kids feel that same way," Beaty said. "But moving forward, we're excited that our guy that is in place now, Jeff, is the guy he is, because he brings a lot of stuff to the table we're excited about."
The coach reported Long did not attend either of KU's first two practices.
"He and I correspond each day. We talk a little bit. I talked to him early, early (Saturday) morning, which I hope the guy's getting some rest," Beaty added. "I know he had meetings, completely booked, until 4 this afternoon. He's hoping to get here for a walk-through (Saturday) afternoon. But he's going to be around a lot, which is good. We welcome that."
https://www.youtube.com/watch?v=It7oVEJqwHw