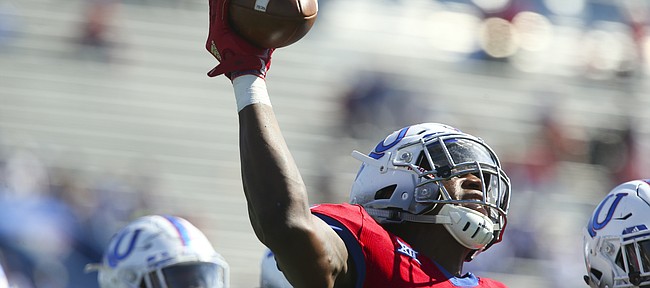 Each of the previous two years, the NFL Draft came and went without a University of Kansas football player deemed worthy of a selection.
As expected, the drought didn't stretch to three years. Former KU defensive end Dorance Armstrong Jr. put an end to it Saturday, when Dallas picked him in the fourth round.
No Jayhawk had been selected before rounds 5-7 since 2010, when safety Darrell Stuckey went 110th overall, in the fourth round, to the Chargers. The Cowboys made Armstrong the 116th pick, 16th in Round 4.
Dallas, after the fact, published the phone conversation that made it official.

"This is Jerry Jones with the Dallas Cowboys," the team's owner and general manager said in a video from inside the organization's draft war room posted to the team's website. "You have just become a Dallas Cowboy."
"Ah, man. I appreciate that," the modest Armstrong replied.
Jones then referenced the new Cowboy's 40-yard dash time, (4.87 seconds at the scouting combine), which likely contributed to Armstrong still being available in the middle of the fourth round.
"All you need to work on is go out there in your back yard and start running them 40s and work your time up a little bit. I'm kidding you. I'm teasing with you a little bit," Jones said, as Armstrong laughed.
"You've got a chance to be a hell of a pass-rusher in the NFL," Jones continued, "so we're really proud to have you on the team. We love your motor."
NFL analyst Lance Zierlein projected Armstrong as a fourth- or fifth-round talent and graded him out as a potential NFL starter.
Though Armstrong didn't meet his Big 12 Preseason Defensive Player of the Year expectations in 2017, the D-end from Houston recorded 63 total tackles, 9.0 tackles for loss, 1.5 sacks, forced three fumbles, recovered a fumble, broke up four passes and accounted for seven QB hurries in what proved to be his final season at Kansas.
During a breakout sophomore year, in 2016, Armstrong first appeared on the NFL's radar by producing 20 tackles for loss, 10 sacks, 56 total tackles, five quarterback hurries, three forced fumbles and and two fumble recoveries.
He left KU a year early, foregoing his senior season, with some publications projecting Armstrong as a possible late second- or early third-round pick.
After measuring out at 6-foot-4 and 257 pounds at the NFL Scouting Combine, Armstrong's best tools proved to merge his speed and agility, as he completed the three-cone drill in 7.12 seconds (fourth-best time among edge players), sped through the 20-yard shuttle in 4.23 seconds (third-best) and clocked in at 11.82 seconds in the 60-yard shuttle (third-best). His 40-yard dash time of 4.87 seconds didn't place him among the speediest edge rushers at the combine (Wisconsin's Leon Jacobs blew away most of his competitors with a 4.48). After bench-pressing 225 pounds 20 times at the combine, Armstrong improved that count to 25 a few weeks later, at KU's pro day, but clocked in at 4.88 seconds in the 40-yard dash.
Armstrong became the 31st Kansas prospect drafted in the past 30 years.
KU NFL Draft picks — past 30 years
Year — Player (position) | Round selected/Overall pick | Team
2018 — Dorance Armstrong Jr. (DE/LB), 4/116, Dallas
2015 — Ben Heeney (LB), 5/140, Oakland
Jacorey Shepherd (CB), 6/191, Philadelphia
Dexter McDonald (CB), 7/242, Oakland
2012 —Tanner Hawkinson (OL), 5/156, Cincinnati
2010 — Darrell Stuckey (S), 4/110, San Diego
Kerry Meier (WR), 5/165, Atlanta
Dezmon Briscoe (WR), 6/191, Cincinnati
2008 — Aqib Talib (CB), 1/20, Tampa Bay
Anthony Collins (OT), 4/112, Cincinnati
Derek Fine (TE), 4/132, Buffalo
Marcus Henry (WR), 6/174, New York Jets
2005 — David McMillan (DE), 5/139, Cleveland
2004 — Adrian Jones (OT), 4/132, N.Y. Jets
2002 — Nate Dwyer (DT), 4/113, Arizona
Justin Hartwig (OT), 6/187, Tennessee
1998 — Ron Warner (LB), 7/239, New Orleans
1997 — Ronnie Ward (LB), 3/93, Miami
June Henley (RB), 5/163, Kansas City
Isaac Byrd (WR), 6/195, Kansas City
1996 — Dorian Brew (DB), 3/79, Miami
Chris Banks (OG), 7/226, Denver
Rod Jones (OT), 7/219, Cincinnati
L.T. Levine (RB), 7/235, Denver
1995 — Gerald McBurrows (DB), 7/214, St. Louis
Hessley Hempstead (OG), 7/228, Detroit
1994 — Chris Maumalanga (DT), 4/128, New York Giants
1993 — Dana Stubblefield (DT), 1/26, San Francisco
Gilbert Brown (DT), 3/79, Minnesota
1992 — Chris Perez (OT), 5/124, Miami
1991 — Curtis Moore (LB), 10/267, Houston