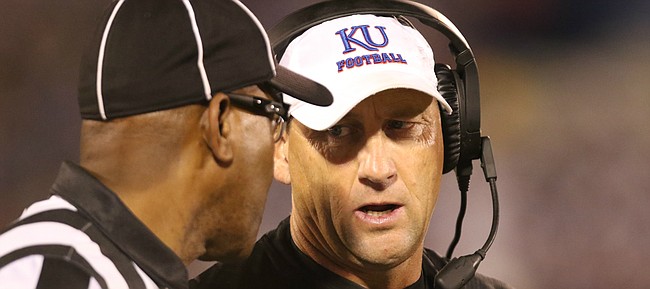 David Beaty didn't have to discuss his program's current scholarship numbers, but the Kansas head coach had his talking points ready to fire while fielding questions during the Big 12's spring football media teleconference this week.
Asked what he thought about his team's quarterback play during off-season practices, Beaty first said reasons for optimism at many positions exist, because the Jayhawks have a "healthy, mature, developed roster," before getting to his pitch.
"We finally enter the season with 70-plus players on scholarship, which I can't believe I'm saying that's such a positive," Beaty added. "But from where we came from — I don't want to say an exact number, because it's fluid; it's obviously still fluid with medicals (injuries) and things that can happen. But if everything plays out the way that we expect, we should be above 70 in scholarship numbers, which is huge for us."
The current Kansas football roster lists 99 players. At least 11 more recruits are expected to join the program this summer.
Beaty persistently avoids identifying the status of certain players — on scholarship versus walking on — at signing day press conferences. However, over the course of the past year, KU's coach stated publicly the program was closer to operating at full capacity, the NCAA maximum of 85 scholarship players.
This past November Beaty declined to respond with an exact figure when asked how many players were on scholarship, a few days after mentioning offhand KU was down "30-plus scholarships" in 2015, his first year as head coach.
That non-answer came weeks removed from Beaty saying during one of his Hawk Talk radio shows KU had "about 84" players on scholarship this past season, while making it clear an unspecified number of those belonged to Jayhawks who entered the program as walk-ons. Teams can reward walk-ons with scholarships after they have been in a program two years without those counting against the 25 initials allotted for each recruiting class.
Prior to both of those instances, at an event for KU football supporters in June of last year, Beaty told backers he expected to have around 76 scholarship players for the 2017 season. It was at that same function that Beaty said it would take "a full five years" from his start date in December of 2014 to get Kansas back to 85 scholarship players.
This week, though, during the Big 12 media teleconference, Beaty, when asked whether KU could achieve the maximum number next season, in 2019, balked at the idea.
"Oh, man. We're nowhere close to that, bud. That's gonna take a number of years," Beaty replied, estimating it will take "at least three, maybe more" to reach the end goal of 85 "true" scholarship players — not counting rewarded walk-ons.
"I'm so fired up about being 15 short, which tells you where we came from," Beaty said, referencing the roster he inherited when he took over the program.
KU's scholarship numbers took significant blows prior to his arrival, with players leaving for various reasons as KU transitioned from head coach Mark Mangino, to Turner Gill, to Charlie Weis to Beaty.
The Jayhawks finished 0-12 in Beaty's first season, 2-10 in 2016 and 1-11 this past year, giving him a 3-33 record as head coach.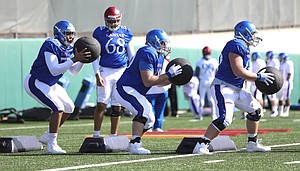 "I just go back to 2015 and you take away the same number of scholarships from Oklahoma or Texas or Baylor or Iowa State or anybody — if you take away ours, the same number of scholarships from any of those teams — it'd be interesting to see where they turn out," Beaty remarked. "When you go into a season with that kind of deficit it affects all the areas. I'm excited, because I think our quarterbacks are going to be directly affected (by improved depth)."
Spring reps for O-linemen?
The number of scholarship players available, Beaty said, affects every position, including quarterback.
The fourth-year KU coach reported QB play has benefited this spring from improved numbers on the offensive line, saying Kansas should be "two-deep and some change" up front this coming fall.
That assessment, of course, came a week after Beaty announced the number of injuries along the O-line the past few weeks made it too difficult to play a spring game — an open practice will take its place this Saturday at David Booth Kansas Memorial Stadium.
"The majority of the spring, we've had most of our O-lineman available to us. Toward the end of spring it gets more physical and some of the guys aren't able to practice," Beaty said. "But for the guts of it, the first 10 practices, those guys being available and physically ready, it was good for us to be able to evaluate those guys."