Leading up to the start of spring practices, Kansas football coach David Beaty didn't know exactly what to expect out of the team's tight ends.
"I was concerned," the coach bluntly revealed.
Those unsettling feelings regarding the likelihood of replacing tight end Ben Johnson, who graduated and exhausted his eligibility, began to dissipate for Beaty once James Sosinski returned from his foray as a KU basketball walk-on.
Sosinski, a backup who never appeared in a game for the the football program in 2017, has begun to look the part of a reliable passing-game target during practices.
"I mean, Ben is going to be tough to replace because he could do so many things," KU's fourth-year head coach began, "but I'm very excited about James, because James has some weight on him now, and James has some natural hands, and he's big enough and strong enough to move people. To say we're excited about him being back is an understatement, because he's been fun to watch."
Listed at 6-foot-7 and 260 pounds, the junior tight end from Chandler, Ariz., only missed three of KU football's 15 spring practices due to the basketball team's run to the Final Four.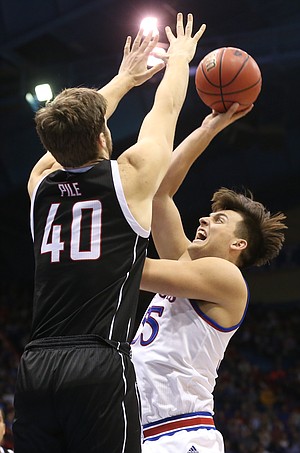 "He came in a little bit late," senior quarterback Peyton Bender said, "but he came in and immediately started making plays."
Sosinski spent the better part of four months away from his football teammates and gridiron-focused workouts, but it was difficult to tell the tight end moonlighted as an end-of-the-bench post player.
"I don't think it was too much of a transition," Bender said of Sosinski's return to the sport that brought him to KU as a transfer from South Mountain Community College (Ariz.) less than a year ago. "He kind of came back in and we picked up where we left off. That was nice to see. He's definitely looked good. He's a big target to throw to. That helps us out."
Although redshirt junior QB Carter Stanley deemed it difficult to tell just how much Sosinski has progressed as a football player since this past fall, Stanley, too, feels optimistic about what the tight end could do for KU's offense going forward.
"I really didn't get to throw to him too much in the fall. He was mainly doing scout team stuff. But I think the time he's been with us so far, he's been awesome," Stanley reported. "He's been making some great plays across the middle. He just finds a way to bring the ball down on some plays that may seem out of reach. But he's 6-7, 6-8. He'll snag it and bring it in and make some plays, so he's been awesome for us."
KU's depth at tight end suffered a couple of crucial blows over the course of the past 13 months. First, during spring football a year ago, Jace Sternberger decided to transfer. He landed at Northeastern Oklahoma A & M College for one season, before signing with Texas A & M. In the Aggies' spring game earlier this month, Sternberger snagged eight receptions for 147 yards and a pair of touchdowns. In the meantime, touted in-state recruit Kenyon Tabor, from Derby, suffered a back injury before the start of the 2017 season. Tabor remains sidelined.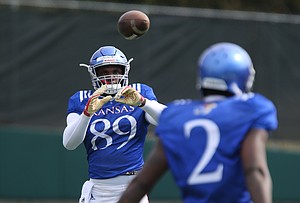 Regardless of what kind of impact Sosinski makes this coming season, KU will need other contributors at tight end. That's why Beaty considered signing Florida State graduate transfer Mavin Saunders "a big deal" for the offense.
"Mavin, I'm seeing the light come on for that guy," Beaty added of the 6-5, 256-pound Bahamas native.
Saunders played in 10 games in his final year with the Seminoles, but didn't record a catch. He made 10 receptions for 182 yards in his redshirt sophomore season of 2016.
"You see a little bit more maturity in that guy than you see some guys that come through here," Beaty said. "And, man, he is a good-looking dude now. He's going to get off the bus first, just so you know, and he is a great-looking dude. But understanding what we're doing was something I was concerned about how quickly he'd pick it up, but he's cerebral. He's doing a nice job there."
KU's head coach also identified senior fullback Hudson Hall and junior fullback Caperton Humphrey as players who could help out in a tight end or H-back capacity.