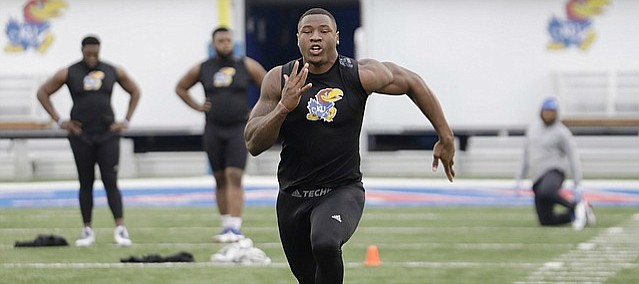 Every college football player fueled by NFL aspirations needs to listen to what Dan Shonka, of Ourlads scouting service, has to say about why he likes former Kansas defensive end Dorance Armstrong.
"His competitiveness, his toughness and here is a guy who played for a losing program and he played hard all the time," Shonka said. "Teams will look at film and see how hard he plays on every play, and see his relentlessness. All those things are taken into account."
If they saw him dogging it on a handful of plays, it might be enough for teams to cross him off their list of prospects. That's how closely teams looking to invest precious draft choices and money inspect prospects. They watch every play of a prospect's career and look for signs of quitting. They won't find it on Armstrong's film.
He has that intangible in his favor, which is a good thing because one tangible factor that came as a surprise is working against him. His best 40 time at the NFL combine was 4.87. He was clocked in 4.88 at the pro day at Kansas.
"One of our scouts who lives in Florida and focuses on defensive linemen really likes him, but you can't ignore the 40 time," Shonka said.
An assistant coach at Kansas during Don Fambrough's second tenure as head coach, Shonka has evaluated talent for more than four decades at the high school, junior college, college and NFL levels, and as the general manager and national scout of Ourlads.
Asked to take a stab at what round Armstrong will be taken in the NFL draft (April 26-28), Shonka said, "fourth or fifth."
Some teams are interested in Armstrong as a defensive end, others as an outside linebacker, despite him not having dropped into pass coverage during his three-year Kansas career.
Armstrong reportedly has visited with the Bills, Chiefs, 49ers, Lions, Patriots, Saints and Texans.
At the NFL combine, he measured at 6-foot-4, 257 pounds with a 34.75 arm length and 10-inch hands. His 7.12 time in the three-cone drill and 4.23 in the 20-yard shuttle are positives that counter his disappointing 40 time.
Shonka called the 20-yard shuttle time, "really good. That's outstanding. That shows he can really change directions." He called his three-cone drill time, "very favorable."
Armstrong always played with a lot of passion and left the impression he really enjoyed playing football. A player's passion will be tested when his team goes 3-33 and Armstrong consistently passed the test. It's nice to see that jumped off the film studied by scouting services and NFL teams.
"Obviously, he's relentless," Shonka said. "He gives a second and third effort getting to the quarterback. And he does a nice job when he counters. He uses an inside spin move and can swipe through and knock the blocker's hands down. He does a good job of using his big, strong hands. And once he gets by the initial blocker, he has a nice little burst to the quarterback. All that stuff is taken into account."
Armstrong's size works against him, although he's 40 pounds heavier than when he stepped onto campus for the first time as a highly regarded prospect from Houston.
"I like to see a defensive end in a 4-3 defense to be a little bigger than 257 pounds," Shonka said. "But there are teams who are happy with a 257-pound guy there, especially since pass rushers are desperately needed. … He has to get stronger. When he's slanting inside, he can get pushed down inside."
Armstrong gained national attention as a sophomore with 20 tackles for loss and 10 sacks. He had just 1.5 sacks as a junior, but scouts are aware of a contributing factor to that.
"He played in a different scheme his junior year, was asked to do more against the run and did a lot of good things," Shonka said.
The weight Armstrong has added, some of it coming after the end of last season, has been muscle weight, good weight, but it also could have hindered his 40 time because he wasn't used to carry it yet when clocked.
When Armstrong is drafted, it will end a two-year NFL draft drought for Kansas. Three Jayhawks were taken in the 2015 draft. Ben Heeney went in the fifth round, JaCorey Shepherd the sixth and Dexter McDonald the seventh. Aqib Talib, who went 20th to the Buccaneers in 2008 is the program's most recent first-round selection.