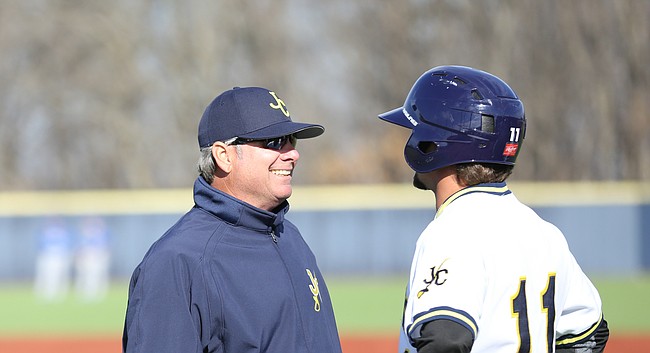 Had some athletic director at a Division I university in a state with warmer springs called up Kent Shelley and offered the lifelong baseball coach a job, the Lawrence native and University of Kansas graduate might have jumped at the idea of not constantly adding layers to his game-day attire.
However, the longtime Johnson County Community College coach certainly hasn't regretted staying put and keeping an extra pair or two of long underwear handy. Those frosty February, March and sometimes April games in the Sunflower State don't feel so hypothermic when they conclude with a Cavaliers win.
Shelley left a diamond warmed by victory for the 1,000th time in his 31-season career this past week and feeling grateful he never left JCCC.
"This has just been home," the former KU baseball catcher said in a phone interview Monday, before coaching in a home doubleheader. "There just hasn't been a better situation for me and my family, so that's what's kept me here."
Shelley arrived at the junior college program in Overland Park a "born and raised Jayhawker." He graduated form Lawrence High in 1978 after playing football for legendary LHS coach Bill Freeman (there was no baseball program at the time). He signed to play baseball at Pratt Community College, where he spent his first semester playing for coach Dirk Wedd, who would soon leave to work as a football assistant at Wichita State, years before leading the football program at LHS.
After two seasons at Pratt, Shelley transferred to KU, where he played catcher and became a co-captain his senior season. His first coaching job came the very next year, as a graduate assistant for the Jayhawks, during the 1982-83 academic year.
After earning a master's at Emporia State, he worked one season as an assistant coach at JCCC for Sonny Maynard. Within a year, Maynard informed Shelley the head coaching position soon would open and it could be his.
"When I got the job, had I known then what I know now, I would've turned and ran scared to death," Shelley joked.
Since then, JCCC has earned a national NJCAA ranking in 11 seasons — 10 since 2008. The coach said his fondest achievements include the program's three East Jayhawk Conference titles and two NJCAA World Series appearances (in 2008 and 2014). But other factors keep him coaching, too. He entered the week with a 1,000-578-1 career record.
"For me, it's about watching players come in with maybe not as much confidence in themselves and their abilities and to watch them develop and watch them put in the time and the effort with such passion and love for the game," Shelley said, "and then experience success to the point where they earn scholarships to major Division I, Division II or NAIA programs. For me, that's why I coach the game of baseball."
An associate scout for the Kansas City Royals and past president of the American Baseball Coaches Association, Shelley celebrated his 58th birthday the day after his 1,000th win, and he doesn't plan on retiring anytime soon.
"I still have good health, I still love teaching and coaching and hanging out with the kids," Shelley said. "I know that I'm certainly reaching the end of my coaching career, rather than starting it. But it's been a tremendous journey, and I'm just going to enjoy every day and every moment to its fullest."
JCCC feels like family for Shelley, because in a lot of ways, it is. His wife, MargE, assistant dean of enrollment management, has worked at the college for 28 years. Plus, the relationships the coach values with the players who come through his program keep him from thinking too hard or long about doing something else.
"That's what makes baseball America's favorite pastime," he said of those bonds.