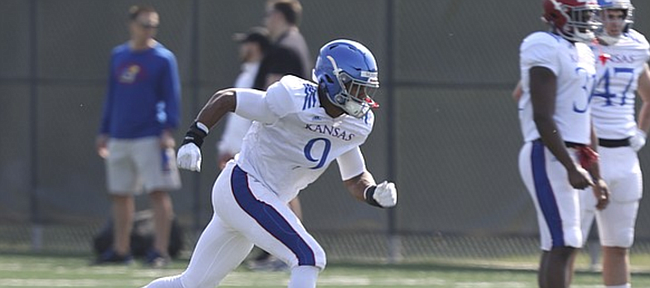 Considering how long it took Najee Stevens-McKenzie to reach Lawrence, his new address just might mean more to him than it means to most Kansas football players.
A native of Bedford, Ohio, Stevens-McKenzie spent the past two seasons at ASA College in Brooklyn, NY, where he played defensive end well enough to earn a Big 12 football scholarship.
Now came the harder part: physically getting himself to campus.
"It wasn't a smooth transition from New York to Lawrence," Stevens-McKenzie said. "I had to report here January 8. I was told by one of my family members they were going to bring me up here, but things didn't work out and it was kind of a last-minute ordeal. I had to take a bus."
Actually, several buses. Stevens-McKenzie headed to the Greyhound Station to purchase a one-way ticket at the last minute. You take what you can get at that point.
"It was 41 hours," Stevens-McKenzie said. "When one bus is late, it pushes you down the whole schedule."
He said his first bus took him from New York to Pittsburgh, the next from Pittsburgh to Indianapolis, and then from there to St. Louis.
"Then we went to some other part of Missouri," he said. "Then we went from there to Kansas City."
But not in time, Stevens-McKenzie said, to catch the last bus to Lawrence. So he caught the first bus in the morning. He said it wasn't his longest layover, though.
"Indianapolis was like a nine-hour wait," he said. "We missed the connection completely. I just waited in the stations during the layovers. On top of that it was cold, too."
At least the stations had "nice little areas where you could sleep," he said.
Stevens-McKenzie said he "wasn't really eating on the bus," and wasn't hydrating, either.
He stepped on the scale at the KU football complex and was shocked at the number it revealed: 185.
"I couldn't believe it," he said. "I was two-something on my visit."
The reason for the artificially low weight, he was told, was that he was suffering from dehydration.
"I'm 220 now and I'm proud of that," he said. "And I don't plan on stopping there."
Stevens-McKenzie credited the football team's nutritionist, Ricky Ng, and head strength and conditioning coach, Zac Woodfin, and assistant Ervin Young for the blueprint to a better body.
"The thing I really love about the 220 is it's a good 220," Stevens-McKenzie said. "It's not a sloppy 220. I still feel fast, explosive. I know I'm getting stronger. I feel it."
Midway through spring practices, the extroverted Stevens-McKenzie feels better about things than when he last he played football for a school in Kansas.
After a standout high school career in the Cleveland metropolitan area, Stevens-McKenzie spent a year at Fort Scott Community College as a redshirt. He decided to leave in May, when he said he learned that a "bounce-back" player (coming to juco after a year at a Division I school), had been recruited to start at his spot.
"The coach and I didn't see eye to eye," he said of current Fort Scott coach Kale Pick's predecessor.
Maybe it just wasn't meant to be for Stevens-McKenzie at Fort Scott. For starters, consider the school's mascot: Greyhounds.
"Time to head to a new place and that new place ended up being ASA in Brooklyn, New York," Stevens-McKenzie said. "Things worked out amazing there."
He earned all-conference honors in both seasons at ASA and, according to Rivals, turned down scholarship offers from UCF, Iowa State, Maryland, Missouri and Pittsburgh.
His explosiveness makes him a nice fit for an edge-rusher role, but the 6-foot-3 defensive end is determined to be an "every-down player. Toughness is what I pride myself on. I just want to help the defense bring that toughness and that mentality back to KU football."
In high school, Stevens-McKenzie proved he was tough enough to hear the truth about his abilities, or lack thereof, at his initial position, wide receiver, and start from scratch a a position for which he was much better suited, defensive end.
"It happened my junior year of high school," Stevens-McKenzie said of the switch. "My coach was mad at me and he said I couldn't catch a cold. The defensive coordinator kept saying, 'I need a D-End. I need a D-End. I need a D-end.' So the coach decided to move me to D-Line."
And the rest is history, the first three plays of which in that day's practice Stevens-McKenzie never will forget.
"He told me to go get the quarterback and I got the quarterback three plays in a row."
The move has led to good things for Stevens-McKenzie, other than that one year with the Greyhounds and what must have seemed like a year riding Greyhounds to reach his destination in a state of dehydration.