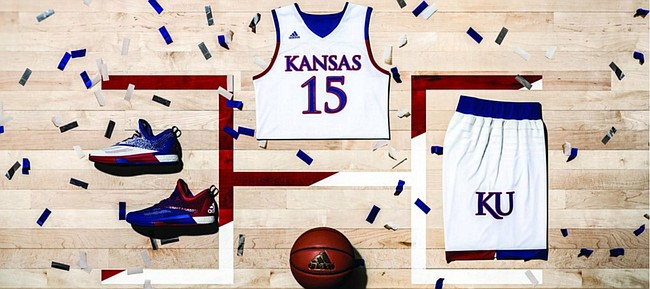 All roads in college basketball, many so often are fond of saying, lead to Lawrence.
Wilt Chamberlain, Jo Jo White, Danny Manning, Paul Pierce and Joel Embiid played here. So did legendary coaches Adolph Rupp and Dean Smith.
Basketball inventor James Naismith is buried here and he, Phog Allen, Larry Brown and Roy Williams sat in the coach's chair occupied the past 15 years by Bill Self.
This is where John McLendon, father of the modern fastbreak, learned from Naismith the basics of a game he would go on to coach so well he won eight CIAA championships at traditionally black colleges in the days of segregation.
This is where Basketball Hall of Fame biographies are built.
All roads lead to Lawrence, all right, and less flattering things have been known to travel by sky.
Finally, the ominous, sneaker-shaped cloud that has hovered over college basketball for nearly six months settled over Lawrence in an under-the-chin way on Tuesday, and it doesn't seem as if it's in any hurry to move on down the road.
Federal indictments don't follow any basketball program's calendar. This cloud arrived not only when the team's annual basketball banquet was about to get underway, but on the cusp of hot-shot recruit Romeo Langford choosing his destination from among three schools.
Nothing in a new federal indictment that formally alleges the guardians of two basketball prospects who signed with Kansas were paid by Adidas executive Jim Gatto accuses Kansas of any wrongdoing.
So if Kansas coaches do not become linked to the scandal, then they can't be penalized. But if the NCAA ruled that Kansas used an ineligible player in contests, then those games would be forfeited as would any achievements, such as a 14th consecutive Big 12 title and this season's Final Four appearance.
It's not difficult to connect the dots to try to determine which players' guardians allegedly received payments.
The mother of one player, "who was considered one of the top recruits in his class," allegedly was paid $90,000 in payments that started around October 2016, and concluded in November 2017. Billy Preston visited Late Night in the Phog in October 2016, didn't officially commit until Nov. 18, 2016. He was prevented from playing in November of 2017, when the school said it was looking into the source of money used to pay for the vehicle he drove in a one-car accident.
Tired of waiting for his eligibility to be ruled on favorably, Preston left Kansas in mid-January and signed a professional contract to play in Bosnia. He never played in a game for KU, so no victories to surrender there.
The other player, also not named, referenced in the indictment apparently had a change of heart, which necessitated a change of bookkeeping for not one, but two shoe companies.
(If only all these athletic departments would use the same shoe company, it would be so much easier to keep track of the bribes.)
Anyway, from reading the indictment, it's apparent the guardian of the second KU player had found himself in quite a pickle. You see, the player wanted to attend Kansas, but the guardian already, according to the indictment, "had received illicit payments in return for a commitment to steer the student-athlete to a university sponsored by a rival athletic apparel company."
So Gatto, according to the indictment, was told he had to make "another $20,000 payment," to balance the books for the first group looking to beat the system. Honor among thieves. I love it!
The Journal-World reported on Nov. 13 that Silvio De Sousa's letter of intent had arrived that day. The indictment states the player in question signed Nov. 13.
At one point, Maryland, which has Bruno Fernando, De Sousa's best friend from Angola and IMG Academy, was considered the favorite to land De Sousa. Maryland has a contract with Under Armour.
So does this mean that if De Sousa is indeed the player in question he won't play with Kansas next season? Maybe, which is another way of saying maybe not.
For one thing, nobody seems to know if the FBI is sharing its findings with the NCAA.
And then there is the case of Auburn quarterback Cam Newton. In that case, in an alleged play-for-pay scheme, a third party, allegedly working with the quarterback's father, solicited six-figure payments in exchange for the quarterback's signature on a letter of intent.
Auburn ruled him ineligible and sought and received eligibility reinstatement from the NCAA in time for him to play later that week.
Kevin Lennon, NCAA vice president for academic and membership affairs at the time, explained the reinstatement at the time.
"Based on the information available to the reinstatement staff at this time, we do not have sufficient evidence that Cam Newton or anyone from Auburn was aware of this activity, which led to his reinstatement," Lennon said.
So even it can be proven that the shoe company paid a guardian of the player —for argument's sake, we'll say De Sousa's — and nobody could prove that either De Sousa or anyone at Kansas knew about it, it's conceivable De Sousa could be eligible to play his sophomore season at Kansas, based on the Cam Newton precedent.
If the FBI doesn't share information with the NCAA and next season arrives without any action being taken by the governing body of college athletics, Kansas would have a decision to make: Play another season with De Sousa, if he indeed is the player, and hope that he doesn't later become ruled ineligible, or don't take that chance.
What a fascinating roll of the dice that would make. Most assume this will be sorted out by then. How can we assume anything when we don't even know if the FBI and NCAA have decided to or will at any point in the future decide to work together on this?
That hovering cloud doesn't signal Armageddon for Kansas just yet. After all, Miami (along with Louisville and North Carolina State) was one of the four schools mentioned in the indictment. And Hurricanes coach Jim Larranaga received a contract extension through 2023 on Tuesday, not six months after he read at a press conference a prepared statement about the FBI's probe into his program and made it clear he wouldn't be answering any questions on the matter.
As for Mark Gottfried, North Carolina State's head coach when all the activity landed that school's basketball program in the FBI probe, he was just hired by Cal State Northridge. Jim Harrick, the former national-title coach at UCLA who long ago ran afoul of the NCAA, just might be joining him.
Not much ever seems to stick to coaches.
For Kansas, Tuesday's indictment was embarrassing, potentially could even cost the school a conference championship or Final Four.
But no need to panic that Bill Self will get sick of it all and head out of town on the next train for a simpler basketball coaching job where the players are paid over the table and he knows who's paying them.
Self's job did become a little harder Tuesday. Fair or otherwise, in instances such as these, many will wonder who knew what when, how much did they know and how much did they go to great lengths not to know.