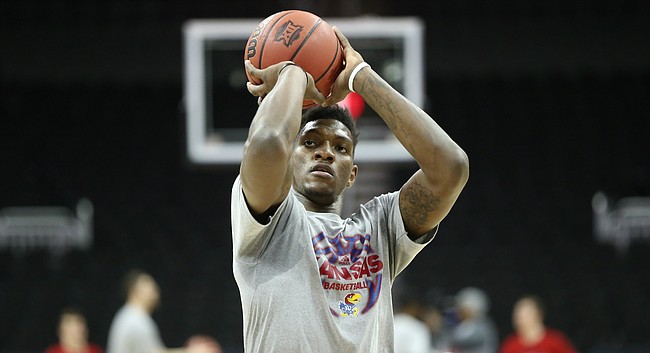 Although the involvement of guardian Fenny Falmagne and KU forward Silvio De Sousa in a federal investigation into corruption in college basketball remains up in the air in the eyes of the law, Falmagne maintains that neither he nor De Sousa have done anything wrong.
Late Tuesday night, after a federal indictment was filed that, through specific dates, pointed to De Sousa as one of two KU players whose guardian allegedly took illegal payment from Adidas rep James Gatto during their recruitment, Falmagne told the Journal-World that he never took money from anyone.
Reached again Wednesday afternoon, Falmagne maintained that stance.
"Nothing ever happened," said Falmagne. "That's the bottom line."
At the time the future five-star prospect was starting to emerge as a hot prospect in the recruiting world, Falmagne initially said that Adidas had contacted De Sousa about joining the Adidas AAU circuit. Reached later in the day for clarification, Falmagne said De Sousa never had any direct contact with Adidas.
Falmagne said De Sousa, who played his high school ball at Florida's Monteverde Academy, a Nike school, and IMG Academy, affiliated with Under Armour, focused mostly on Under Armour programs because of the opportunity they provided De Sousa as a basketball player.
"Not necessarily (for) the exposure, but the amount of playing time," Falmagne said. "I have never taken anything from Adidas. Silvio hasn't done anything for them. That's the whole thing. He had no affiliation with Adidas. Zero. He never played for Adidas."
Falmagne said the indictment's implication that the guardian of a KU player who committed to KU on Aug. 30, 2017 — as De Sousa did — allegedly took a payment of $20,000 from Gatto, one of three people charged by federal investigators for defrauding KU and three other universities that have apparel deals with Adidas, were insulting.
"If you saw how I lived, you would know that nothing like that could be true," said Falmagne of the allegations in the indictment, noting that five other student-athletes under his guardianship were playing college basketball in the United States during the 2017-18 season.
In the 24 hours following release of the indictment, Falmagne said he spoke a few times with De Sousa, who played in 20 of the 23 games in which he was eligible for KU after arriving in Lawrence in December.
Falmagne, 31, said he was De Sousa's only guardian — "There's nobody else." — and added that he had not considered hiring an attorney.
"No. I'm not doing that," he said. "There's no need for it."
Falmagne's connection with De Sousa came a bit by chance.
A native of the Republic of Congo and former college and professional player himself, Falmagne began mentoring foreign basketball players and serving as their guardian in the United States years ago because of his love of the sport and desire to help young athletes the way others helped him.
Falmagne, who has been De Sousa's guardian since January 2015, said he has aided about 15 players like De Sousa in the past, helping them reach their goal of playing Division I basketball. It was one of those previous interactions that led him to De Sousa.
Two years after working with another native Angolan, Leandro Conceicao, who eventually relocated with his family to Portugal after his time in the U.S. and is now playing professionally in Angola, Falmagne received a call from Conceicao, who spoke on behalf of De Sousa and his childhood friend, Bruno Fernando, who last season played at Maryland and has since declared for the 2018 NBA Draft.
"You really touched my life in a really cool way and I want you to help these two kids the same way," Conceicao told Falmagne. "And I was like, 'No problem.'"
From there, the relationship flourished and Falmagne took care of De Sousa, on and off the basketball court, ensuring that he dotted all of the i's and crossed all of the t's necessary to fulfill his dream of not only playing Division I basketball, but doing it at a place like KU and getting there a semester early.
What De Sousa did not know at the time, and found out only last year, was that Conceicao was actually his half brother and Falmagne and Silvio's father, Jean, already had a strong connection because of Falmagne's time with Conceicao.
"I had a great relationship with his father at the time," Falmagne said. "And he felt like, 'If he can do it for my son, he can do it for these kids.' And that was Bruno and Silvio. It is what it is, but they don't understand the relationship that I have with these kids. They just don't get it."