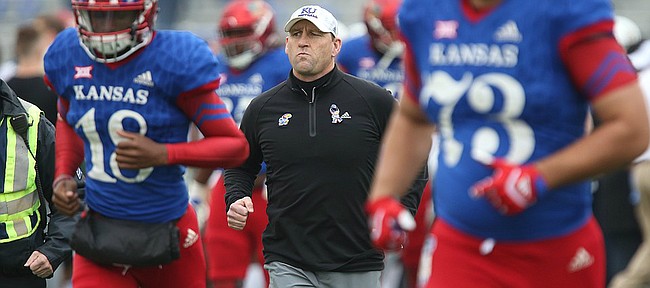 According to Kansas football coach David Beaty, this off-season he and his staff have and will continue to confront "a lot" of areas where the program needs to improve.
Beaty described one such goal as morphing the Jayhawks into "the toughest team" in the Big 12.
"We've got to become a tough team. And toughness doesn't mean you stand out there and fight with gloves on for us," the fourth-year Kansas coach said. "It means you're tough enough to be able to focus and lock in and not have mental mistakes."
Beaty also declared they haven't abandoned the "earn it" mentality he has reiterated time and again the past few years.
"It's what we started with, and it's certainly good enough," Beaty suggested of the slogan. "We're going to continue to focus on that."
Of course, the ultimate objective is for KU to "get better faster," and Beaty said his staff plans to accomplish that by demanding closer attention to alignments and assignments.
"Being really focused on that, which is what we're putting a lot of time into," he said.
Trying to bounce back
No one within the Kansas football complex thought the 2017 season would go as poorly as it did.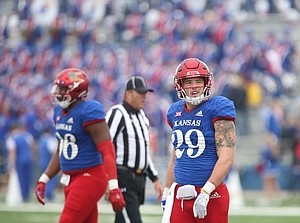 What the Jayhawks hoped would become some form of a breakthrough year for the Big 12's ever-struggling program turned out to be an 1-11 endeavor.
Appropriately, according to players, workouts and practices since then have come with the added element of past frustrations fueling their preparation.
Redshirt junior quarterback Carter Stanley said it was fair to characterize the Jayhawks as fed up with losing, adding he noticed that vibe from the start of winter workouts.
"I think Coach Beaty and the rest of his staff have done a great job of, especially this offseason, of really trying to change this culture and create winners through workouts," Stanley said. "And now in spring practice we've done a great job of that so far."
KU's sixth of 15 offseason practices came on Tuesday. Redshirt senior linebacker Joe Dineen said he spent most of the past several months looking forward to spring practices.
"Obviously last season didn't end the way anyone wanted it to," Dineen said. "For us to have the opportunity to go back out and practice it's just another opportunity for us to try and get better and move this program forward."
Missing Mesa
When spring football commenced without Mesa Ribordy, it was hard for the players, particularly the quarterbacks, not to miss the team's former starting center.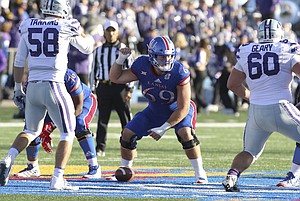 "I think losing him is definitely a big loss, him being one of my closest friends it was hard to see that happen," Stanley said of concussions forcing the would-be junior offensive lineman with 21 career starts into retirement. "I think (offensive line coach A.J.) Ricker and the O-line, they've done a great job already trying to fill his spot back in."
Junior Andru Tovi has emerged as a likely replacement for Ribordy at center, and Stanley said the 6-foot-3, 320-pound lineman has "done a great job" up to this point.
"Last year playing guard the whole year, he's made a pretty easy transition it seems like," Stanley said, "and he seems pretty comfortable."
Although Ribordy won't play again, Beaty said the Louisburg native remains a part of the program. The coach pronounced the center's retirement as a sorrowful moment for the team, because of the center's leadership and importance.
"But the great thing of it is the kid has a great forecast for a terrific life. That's the number-one thing," Beaty said.
"I'm sad for Mesa," he added, "but I'm so happy for him that he's going to be able to be a great father, a great husband, as we move forward, because it's just not worth it for their health (to keep playing)."