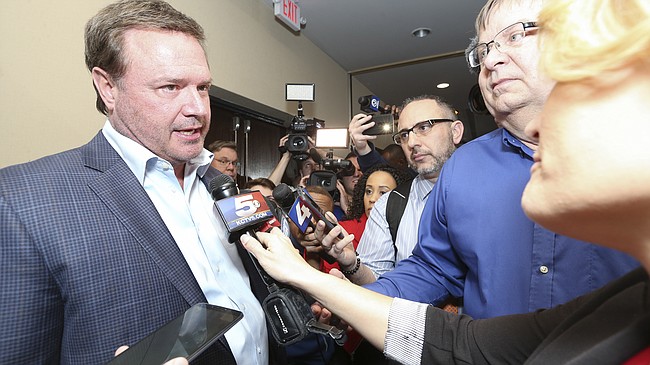 It was a night usually reserved for celebrating another recently completed Kansas basketball season, one that comes around every year and is often one of the highlights of the season in many ways for so many Kansas fans and even the KU coaches and players.
But Tuesday's postseason banquet, which took place at the DoubleTree Hotel and featured more than 620 people packed into a ballroom dotted with 59 tables, played out with a bit of a somber tone, as, just a couple of hours before the banquet began, the KU program officially became tied to the ongoing FBI investigation into corruption in college basketball.
Sure, Kansas coach Bill Self delivered when he was on stage, cracking one-liners, ribbing players and coaches and sharing fond memories of a season that began with an exhibition victory over bitter rival Missouri and ended at the Final Four. But when the banquet was finished and the reality of what Kansas is facing returned to the forefront of his thoughts, Self spoke with a measured tone about a federal indictment, filed Tuesday, that alleged that the families or guardians of two KU basketball players were illegally paid by a shoe company executive during their recruitment.
"I haven't read the entire information or whatnot; I've seen parts of it," Self said. "It came out right before the banquet so I haven't had a chance to really study it. What I do understand is that the University of Kansas was listed (and) there was some wrongdoing that occurred that was affiliated with Kansas. I did not see anywhere, nor do I believe that we were thought of to be anything other than a victim in the situation.
"I'll reserve comment further, in details, because I've been told that that's (what) I need to do, and let the university speak to specific matters. As far as what I know and what I've seen, it's disappointing, certainly. It took away from what was a really nice evening tonight, from a thoughts standpoint, but it doesn't and it shouldn't take away from us feeling good about what's going on within our program."
Asked if he had discussed the indictment with any of his players, past or present, Self pointed out the timing of the news breaking about KU's involvement.
"This just came out at 5:30 or 5 o'clock today," he said. "So, no, no, no. Nobody's talked to me about this at all. Nobody."
While it remains to be seen whether KU's involvement goes beyond the families of two players, who were not named, and what might come as a result of it, Self maintained a strong stance that he did not believe the KU program had done anything wrong.
"No, I do not. I do not," Self said when asked if this could be "the tip of the ice berg" for allegations against KU. "Then again, I'll be honest, I haven't seen exactly what was written and I don't know all the details about it. But I do know that that would not be part of the role in which we would play at all. I'll look forward to hearing more about it. When you say tip of the iceberg, tip of the iceberg in college athletics? I don't know that this is the tip. I think the tip was probably back in September. But I do think this adds to it, without question. I'll just have to wait and see how it plays out because I don't know anything more than what you guys do."
By some measurements, KU has the largest apparel deal in college athletics with Adidas, the company for which defendant James Gatto serves as an executive. Self was asked about KU's connections to Adidas.
"You have an apparel company and we are obviously a big player with them," he said. "That's not saying anything positive or negative. Those are facts. Of all the schools that are out there affiliated with apparel companies, we would be one of Adidas' biggest schools. So, yeah, there's some unknowns there that obviously would be a concern to anybody that is involved in the sport right now. But I'm not to the point where I feel like there's been wrongdoing on behalf of anyone associated with us."
As for the banquet itself, which featured a highlight video of KU's run to its first Final Four since 2012 and third under Self in 15 seasons, the adoring crowd and proud players ran through all of the same, time-honored traditions that have been a huge part of the banquet for years, including Self thanking everyone who made KU's season possible — from support staff and administrators to players and parents — post-banquet photographs and autographs and the handing out of the Danny Manning Mr. Jayhawk Award, which is given annually to the KU basketball player who epitomizes, in every way, what it means to be a Kansas basketball player, on and off the court.
"I'm not a big believer in individual honors at all," Self began. "But it's very, very easy to say who should win this award, and it was easy for me, without question. They came in together, they're going to go out together. There's no way you can have one without the other. Devonte' Graham and Svi Mykhailiuk."
KU's senior backcourt duo and noted best friends who have been mentioned in the same breath throughout their KU careers as often as peanut butter and jelly or rock and chalk, then spoke briefly at the podium, thanking Self for the honor and reminding everyone what their time at KU meant to each of them.
"It's been an amazing four years," Graham said, after, fittingly, giving Mykhailiuk trouble for being "scared to speak up here." "I loved every day here and I appreciate the award, coach, best coach in the nation. He brings the best out of all of us."
Added Mykhailiuk: "It's been a blast to be here four years and be a part of this team and this program. Rock Chalk."
With that, Self returned to the microphone to officially close the chapter that was the 2017-18 Kansas basketball season.
"These guys have done good," he said. "But it ain't good enough. We started working out (for next season) yesterday and we're going to start grinding here pretty soon and we certainly have recruited well and have some really, really good players coming in here that certainly can take the place of our significant losses right here. We're excited about the future and hope you are as well."