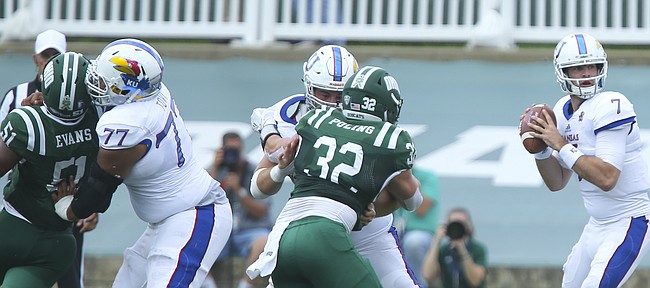 The Kansas football program lost one of its best offensive players this offseason, when starting center Mesa Ribordy was forced to retire from the sport due to a history of concussions.
Now that head coach David Beaty, new offensive line coach A.J. Ricker and offensive coordinator Doug Meacham have to find someone on the roster to replace Ribordy, they're not leaving anything to chance.
"We've got every single guy we have on the roster that's an offensive lineman snapping every day," Beaty said Thursday, during his first spring football press conference. "Now, that doesn't mean they're snapping in practice, but when those guys are getting — when they're done with their workouts every day, those guys are actually all snapping."
Document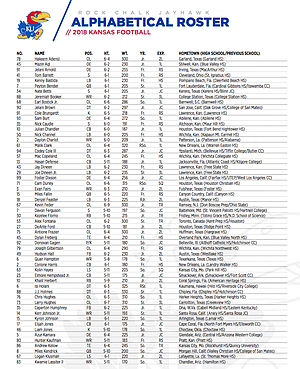 In what Beaty described as an "NFL approach," the coaches hope to make all 15 offensive linemen on the roster versatile enough to play more than one position up front.
"The good news is you start finding some guys that have a natural, a little bit more of a natural knack for it," Beaty added of potential centers worthy of snapping the ball to the quarterback.
At this point of the offseason — KU had its fifth spring practice Thursday — junior Andru Tovi is taking more of the first-team reps at center. Redshirt freshman Joey Gilbertson has seen time over the ball with the second team. Redshirt freshman Jack Williams, Beaty added, possesses experience playing center in high school (Argyle, Texas).
"But all of them are taking snaps. We'll continue to kind of mess around with that with regard to the rest of the guys as we go through spring," Beaty said. "We already do it with some of our inside drills and things like that. But we're going to make, obviously, real sure that we never have a snapping issue. It's something that you can develop and it just takes a little time to do."
Tovi started eight games at left guard for Kansas this past season
In 2017, Ribordy started 10 of KU's 12 games at center. In the two he missed, the Jayhawks suffered back-to-back lopsided shutouts at Iowa State and TCU, amassing a total of 127 yards.
Jacob Bragg, now a senior, started one game at center in Ribordy's absence. The other start went to Zach Hannon, who has completed his eligibility.