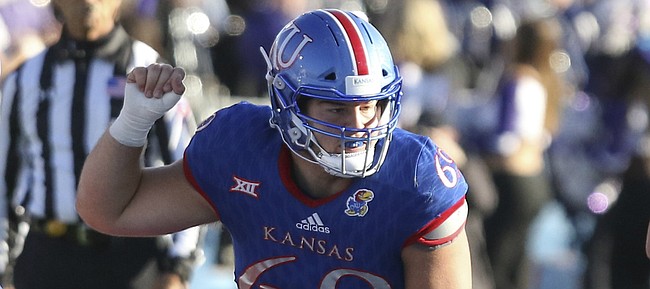 The Kansas football program made its 2018 roster public for the first time Wednesday.
While the register of names, heights, weights and more unveiled what jersey numbers the Jayhawks will wear for spring practices and fall games this year, it also revealed the absence of one critical member of the 2017 team and a handful of others who had eligibility remaining.
The name of center Mesa Ribordy did not appear on the new roster. Ribordy anchored KU's offensive line as a sophomore, starting 10 of 12 games. In the two games Ribordy missed, the Jayhawks suffered back-to-back blowout shutouts at Iowa State and TCU.
A team official said an undisclosed medical condition forced Ribordy away from competition.
The same was true of three other Jayhawks: defensive end Isaiah Bean, safety Antonio Cole and cornerback Justin Williams.
Bean, also a sophomore a year ago, had a chance to be a key member of the defensive line this in the months ahead, with D-end Dorance Armstrong Jr. leaving the program a year early to enter the NFL Draft.
Cole played sparingly as a junior in 2017. A redshirt sophomore a year ago, Williams didn't appear in a game.
Head coach David Beaty will have his first media session of spring football on Thursday.
More roster subtractions
The 2018 roster also lacked the names of five other Jayhawks from the previous season: cornerback Ian Peterson, a redshirt freshman this past fall; Kashe Boatner, who was a freshman linebacker; Lucas Jacobs, previously a redshirt freshman offensive lineman; tight end Moses Marshall IV, who had transferred to KU from Erie C.C., as a sophomore; and Ryan Renick, a redshirt freshman reserve tight end in 2017.
All have left the program.
New additions
Conversely, KU's latest list of players included four new names:
• Damon Jackson, a 6-foot, 192-pound sophomore linebacker who played previously at Central Missouri State.
• Nate Betts, a 6-1, 205-pound junior safety, formerly of Blinn Junior College (Texas).
• D'Juan Moore, a 5-9, 170-pound corner who last played at the same Hartnell College (Calif.) program as fellow juco transfers Jeremiah McCullough and Davon Ferguson.
• Blaine Boudreaux, a 6-foot, 235-pound freshman linebacker from nearby Mill Valley High, in Shawnee.
Switching it up
A few Jayhawks decided to give different jersey numbers a try this year. Most notably, junior Daylon Charlot went back to his old No. 2 after switching to No. 7 late in the 2017 season.
The switch came with added significance, too, because the former Alabama receiver is back at his original position after being moved to safety this past fall, prompting the initial change in numbers.
More number shifts: sophomore O-lineman Earl Bostick Jr. went from No. 87 to No. 68; junior tight end James Sosinski dropped No. 89 and picked up No. 82; redshirt senior long snapper John Wirtel gave up No. 68 and now wears No. 87; and D-end Sam Burt switched from No. 94 to No. 97.