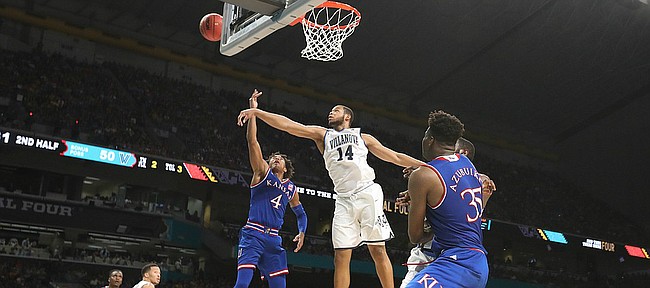 San Antonio — The better team doesn't always win. If it did, college basketball would be dreadfully dull and not worth watching, instead of a billion-dollar industry that draws 68,257 spectators to the Alamodome for a Saturday night game on the final day of March.
But the better team does usually win, and on Saturday night that clearly was the case.
Watching Kansas and Villanova on the same court left no doubt as to which was the more complete basketball team.
Sure, the Kansas players and coaches left the building quietly with sad dispositions, but they didn't leave it kicking themselves for an opportunity lost. Villanova didn't give Kansas any opportunities and left nothing to chance in hammering the Jayhawks' first Final Four team since 2012, 95-79.
Photo Gallery
Kansas basketball v. Villanova (Final Four)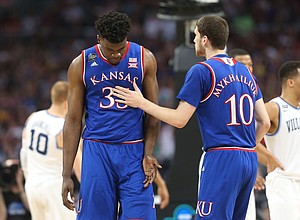 View a gallery of images from the Kansas Jayhawks' semifinal game against the Villanova Wildcats on Saturday, March 31, 2018 at the Alamodome in San Antonio, Texas.
Moving the ball as if it were a hand grenade about to explode if touched by human skin for more than a few seconds, Villanova put the ball in the hands of wide-open 3-point shooters right from the jump and took a 22-4 lead.
"I thought if we could get it to single figures at halftime, maybe we could have a chance," Kansas coach Bill Self said afterward. "And we didn't. We've been down to good teams on the road by at least 15 or more. But we haven't been down to Villanova by 15."
The Big 12 advanced three teams to the Elite Eight and one to the Final Four to earn consensus designation as the best conference in the nation in 2018.
Villanova knocked off the Big 12's three best teams — West Virginia, Texas Tech and Kansas — by a combined margin of 40 points.
"I thought they were great," Self said. "That's as good a team as we've played against that I can remember."
Armed with way less frontcourt depth than a typical Self squad, the Jayhawks grew smaller when Dwight Coleby transferred to Western Kentucky, where he was a key member of an NIT Final Four team, and again when Jack Whitman, a William & Mary transfer, didn't last the summer and quit the program. Then Billy Preston, who sat in the stands Saturday, never gained eligibility after an investigation into the source of the money used to purchase his Dodger Charger.
Still, Kansas was able to come from behind to win the Big 12 regular season and then win the conference tournament playing without center Udoka Azubuike (sprained MCL).
Big 12 regular-season championship, Big 12 tournament title, Final Four appearance after winning a classic overtime game against Duke in the Elite Eight.
Those accomplishments will dominate the lasting memories of this team, not losing to a better team that played its best at the best time of year to do so.
Photo Gallery
Fans watch KU play in the Final Four from Allen Fieldhouse, downtown Lawrence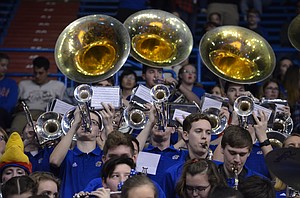 Kansas basketball fans watched the Jayhawks play in the Final Four from various locations throughout Lawrence. The game against Villanova was played on the video board at Allen Fieldhouse. KU lost to Villanova, 95-79.
Villanova proved it's more than a band of great shooters in winning an Elite Eight game against Texas Tech despite making just 4 of 24 3-pointers.
Villanova's 3-point shooting, a Final Four record 18 makes on 40 attempts, was the reason Kansas could never come within single figures, but not the only reason the Big East squad advanced to a Monday night title game vs. Michigan.
As national player of the year Jalen Brunson (18 points, six assists) said, if the Wildcats weren't making so many shots they would have shifted into grinder mode, and in his opinion, would, "maybe win by one or two possessions."
A big part of the reason the victors shot so well was that the shooters were so open in transition and in the halfcourt. Kansas' plan to trap ball screens didn't work in the game the way it did in practice and it was abandoned and never replaced by anything that worked a whole lot better, although the zone Kansas used for a first-half stretch slowed down the Wildcats temporarily.
When the better team wins, it's tough to pin it on strategy.
"I'm really proud of our guys," said Self, who no doubt is in lockstep with the Kansas fan base on that front. "We did not have the perfect roster in may ways to probably win 31 games and win the league in a great conference and (win the) conference tournament and get to the Final Four in a lot of ways. And to be honest with you, it felt like today it kind of just caught up with us."
Much later than most expected. The season that revolved around the highly entertaining ball of feel-good energy, senior point guard Devonte' Graham, sparkled with far more thrills than spills.
---
More news and notes from Kansas vs. Villanova
---