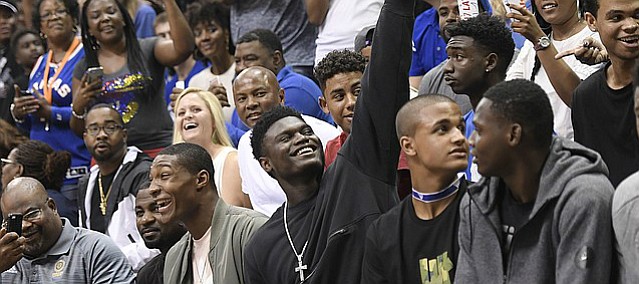 The heat closed in on the Kansas basketball program Saturday night and made everyone sweat.
No, not the FBI. Not that kind of heat. Rather, the sort that makes Allen Fieldhouse stuffy on a warm September night.
As for evidence of the FBI rocking the college basketball world with an investigation into the always-suspicious relationship involving apparel companies, high school basketball superstars and college coaches, it was nowhere to be found at Late Night, which played out as it always does.
The place was packed, with every move and word scripted for the benefit of recruits, the most famous of whom experienced his first connection with Kansas basketball fans.
"We want Zion! We want Zion!" they chanted loudly, repeatedly, passionately.
Sometimes recruits are too cool to show they appreciate the love. Not this recruit. Zion Williamson, wearing a shiny silver crucifix, broke into a huge smile and raised a finger to thank the crowd for the reception.
A 6-foot-7, 230-pound forward from Spartanburg, S.C., Williamson is ranked as the No. 1 prospect in the Class of 2018 by some outlets now that Marvin Bagley reclassified up a year and signed with Duke.
Elsewhere, Louisville recruits have re-entered the market in the wake of Hall of Fame coach Rick Pitino's forced exit.
And the feds have indicated the investigation doesn't end with Louisville, Arizona, Auburn, Oklahoma State and Southern Cal. No telling what other schools will be shamed, what other coaches arrested and/or fired.
Even if it goes much deeper and slays many more coaching careers, any notion that the scandal will bring down college basketball completely misses why fans consume the sport.
They certainly don't watch because they think the sport's relationship with shoe companies is pure or because coaches follow all the rules. They watch it because it's entertaining, particularly so in March, and because it pits their school against somebody else's favorite team. None of that will change.
The average college basketball customer's reaction to the scandal can be summed up thusly: "I hope my school's coaches don't cheat. If they do, I hope they don't get caught. I'm glad other schools get caught if they cheat because then maybe my school can pick up one of their recruits and make my team better."
No matter how far the wiretaps and record checks extend, college basketball quickly will recover. After all, Penn State football is ranked fourth in the nation just six years after the most repugnant scandal in sports history.
---
More news and notes from Kansas vs. West Virginia