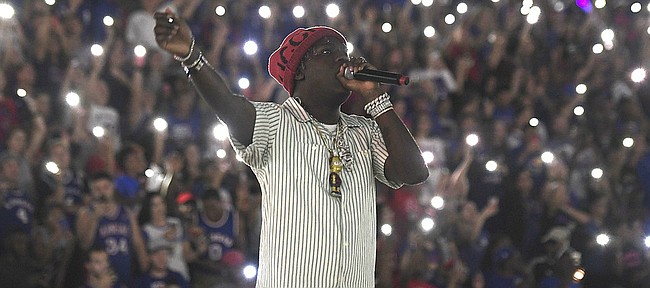 Kansas basketball coach Bill Self made no attempt to hide his feelings about the performance turned in by Grammy-nominated rap artist Lil Yachty during Saturday night's 33rd-annual Late Night in the Phog at Allen Fieldhouse.
"It's a little long for me," Self said of the Late Night spectacle on the whole. "But I admit, I'm a Lil Yachty fan. I'm gonna join his fan club and sign up. I thought that was good. Of course, I've never heard of any of the songs, but, obviously, the students know them."
Asked exactly how one goes about joining the Lil Yachty fan club — outside of simply becoming the latest among his more than 2 million Twitter followers — Self even had an answer for that.
"I'll get with his manager later on and figure out how to do that," he joked.
All kidding aside, nothing about Lil Yachty's five-song, 15-minute performance was viewed as a joke by the vast majority of people in attendance at Late Night, who hung on his every word and rocked when he commanded the mic.
"Lil Yachty, I think he was great," said KU senior Devonte' Graham, merely confirming what the 16,300 fans in attendance could see with their own eyes throughout Yachty's performance. "He had the crowd hype and I heard he was performing somewhere after this, too."
When told that place was The Granada in Downtown Lawrence, Graham, like his coach, showed some love for the artist formerly known as Miles Parks McCollum.
"Tweet that so everybody goes," Graham said.
Bechard's streak ends
Although KU director of operations Brennan Bechard fell short of making it three years in a row on his half-court shot that would have cost KU coach Bill Self another $10,000, (his shot this year missed long and wide right) there was a surprise guest who attempted the other half-court shot that took a little sting off of Bechard's miss.
His name? Mario Chalmers.
After Tweeting Friday that Kansas fans should be on the look out for a surprise, Chalmers grabbed current Memphis Grizzlies teammates Ben McLemore and Wayne Selden Jr., and returned to Lawrence for Late Night. One problem. Self was unaware all three were coming. After announcing that Chalmers "wanted to be here," while introducing McLemore and Selden, Self was shocked when he saw Chalmers emerge from the shadows and join him at mid-court.
"I thought he was coming and then we were told today that he wasn't coming, it was just Wayne and Ben. So I had no idea that he was there," Self said.
Chalmers' presence nearly cost Self the money, as his first attempt at the half-court shot rimmed out and his second fell just short off the front iron.
'We want Zion'
The always-savvy Kansas basketball fans proved they were well aware of one of Saturday's main attractions. As nearly two dozen prospects from all classes — most in attendance on unofficial visits — made their way to their seats behind the Kansas bench, the KU students quickly became restless and started screaming chants of "We want Zion" when they realized the 6-foot-7, 230-pound forward from Spartanburg, South Carolina, and No. 2-ranked player in the 2018 class, had not yet made his way to his seat.
Moments later, with recent 2018 KU commitment David McCormack by his side, Williamson emerged from the tunnel and waved to the KU fans with a huge smile on his face.
Skits and such
Among the many skits that were played on the video board during this year's event were movie spoofs of scenes from "Remember the Titans" and "The Wolf of Wall Street," which Self said was his favorite movie, along with a full-on dance battle between members of the KU men's basketball team and Rock Chalk Dancers.
"Marketing told us what they wanted to do and we just did the film," Graham said. "The one we did in the locker room, singing, was by far the funniest."
During that one, the Jayhawks appeared in a locker-room setting and acted out "momma jokes" a la Herman Boone's team in Remember the Titans. As in the movie, the team finished the session with a rendition of Marvin Gaye and Tammi Terrell's "Ain't No Mountain High Enough."
As for the dance-off, Team Camouflage featured Lagerald Vick, Svi Mykhailiuk, Sam Cunliffe, Marcus Garrett, Dedric Lawson, Chris Teahan and Billy Preston wearing camo pants and black T-Shirts. On the other side of the court, in KU gear, stood Charlie Moore, K.J. Lawson, Mitch Lightfoot, Clay Young, Devonte' Graham, Malik Newman and Udoka Azubuike.
After showing off their moves and engaging in a close-quarters confrontation near mid-court — at one point, the members of Team KU turned their backs while Team Camouflage danced — the two sides were separated and went back to their respective corners.
But like the scrimmage that capped the night, which ended in a 45-all tie, the dance battle also ended in a tie, with neither team being declared the winner.
Blue (45)
Marcus Garrett 1-5 0-0 3, Devonte' Graham 7-12 5-5 22, Svi Mykhailiuk 3-7 0-0 7, Udoka Azubuike 3-4 1-2 7, Mitch Lightfoot 3-8 0-0 6, Sam Cunliffe 0-4 0-0 0, Clay Young 0-0 0-0 0. Totals 17-40 6-7 45.
Crimson (45)
Dedric Lawson 2-6 2-2 6, Lagerald Vick 7-9 1-2 17, K.J. Lawson 0-2 0-0 0, Malik Newman 3-7 0-0 8, Billy Preston 3-7 1-2 9, Charlie Moore 2-4 0-0 5, Chris Teahan 0-0 0-0 0. Totals 17-35, 4-6, 45.
3-point field goals — Blue 5-17 (Garrett 1-4, Graham 3-6, Mykhailiuk 1-4, Lightfoot 0-2, Cunliffe 0-1), Crimson 7-21 (D. Lawson 0-4, Vick 2-3, K.J. Lawson 0-2, Newman 2-6, Preston 2-3, Moore 1-3). Rebounds — Blue 26 (Azubuike, Cunliffe 5), Crimson 18 (Preston 6). Assists — Blue 8 (Garrett, Graham, Cunliffe 2), Crimson 8 (Vick 4). Blocks — Blue 0, Crimson 2 (D. Lawson, Preston). Turnovers — Blue 6 (Azubuike 3), Crimson 5 (Preston 2).
---
More news and notes from Late Night