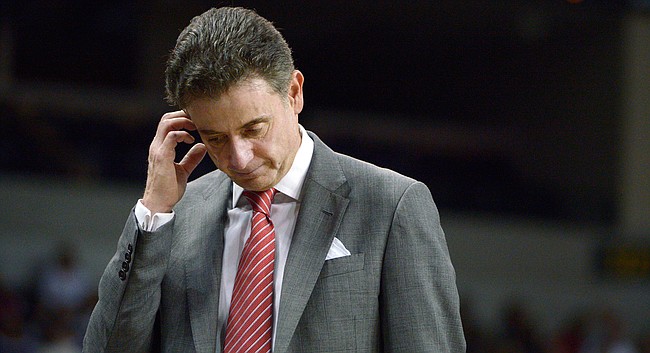 An expert in white-collar crime cases said one group should be particularly on guard as federal investigators dive deeper into the college basketball world: prominent coaches.
"What you are going to look for in this next wave is the really high-level coaches," said Bill Black, a white-collar criminologist and associate professor of economics and law at the University of Missouri-Kansas City. "It can move incredibly fast and may already be in motion for all we know."
Podcast episode
Bill Self discusses "a tough week for college basketball"
The investigation already has led to the dismissal or suspension of a handful of high-level college assistants, one freshman student-athlete and, ultimately, Louisville basketball coach Rick Pitino, who is on unpaid leave, and athletic director Tom Jurich, who is on paid leave. The University of Kansas has not been implicated in the probe, and federal officials have not contacted the university, a spokesman said earlier this week.
But a top official with Adidas has been indicted in the recruiting scandal, and KU does have one of the largest apparel contracts in the country with Adidas.
Black — who played a role in exposing the Keating Five in the Savings & Loan scandal of the 1980s — said college basketball leaders also ought to be worried about who is conducting the investigation.
The U.S. attorney's office for the Southern District of New York carries special weight in white-collar crime cases, Black said.
"This isn't just any office. This is that office," Black said in an interview with the Journal-World on Wednesday evening. "It is unique among the roughly 60 U.S. attorneys offices in terms of its independence, its power, its prestige and the fact that it goes after the biggest things."
Black said he expects more charges to be brought in the case. He said wording in the more than 100-page complaint filed by prosecutors strongly suggests it.
"They went out of their way in a complaint to say that what they found is widespread," Black said. "So they're signaling that it is much larger than just the folks they've indicted to this point."
Specifically, Black said that means the possibility of coaches, executives and perhaps even athletes cutting deals to save themselves or take down others.
"It's exceptionally common," Black said of people who are indicted early in a case cutting a deal with prosecutors. "And it's already occurred. The cooperating witness (in the initial charges) has admitted guilt and that's in the complaint."
In the college basketball world there may be many who know a lot. The fraternity of coaches, agents and shoe executives often is closely tied together and breeds great familiarity from one school to the next.
The industry already is a cut-throat one. This is college basketball, after all, and the objective is always to win.
But Black said it already is becoming evident how the power of a federal investigation and threats of jail time are changing the dynamics.
"It shows you how different it is when it's a serious criminal prosecution," Black said. "Pitino has had innumerable bites at the apple, but with this one, within 24 hours, he's gone."
If news of deals does start to break in the coming days, there could be a flood of them, Black said.
"That sets the dominoes falling and further encourages folks further down the chain to come running as well," Black said. "And there is very much incentive. When you see other rats leaving the sinking ship, you run faster, goes the argument."