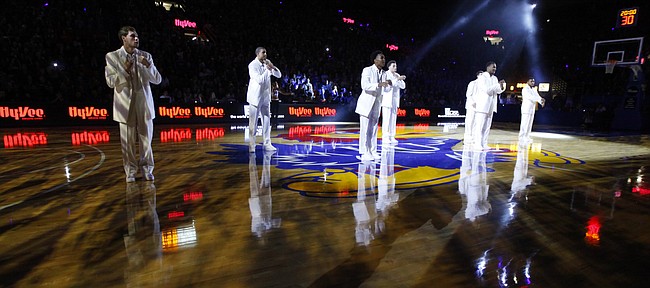 The unofficial start to yet another college basketball season is now right around the corner, and Kansas coach Bill Self said Thursday night that he was eager for Late Night in the Phog to arrive because of what the event represents.
"I'm excited for the start of the season," Self said. "And that's a great way for us to tip it off. It should be fun. It always is."
Most of that fun, however, is reserved for the activities and events that take place before the intra-squad scrimmage that caps off the event.
"I never have watched the scrimmage before," Self revealed. "I'll probably watch half of this one because I'll be visiting the other half but I've never watched a highlight of it or anything like that. I won't even know who our leading scorers are. The one thing about things like that, you just hope you make shots so you don't look awful because you know nobody's going to guard anybody."
By the time Saturday morning rolls around, fans will have been camped outside of Allen Fieldhouse for hours, waiting with great anticipation to get a good seat to one of KU's premier events.
With Late Night in the Phog set to begin around 6:30 p.m. on Saturday, here are five things to watch for when the fun begins:
5. Lil Yachty
Keeping with the theme of last year's Tech N9ne performance, Lil Yachty will be the opening act on Saturday. The Grammy-nominated recording artist is famous for songs such as "One Night" and "Minnesota," though it'll be just as interesting to see if he has something special prepared for the KU crowd, the same way Tech N9ne performed his rendition of "Game On (Rock Chalk Jayhawk)." One other possible celebrity sighting could come from KU's recent past. Former KU guard Mario Chalmers teased via Twitter on Friday that there might be "more than one surprise at the event."
4. Skits/dancing
Whether it's Bill Self rocking the Andrew Wiggins draft-day suit or the dance performances from the players — look out for a "battle" theme this year, by the way — the skits and performances by both the men's and women's basketball teams make the night a lot of fun. And while there's unlikely to be any backflips this year, a la Frank Mason III, there should be plenty of surprises in store.
3. The recruits
While Late Night can be a fun event for the fans, it can also be a pretty useful recruiting tool. Players like Ben McLemore, Joel Embiid, Wayne Selden and Kelly Oubre all made visits to KU for the event, and with top 2018 recruit Zion Williamson expected to be in attendance, there should be plenty of eyes fixed right behind the KU bench.
2. Brennan Bechard from deep
For two straight years, KU director of basketball operations Brennan Bechard has cost his boss $10,000 by draining a half court shot on behalf of one lucky KU student. Assuming he's picked again by one of the participants, he should have the prime opportunity to make it 3-for-3.
1. First look
While the women's basketball team won't scrimmage this year because their schedule does not allow them to begin practicing until Sunday, many fans will get their first in-person look at the 2017-18 men's basketball squad. With newcomers like Marcus Garrett and Malik Newman impressing in Italy over the summer, as well as the anticipation surrounding returners like Udoka Azubuike and Devonte' Graham, there should be plenty to watch when the Jayhawks take the floor.